Have you been considering a cobbled driveway for your home? Perhaps you like the look of the beautiful cobbled stone driveways and want to add to the kerb appeal of your home? Maybe you have seen how much value a stunning cobbled driveway can add to your home? Alternatively, you may just be looking to add that authentic feel to your home.
Whatever your reason for considering a cobbled driveway; you have come to the right place. Here at Primethorpe Paving, we think cobblestones are a wonderful addition to any driveway. Cobblestone driveways are often associated with pretty little quaint villages and small market towns. In recent years cobbled driveways have grown in popularity for city properties too, adding a feel of calm and beauty to even the busiest of cities and streets.
Cobblestones are extremely hardwearing and robust and perfect for driveways. You will also find that cobblestones are resistant to scuffs, damage and marking in general and are great in all weather conditions. You won't notice any shrinkage or cracking with a cobbled driveway. In fact, here at Primethorpe Paving, we think that cobblestone driveways actually get better with age.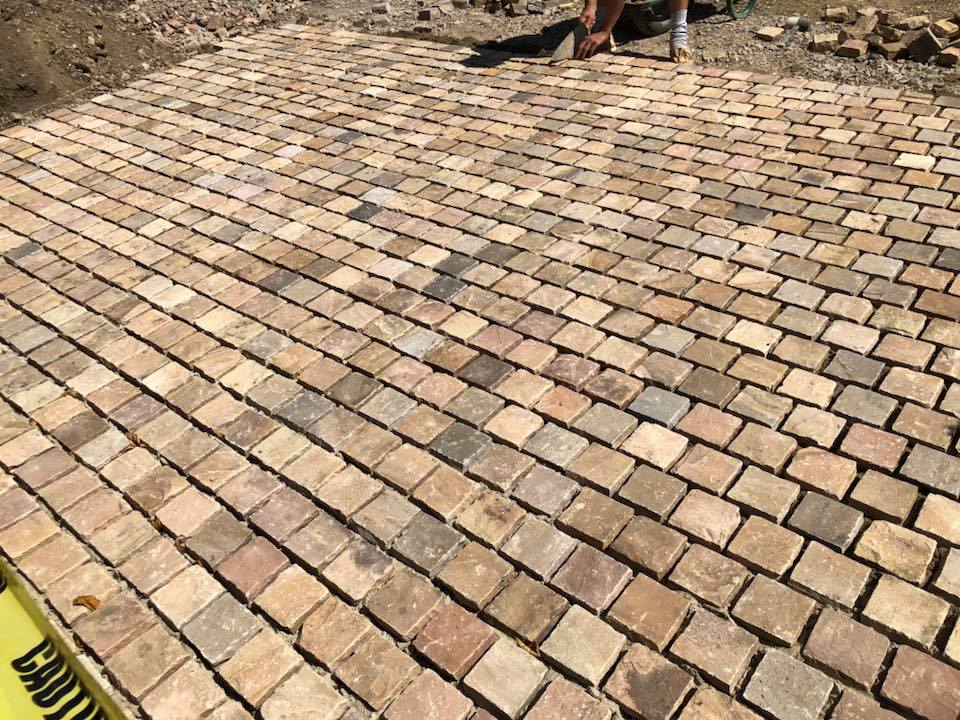 Raj Green Indian Sandstone Cobbles - See More
Reasons People Have Cobbled Driveways
A cobbled driveway can completely change the look of your home from the outside. A driveway made up of cobbles with make a property look grand and plush. However, did you know that there are other reasons to have a beautiful cobbled driveway? We aren't just talking aesthetic reasons.
For example, a cobbled driveway will be made up of granite, basalt and other rocks. The great thing about the granite in the cobblestones is that is a very hard material. Granite cobbles have been used in this way for hundreds of years. This just goes to show how rugged and durable it is as many of these driveways with granite are still in place today.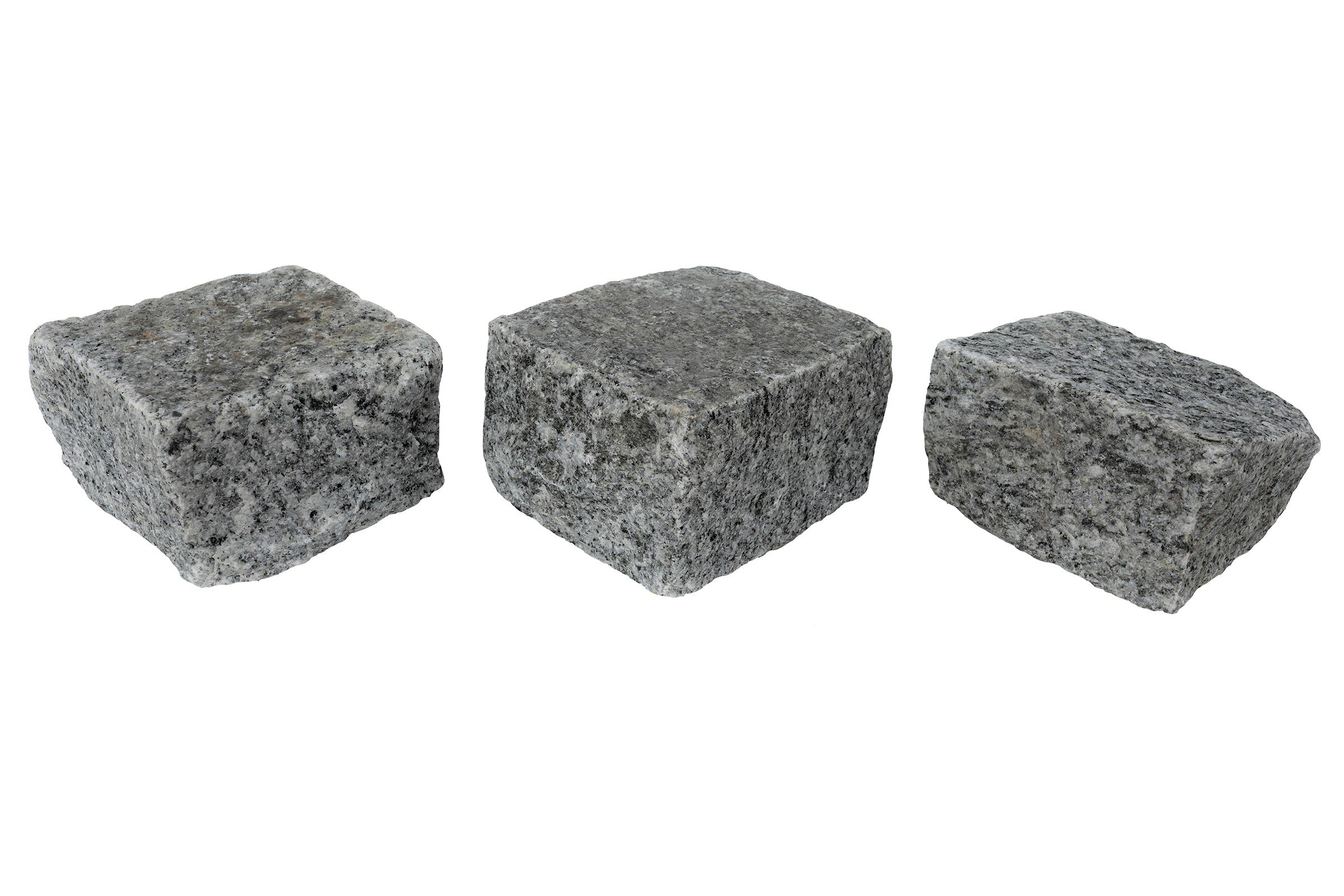 Driveways are often in use multiple times throughout the day. Yet, that is no problem for cobblestones. A cobbled driveway will put up with heavy use, while still offering a unique and authentic look to your home.
While a cobbled driveway will need some occasional washing and maybe some weeding from time to time, it requires very little maintenance. In fact, if laid currently a cobbled driveway will remain stable and usable for at least 100 years. As you can tell, this is phenomenal value for money, and it will boost the kerb appeal of your home too.
Can I Install A Cobbled Driveway Myself?
While we know that a cobblestone driveway can make a world of difference to almost any property, it is essential that you choose the right materials and people to install your cobbled driveway. When the driveway is installed correctly it will last the test of time and really complement your property too.
It is worth noting that a cobbled driveway is extremely hard work to install. While laying a driveway of this type requires no special skills or machinery, a cobblestone driveway project is very labour intensive. It is possible for this to be a DIY project. However, we would recommend asking a specialist to install a cobbled driveway for you.
Cobbles are known to be strong, but your cobble driveway will only be as strong as the installation. It is essential you remember that when considering getting in a driveway expert or doing it yourself.
The Difference Between Cobbles and Setts
When looking for block paving alternatives for patios and driveways in the UK, homeowners are often given the choice of cobbles and setts. While cobbles and sets look similar, they do have some distinct differences.
Originally setts were used on steep streets. This is because they were able to offer horses better grip than a smooth surface. However, in more recent years, setts are a common paving type used for many modern landscaping projects.
Setts can be made up of limestone, sandstone, granite and more. This is why they are such a popular and versatile choice for garden paths and driveways. Setts offer a unique and contemporary look to homes.
Both setts and cobbles are extremely durable. They are perfect for high traffic areas but also strong enough to be protected against the typical elements of the British weather throughout the year. Cobbles and setts are both versatile and diverse. They can be laid to create unique patterns and designs on their own right, or when used as edgings along natural stone paving on a driveway or garden.
The Four Benefits of Cobbled Driveways
Cobbles offer high endurance. The high durability and strength are why many people swear by its long life for driveways. Cobbled driveways are resistant to scratching, chipping, staining and all the usual wear and tear that happens on driveways. A cobbled driveway in even the highest traffic area will not lose its shape and colour for many, many years to come.
Cobbles offer minimal maintenance. If you are looking for a driveway solution that is easy to maintain, a cobbled driveway is ideal for you. A simple clean with water is all it takes to keep your cobblestone driveway clean, dirt-free and shining. If your cobbled driveway is sealed, you will need to get it resealed once in a while to ensure it keeps its perfect condition – but that's it!
A cobbled driveway is natural and safe offering a slip-resistant grounding to reduce the risk of slips and falls. This is due to the good grip of the cobbles, even when they are wet. As well as cobblestone driveways, cobblestones are also used around pools and playgrounds due to their snit-slip features.
Cobblestone driveways are aesthetically pleasing. This is the main reason that homeowners opt for cobblestones for their driveways. A driveway is a functional space for your home. However, when you add cobblestones to it you suddenly boost the authentic feel of your home, increase value to your property and improve your kerb appeal.
If you'd like to know more about a cobbled driveway for your home, call our team now.