The Ordering Process: Why Choose Us?
We've produced 1000s of perfect slate hearths over the years and left many, many happy customers over the moon with their new centre-piece of their living room. Over the years we've perfected the process of getting your hearth right first time:
Fill out the form HERE.
Accept & pay for the quote.
We then produce a .pdf template drawing combining all your requirements into 1 sheet.
Read over this .pdf and confirm it is accurate.
We produce and deliver your hearth. Simple.
When complete, you can choose to collect from our Peterborough depot or use our nationwide delivery service. We will agree a date for delivery as we need to make sure you are at home to sign for the large delivery, or agree an acceptable collection date. 
Flexible Payments Now Available With Klarna

With Klarna, you now have a variety of flexible payment methods available at checkout,
**REQUEST A QUOTE HERE***
Shipping & Returns

Full delivery & returns policy can be found here.

Damages & issues must be reported within 24 hours of delivery to ensure damages didnt occur on site.

If you wish to return goods, please inform us within 24 hours and we will arrange a return of your goods. The refund amount will be less delivery fees and a 20% restocking fee.
Dimensions

All hearths are calibrated to 30mm. Please allow a tolerance of up to +/- 4mm.

All other relevant sizes will be listed on the relevant product page.
Share
View full details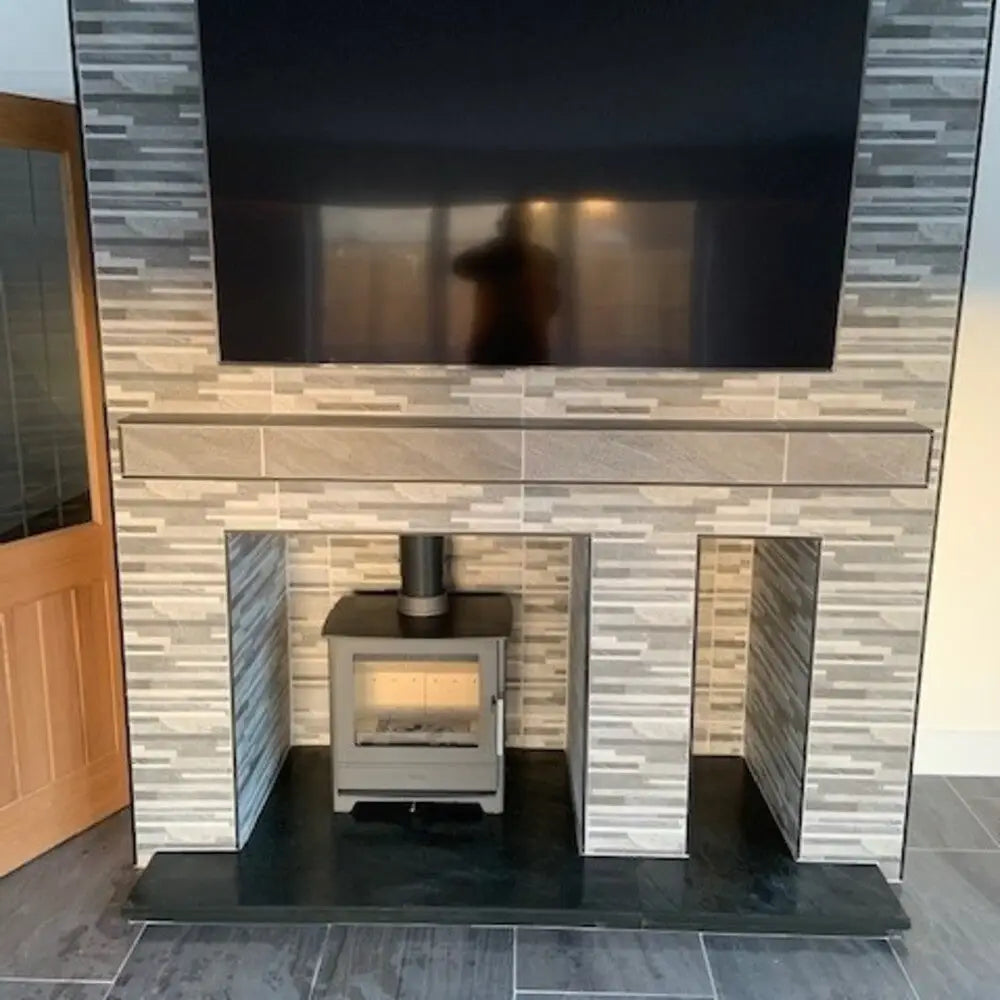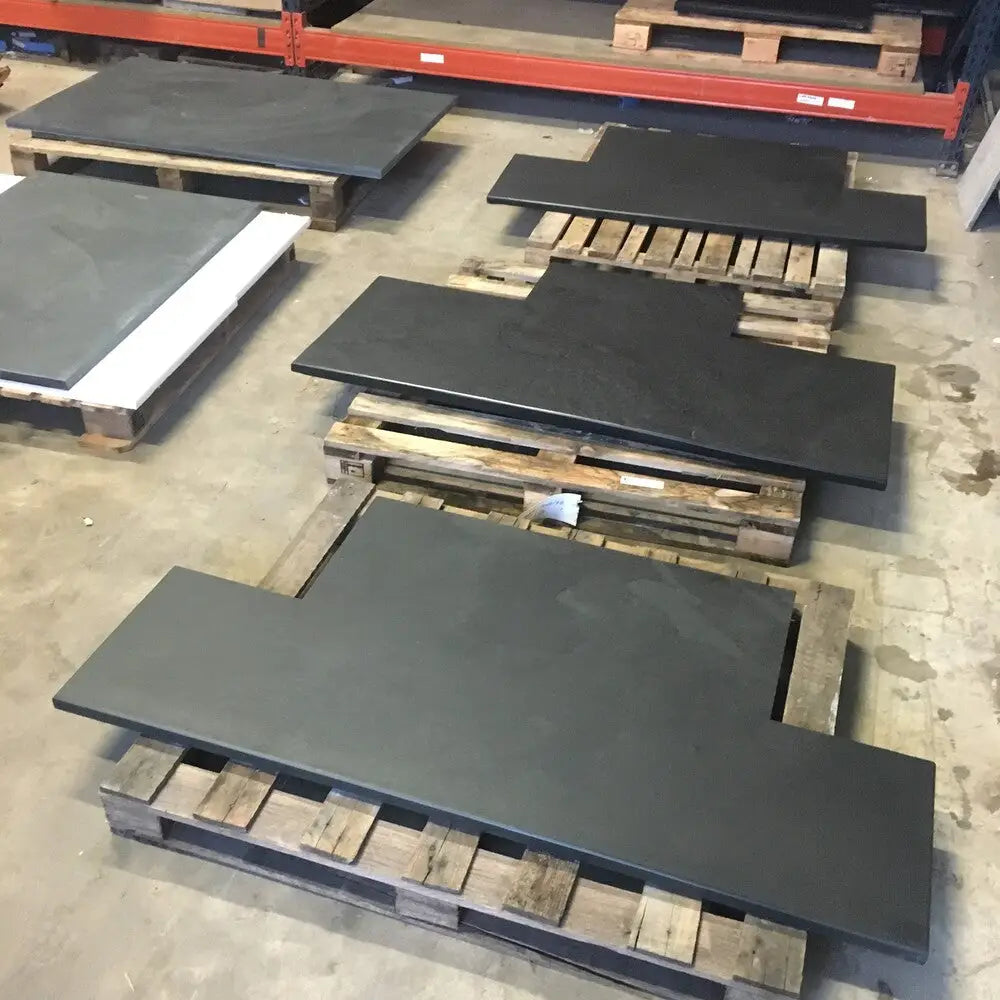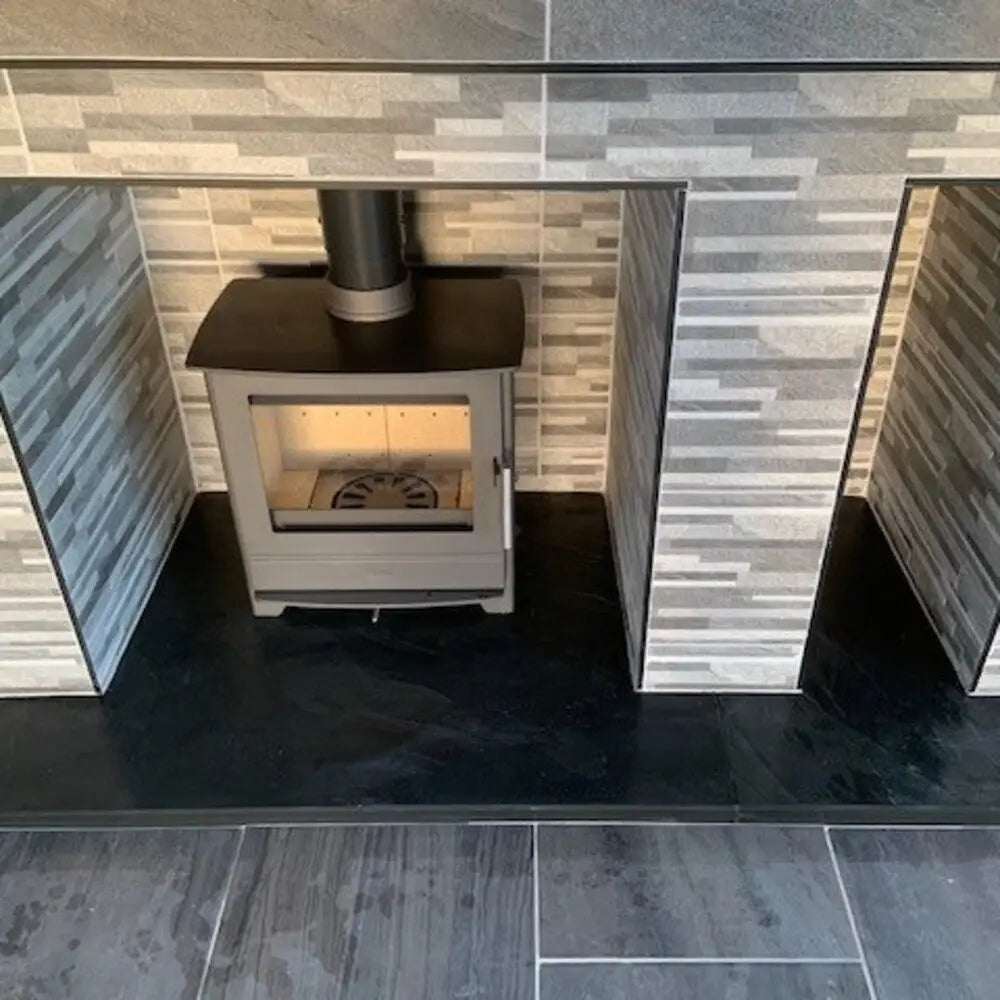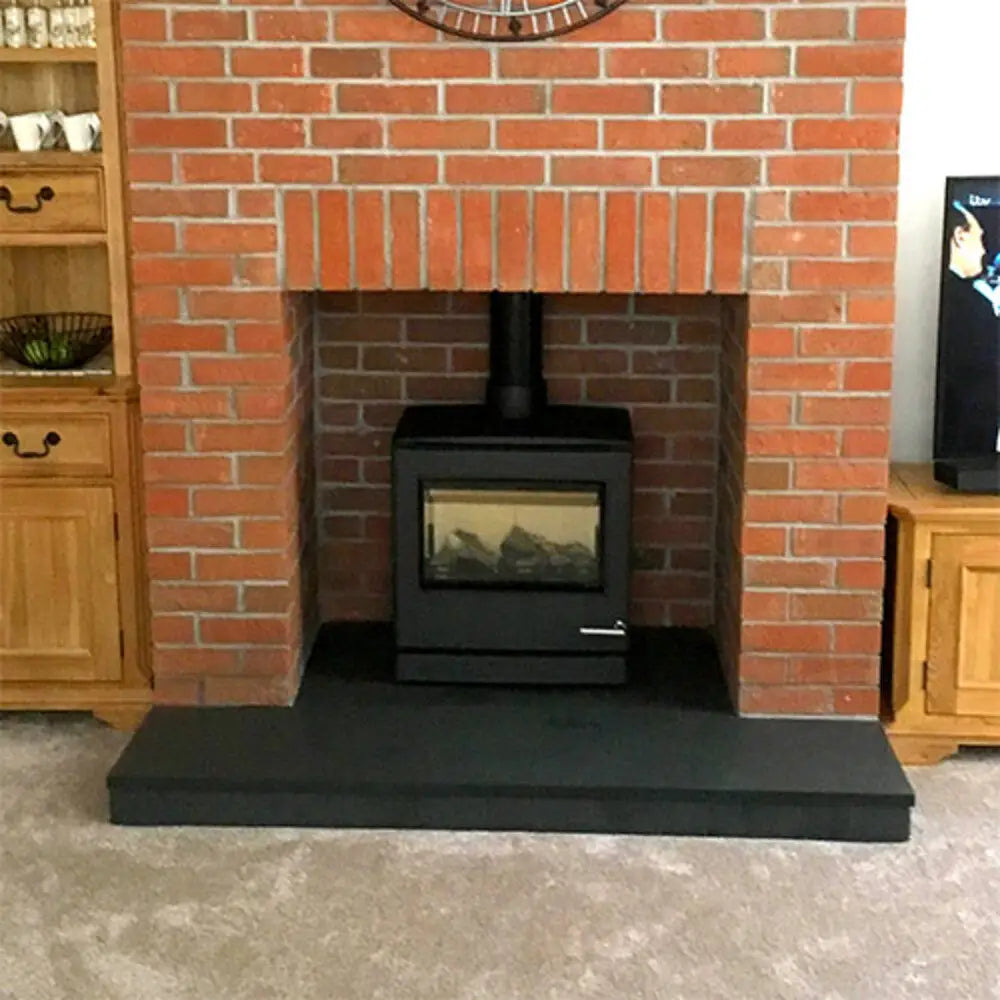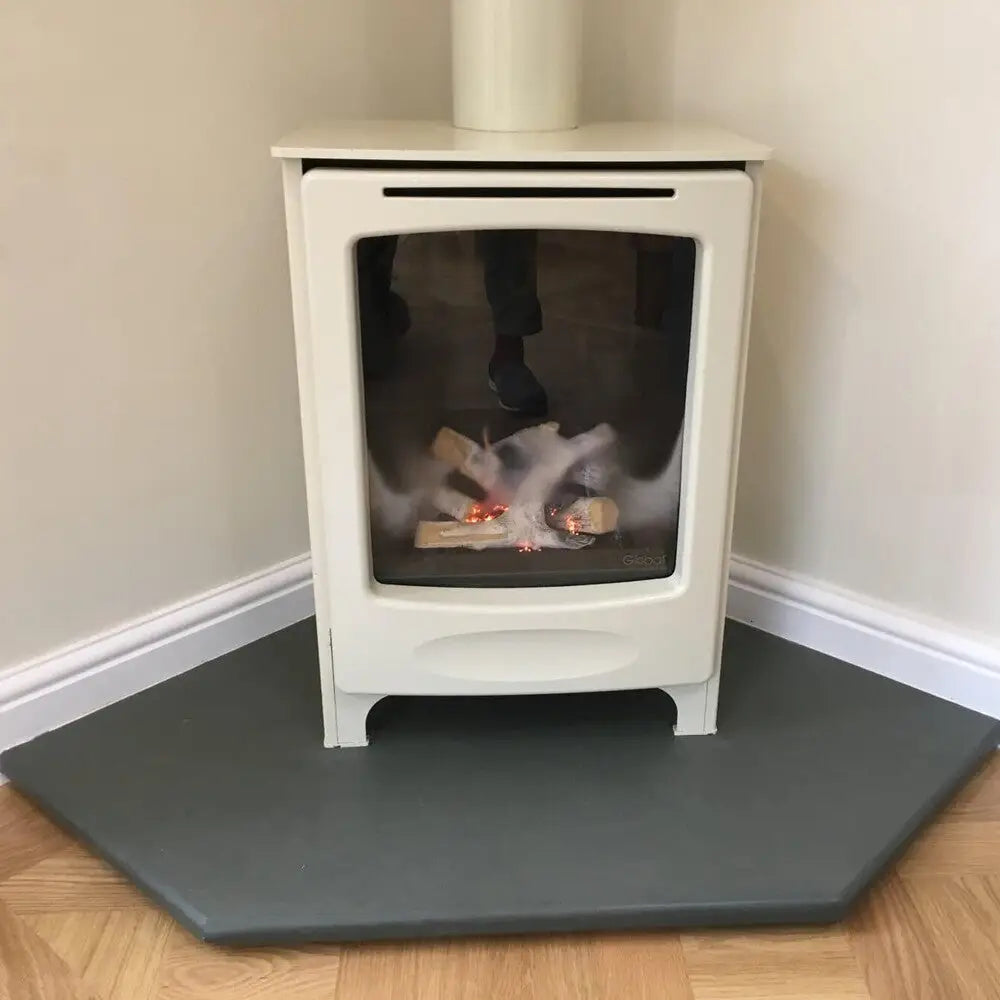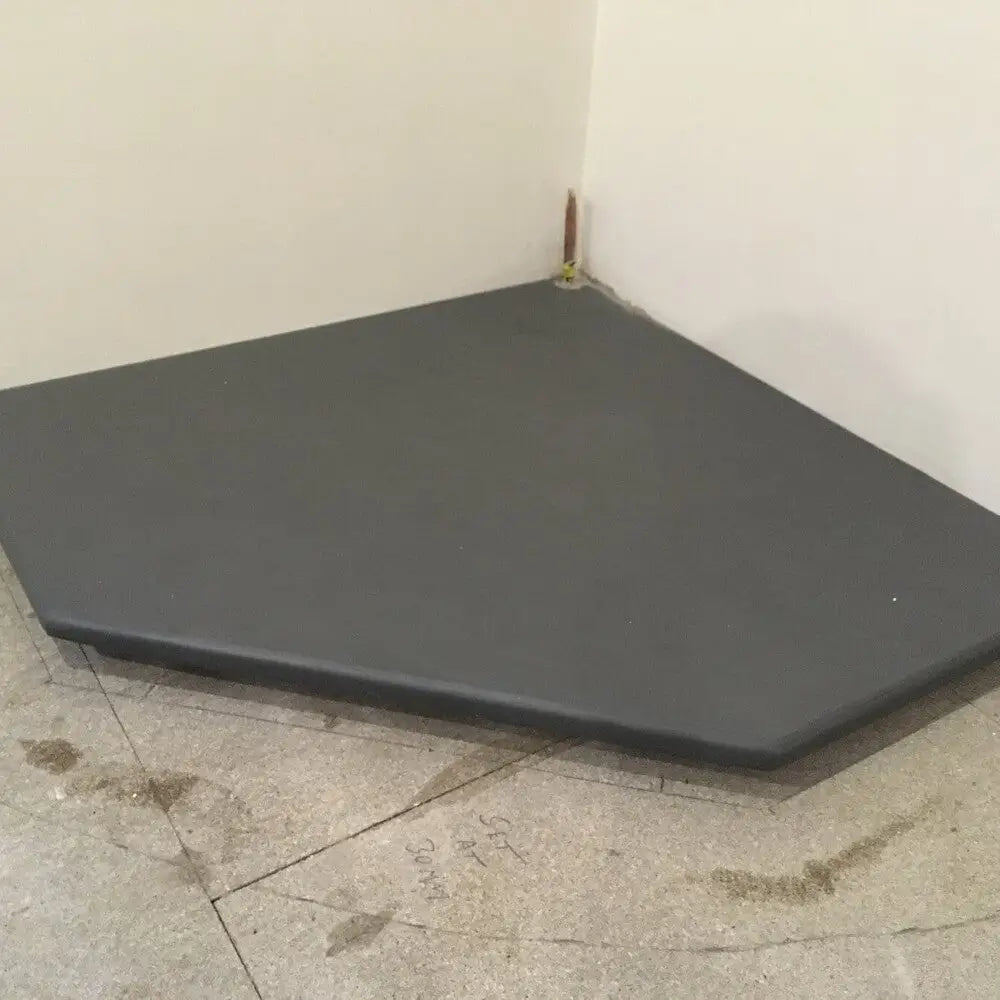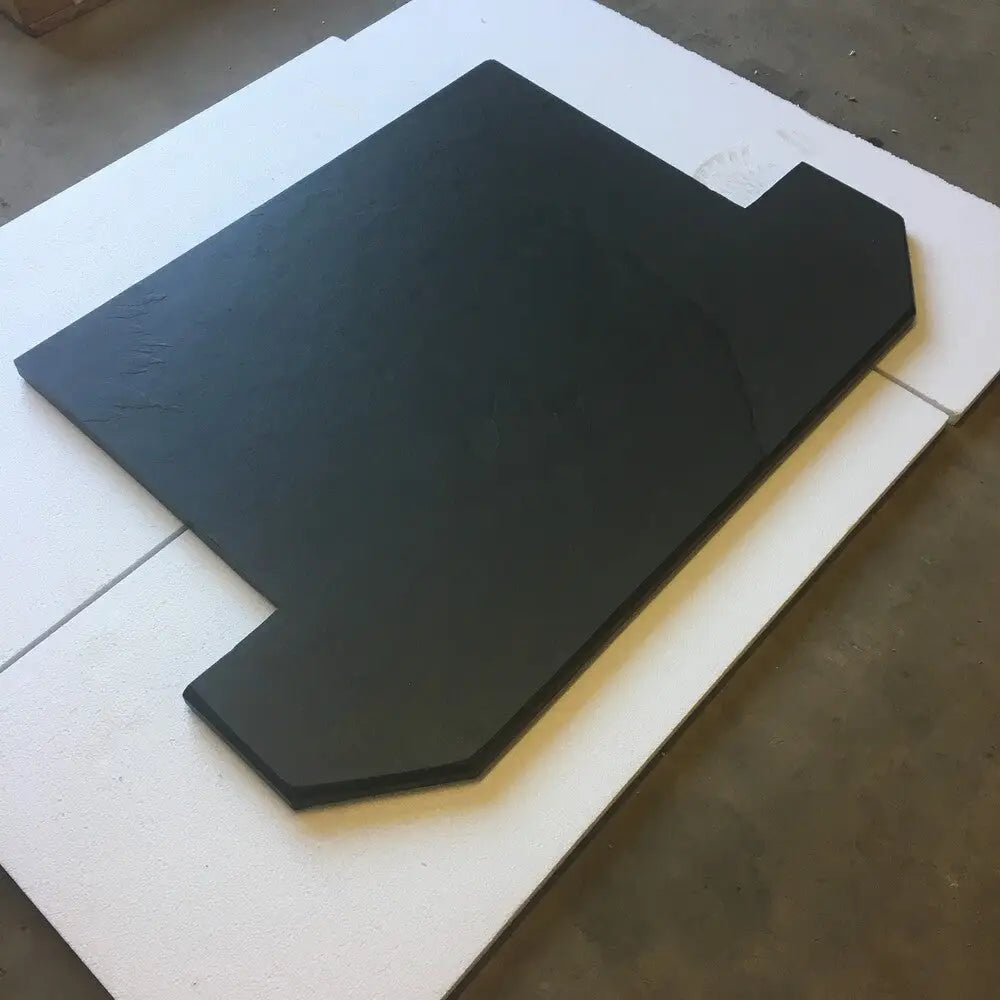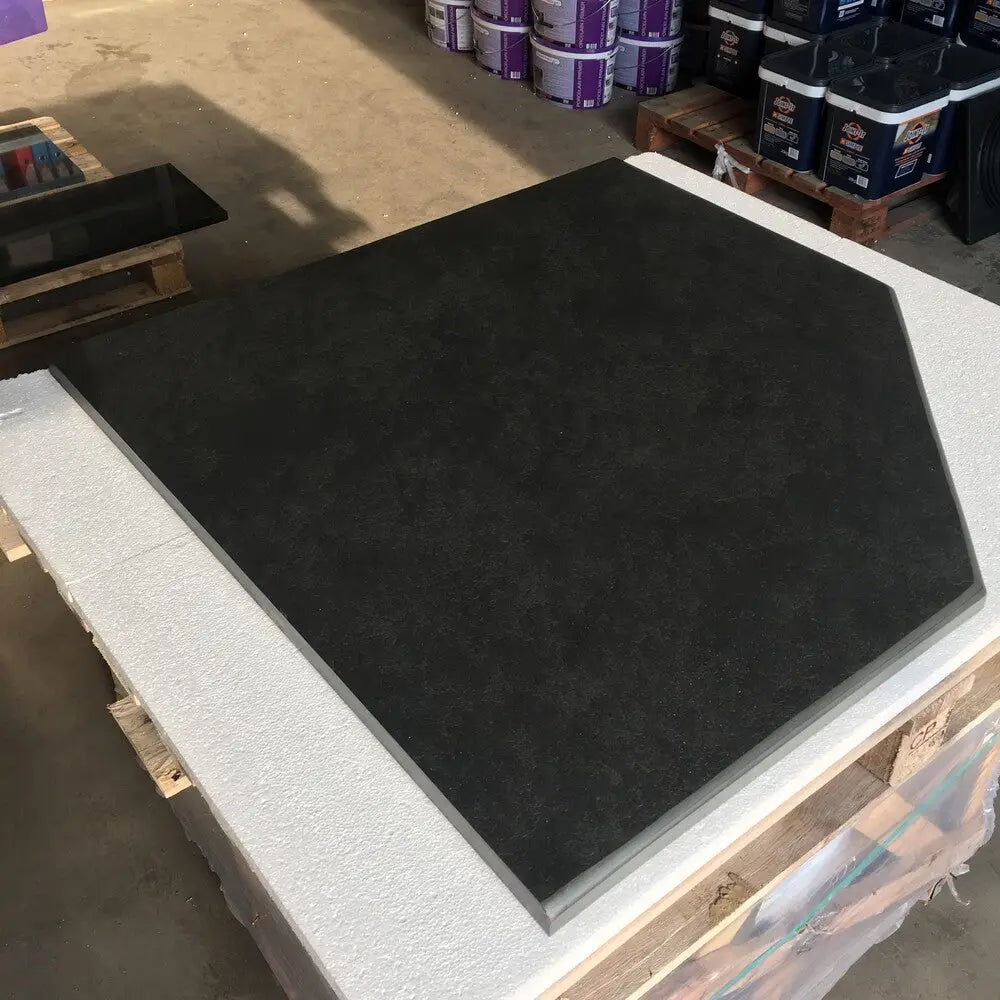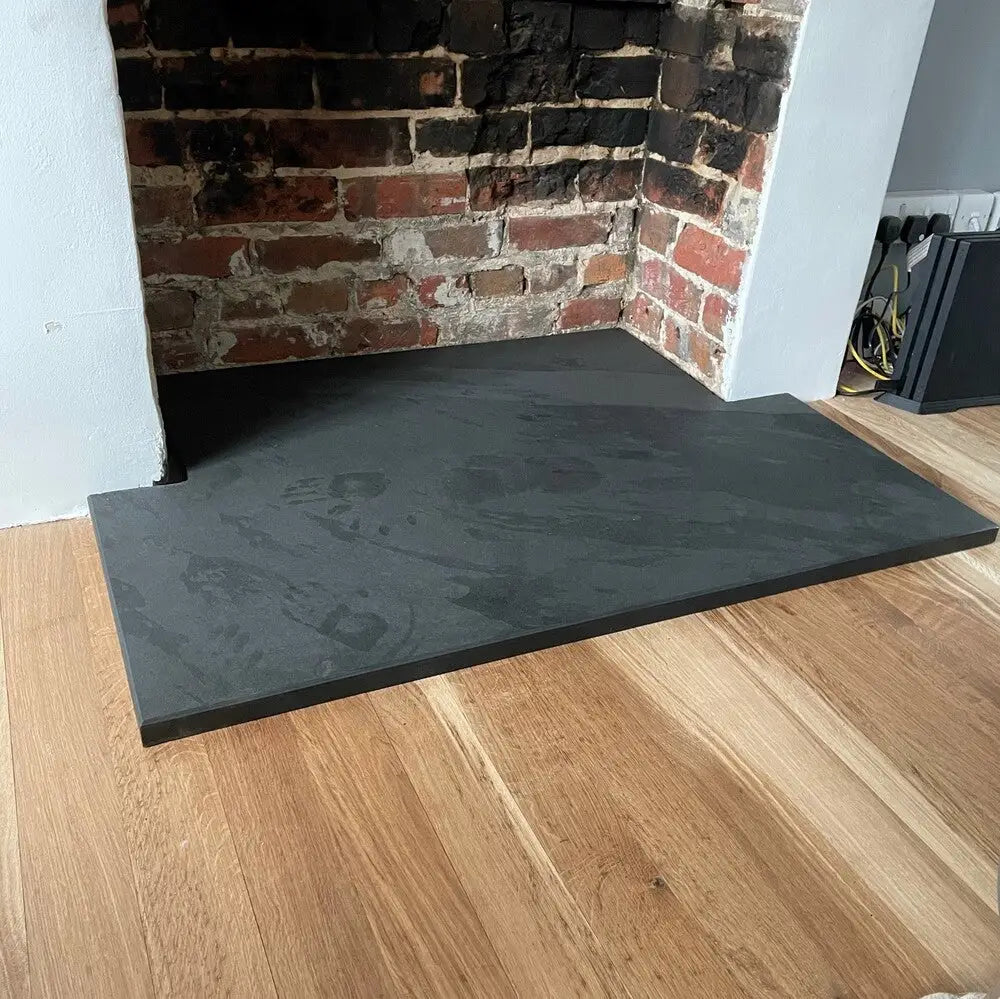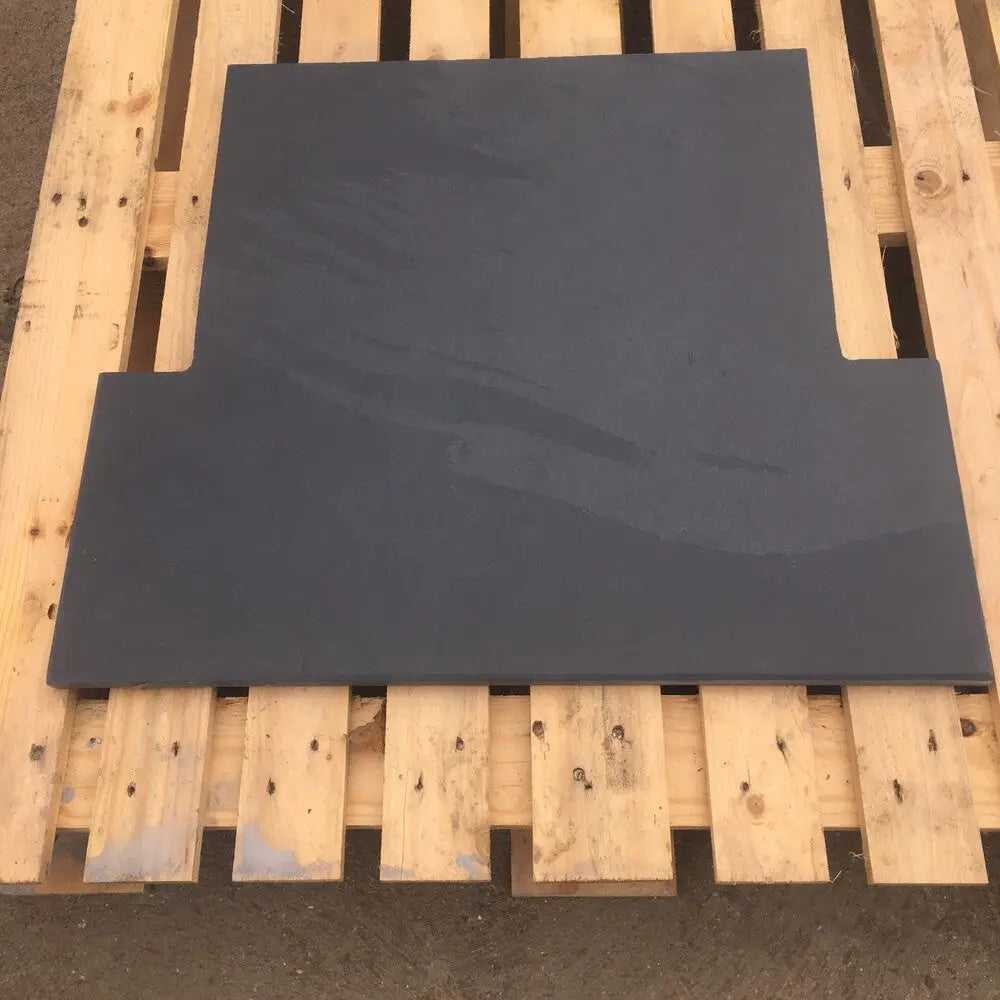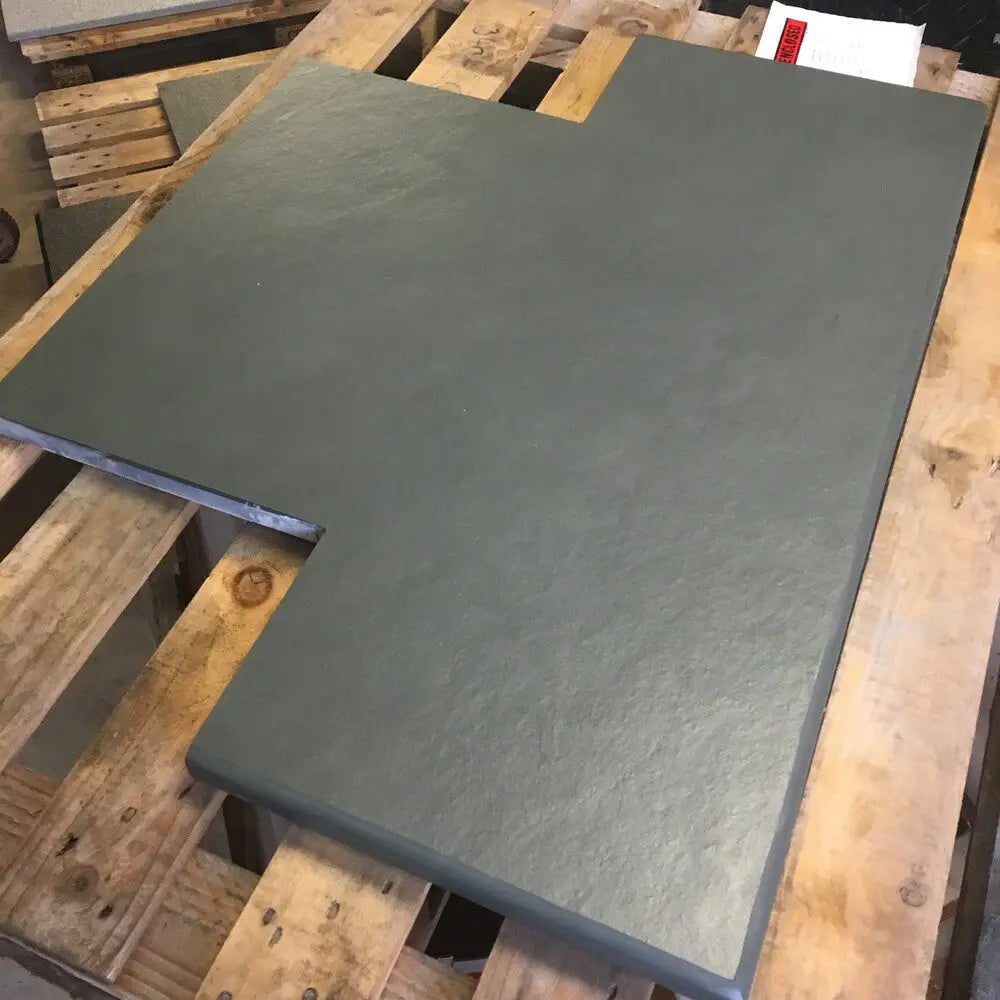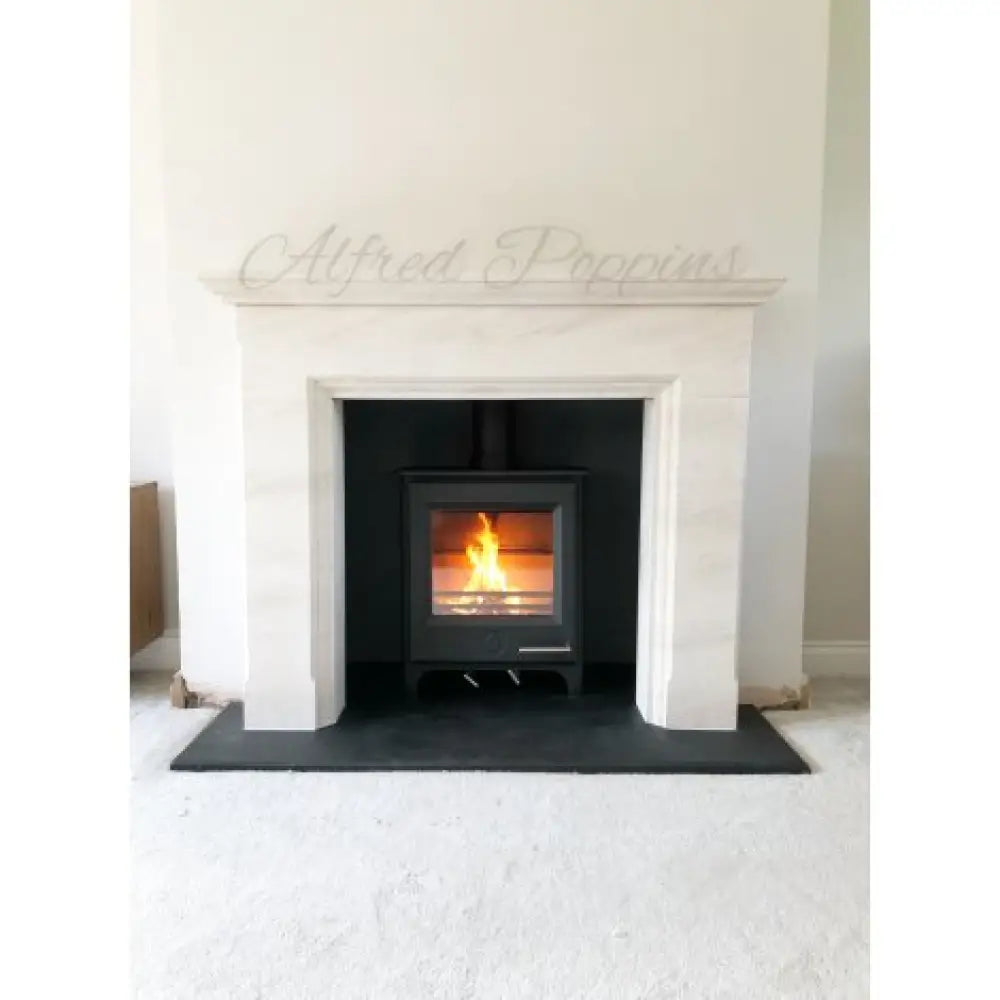 Hearth Quote
Your Bespoke Fireplace Hearth Quote
Fill out the form below and we'll get back to you with your price nice and quickly!
Slate Hearths - Cut To Size
Are you trying to find a slate hearth with specific size and shape requirements that can't be found in our ready-made selection? If so, we have the perfect solution for you. Our special bespoke cutting service takes your chosen material and cuts it to your exact needs, ensuring an easy and immediate installation when it arrives. We understand that not every home has a standard sized hearth, so our service allows you to get exactly what you want without compromising on quality or design.

We provide a unique cutting solution tailored to each project's individual specifications—all you have to do is provide us with your measurements and we'll take care of the rest! Our in-house stonemasons take great pride in their ability to produce perfect results every time, often achieving turnover times of 7 days or less.

When considering your options, there are certain factors which will affect the cost of your hearth such as the material used, its size, shape, edges and the delivery location for example. Take a look at all our choices today. they are guaranteed to give you exactly what you need without undertaking any unnecessary costs or efforts.
Alternative Hearth Materials:
We have 4 hearth materials to choose from. Some materials such as slate hearths are a classic choice that has been popular for many years, but new options such as limestone hearths have seen an increase in popularity as people are looking for a modern style.
Black Limestone - The most popular option. Consistent, dark black natural stone. Perfect for most projects.
Slate - More decorative than limestone with a more textured surface. Great for those who want more personality from their piece. Available in 2 colours.
Natural Stone (Sandstone) - The ultimate classic choice. Natural stone that is perfect for older properties.
Granite - Granite comes in either a polished or honed finish. These hearths are machine smooth and amazing for modern spaces.announcements, or welcome customers to your store.
Hearth Edge Types
Each of our slate hearths comes with an edge finish of your choice. The edge style is the finishing touch to make sure your hearth fits it effortlessly with its surroundings, so take some time to consider the best option for you.
Sawn Smooth Edges | Standard
This is a very balanced, all-round choice look which is perfectly suited to almost any style of space - and it also comes with no extra cost.
Get Your Quote
Chamferred Edges | Bevelled
The most popular option. The bevelled is a sloping edge on the hearth, created by cutting the surface at an angle. This is a great choice for those looking to add some subtle style to their piece.
Get Your Quote
Bullnosed Edges | Rounded
Bullnosed edges have been rounded from the top edge, leaving a flat bottom so the stone can sit flat.
The resulting visible edges are smooth, rounded edges that are perfect for contemporary spaces.
Get Your Quote
The Shape Of Your Hearth
Slate hearths can be in all sorts of positions in your home - so we are able to cut to a number of shapes to suit!
Whether you need a T-shape piece to sit inside a fireplace, or whether you are looking for a free standing burner, we can cut something to suit.
T-Shape Hearths
The most popular option as they sit snuggly inside a fireplace.
If you want to fill your fireplace recess with a sturdy have and have an overhang to place things on, this is the only option.
Get Your Quote
Rectangular Hearths
The option for free standing burners or those that don't want an overhang from their fireplace.
Get Your Quote
Corner Hearths
The final option if you are looking to install a hearth to sit in the corner of your room. Corner hearths are becoming more and more popular all the time.
Get Your Quote
FAQs - Slate Hearths
Are Slate Hearths Easy To Look After?

As they are used indoors, you'll get much less hassle than any stone that you use outdoors.

They come pre-sealed which provides a layer of protection which should prevent stains on your stone for years. But if you wanted to be extra sure, whenever you are doing a spring-clean around the house, an extra layer of stone sealer will keep it looking as good as new, for good!
How Do I Install A Hearth?

There are guides out there on the best way to install your hearth. It's always recommended to use a professional if you are unsure, but for some more general advice:


T-Shapes - Back the underside of the hearth with tile adhesive and press onto a constructional hearth.

Free Standing - No special installation needed.
Do You Deliver To Where I Live?

Yes! Unless you have found us from outside the UK.

We deliver to the entire UK mainland inclusive in the price you pay. Northern Ireland or delivery to surrounding islands can be arranged on an ad hoc basis.
How Will My Hearth Be Delivered?

Your hearth will be delivered on a pallet. It will be wrapped with shrink wrap with a topper, with wood batton placed around any overhanging edges in order to avoid damages as best as possible.

Delivery will normally be made on manual forks/pump truck and will only be guaranteed kerbside. However, if your driveway is flat and then the driver may agree to move it to your driveway. However it is not guaranteed.

If you are unsure on suitability for delivery, please give us a call in advance.
Choose an Award Winner
Ordering online can be stressful, especially with large bulky items. But you can guarantee you are in good hands by choosing a proven award winner.
Overall Small Business of the Year 2018
Trade Business of the Year 2018
Business Owners of the Year 2019
Fast & Free Shipping

Easy shipping available as soon as the very next day.

Free delivery on all online orders.

Money-Back Guarantee

Is your order not up to our usual standards? Let us know and we will either replace on a next-day service or provide a full refund. You're in very safe hands.

Secure Payment Handling

Choose one of many secure payment methods including Apple Pay, PayPal & Worldpay. All 100% secured with advanced payment encryptions.
Take a look at what our customers are saying:
Trade Customer?
Join our growing list of trade customers that enjoy perks such as credit accounts, trade discounts and an annual Trade Treat day.
2022 Trade Treat Day was a Gokarting Grand prix day.
+ + + Plus + + +
£50 off your first FOUR orders when opening a new trade account.
Sign Up For A Trade Account Here