Italian porcelain is classed as the best porcelain paving in the world. If you are considering new porcelain paving for your outdoor area, you should definitely consider Italian porcelain. You get a far better return on your investment when you choose Italian porcelain paving over porcelain paving from other areas.
Italian porcelain paving tile makers spend a lot of time going through a methodical process of research and development to ensure they only create the very best finished article. Each italian porcelain paving slab goes through design and technological excellence. Not only do you get the latest designs of paving slabs, but the finest materials are used too. The 20mm outdoor porcelain tiles that are produced by Italian factories are visibly richer and more elegant in finish than other products worldwide.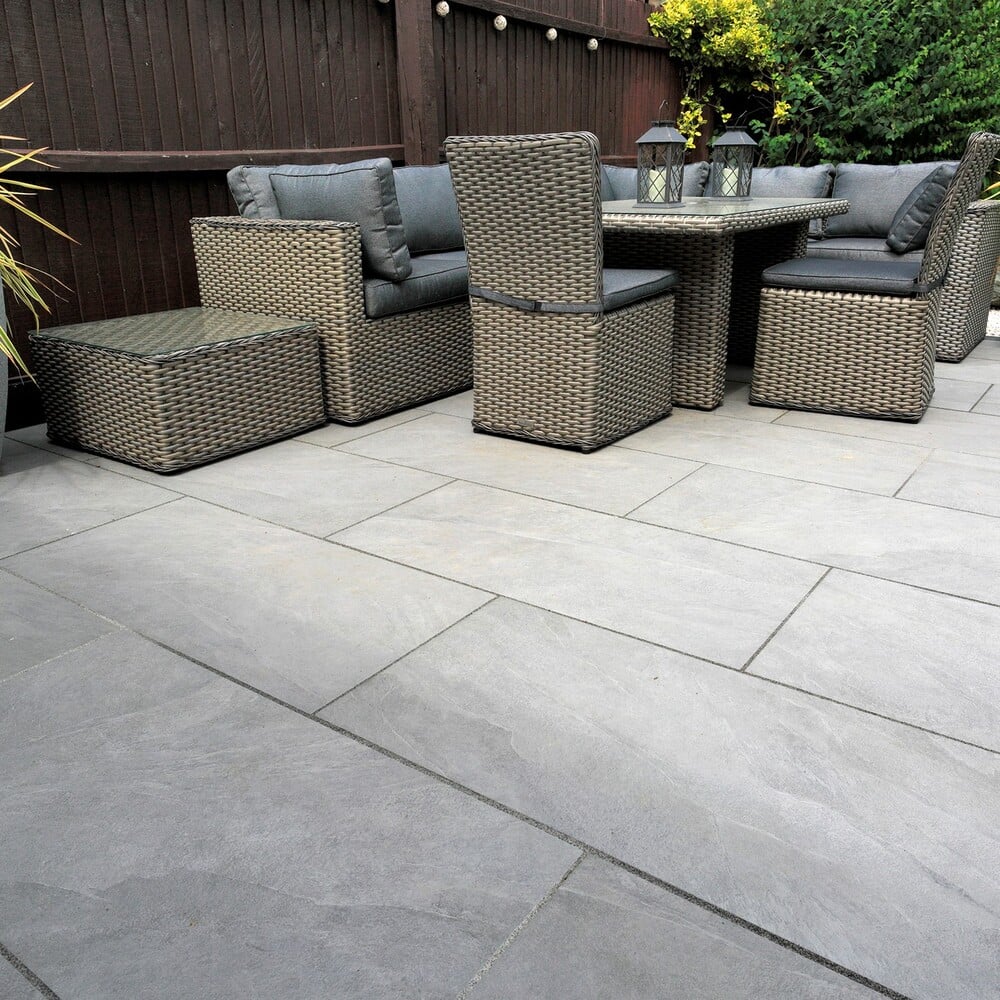 Below we have listed just some of the many reasons that Italian porcelain paving really is one of the best porcelain paving options out there.
Italian Factories Have The Best Porcelain Production
So many of the benefits of opting for Italian Porcelain paving over other nations' products are due to the production measures that Italian factories have in place. They are world-leading in their processes and quality control which results in the finest quality final product:
They are fired at lower temperatures for a longer time. This means the clay has time to cure and harden slowly, resulting in a more reliable, long last product. Other worldwide Porcelain is fired at a lower temperature for a shorter time, so is less structurally sound.
Italian factories are very tech-forward, meaning they are the most efficient way to produce this porcelain. Unfortunately, they are not a particularly green product when compared with a natural stone, but Italian factories prioritise being as green as possible.
Overall, there are so many reasons to opt for the Italian product, so let us explore a few of the benefits in a bit more detail.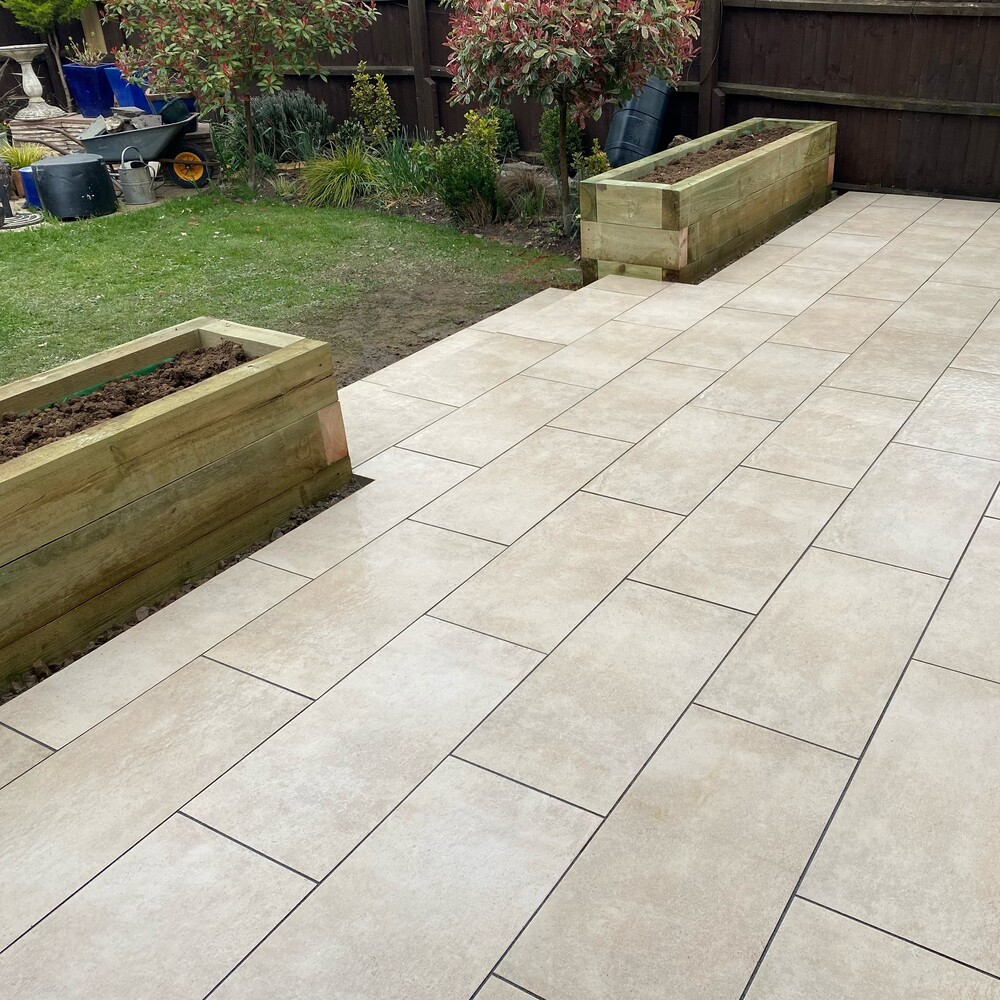 Italian Porcelain is the Most Sustainable Worldwide Porcelain
As a result of the state of the art factories, Italian porcelain paving slab manufacturers place a really high emphasis on environmental sustainability. Italian manufacturers are known for putting a great deal of thought and research into developing manufacturing processes that minimise the amount of harm that is done to the environment and the planet. For example, all the heat producing elements involved with firing a clay slabs to create a solid porcelain tile is contained within advanced machinery, where this heat is recycled to reduce the amount of energy required by the entire factory.
If you're considering your carbon footprint when looking for porcelain tiles for your garden, the Italian porcelain paving slabs could be a great option for you, the energy recycling that is prioritised in the Italian factories reduces the carbon footprint of the product way below that of other worldwide factories.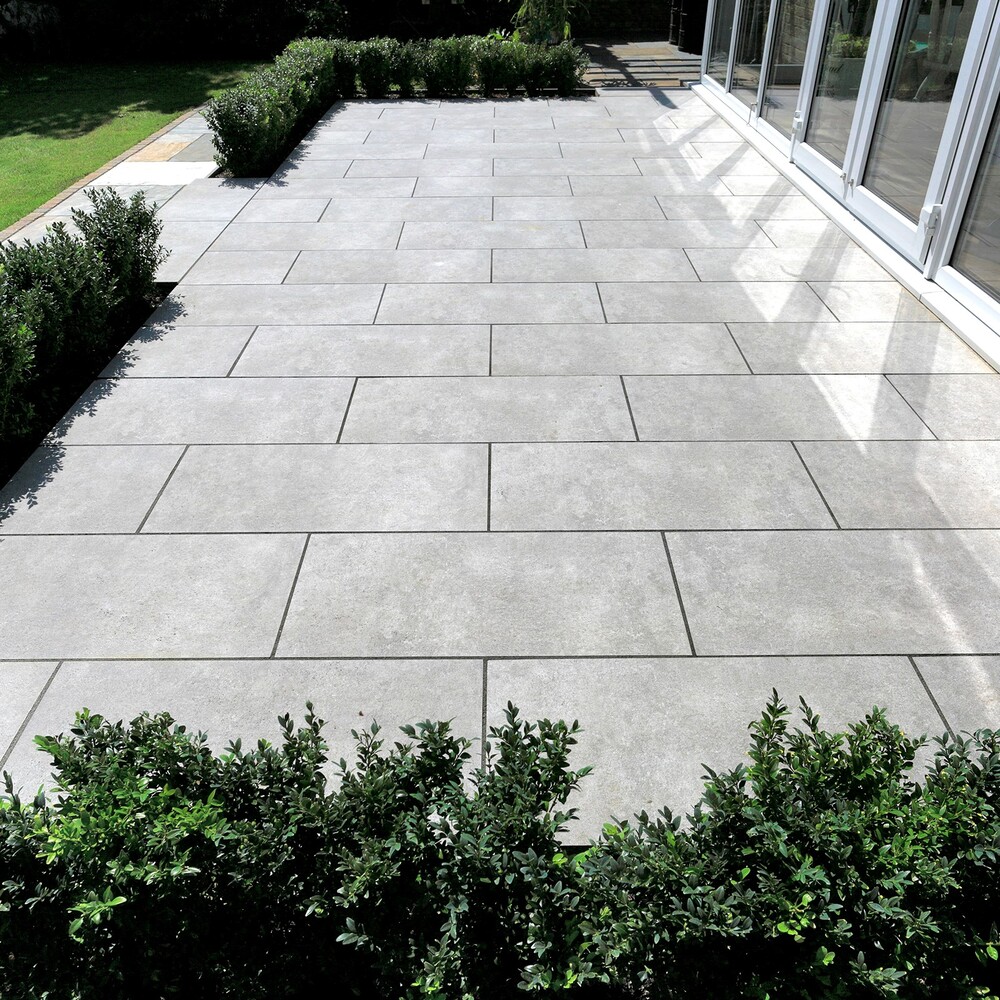 Design, Style & Finish of Italian Porcelain Paving Slabs
Italian porcelain is at the forefront of porcelain tile design across the world. These designs are really what set Italian porcelain apart. The state of the art printing and veneering process is completely designed in house and as a result only the finest results make it to print. Other global products can have their designed outsourced, or simply copied from elsewhere - this means the quality slips and the design quality is a race to the bottom. By keeping everything in-house, the end product is of much higher quality than you may find elsewhere. 
While leading in design, Italian porcelain manufacturers have also produced some industry altering designs. Tiles are now produced to look like natural flooring materials such as wood or marble. This enables you to have the convenience of paving slabs, with the rich and luxurious appearance of these other natural paving materials. Italian porcelain can be designed to mimic these other materials to perfection as the design and print process is so immaculate. In many cases it is almost impossible for an onlooker not to realise the paving slabs are the not of the material they are mimicking.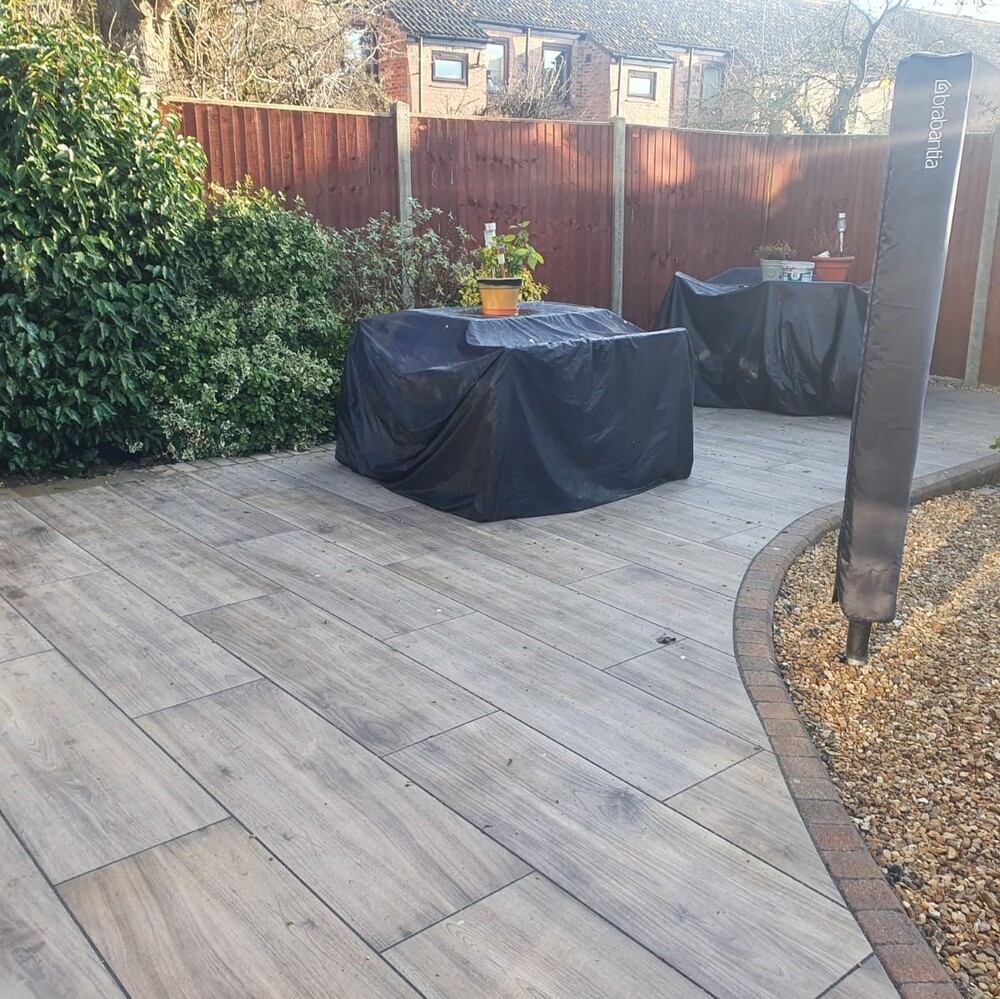 Outdoor Porcelain - 0% Porosity, 100% Longevity
Unlike pure ceramic, Italian porcelain slabs are less porous. This is thanks to the non-porous veneer on the clay paver which provides the design features, but also means that they do not allow for a liquid to seep through the surface. Over time, it is this water seepage that causes the long term damage on most paving slabs, but that is a great advantage for outdoor flooring in the UK where wet weather is common.
For the same reasons Italian porcelain pavers are great for dealing with spillages of all kinds, without getting any long-lasting stains. This means that you will have a porcelain paved area that will look as good as new, despite the weather and inevitable accidents and spillages.
This veneer is integral to the success and longevity of a porcelain patio. Therefore it's important to make sure you are getting a top quality finish. I don't know about you, but I'd much rather my veneers came from a state of the art factory!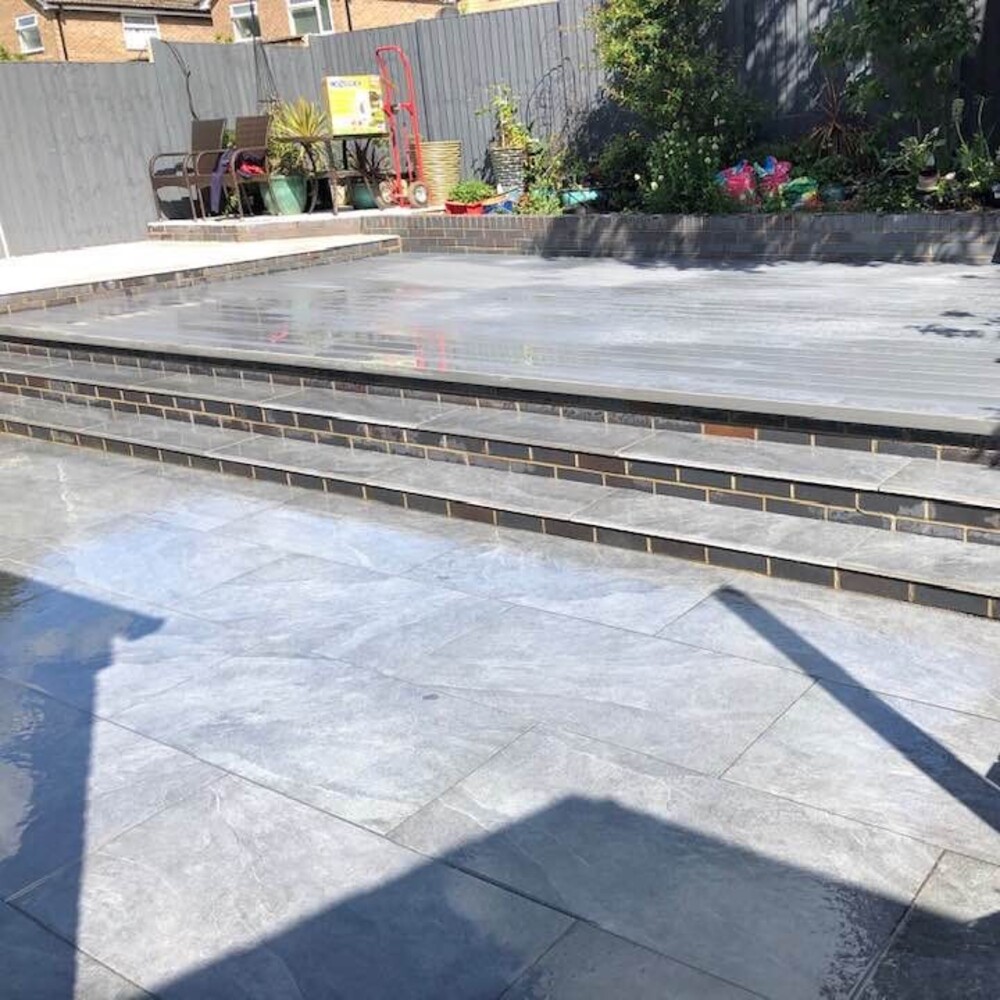 Unmatchable Strength of Porcelain Paving
Speaking of which, Italian porcelain pavers are known to be exceptionally long-lasting along with their stunning aesthetics. Thanks to the premium method of firing the clay at lower temperatures for a longer time, when you choose Italian porcelain garden pavers you are choosing an elegant paving slab that is robust and durable, while looking beautiful throughout the year. The beauty of this paver matched with the strength it offers is neatly impossible to match with any other material or paving stone.
No matter where your Italian porcelain paving stones are laid, they will work well in high-traffic areas and cope under excess weight and stress. These tiles are designed to last the test of time with minimal maintenance required.
Conclusion - Italian is the only way
It's impossible to go through every porcelain factory worldwide, but we've certainly seen a good amount of them! It's easy to say that Italian factories go about it very much the right way. That's easy to see from miles away.
The factories are state of the art, green processes lead the way and the method of firing the clay is above and beyond anywhere else. If I were to invest in a porcelain patio, I'd want to make sure I was getting the best.