Porcelain paving is one of the most beautiful additions that can be made to any garden or patio area. There is a wide selection of porcelain patio slabs available that will complement whatever aesthetic you are aiming to create in your outdoor project. You'll find that each porcelain patio tile has a designer feel to it, and this is what adds to the luxury of your outdoor paved area. This designer feel comes from the exquisite design and manufacturing of each porcelain slab.
The wonderful thing about porcelain flags is that any look can be achieved with them. The delicate sparkle of the porcelain outdoor slabs offers an ultra-modern look and style. There are even some porcelain tiles that work to create a rustic
wood effect
. Porcelain garden slabs offer that truly authentic look and feel that you only get with natural stone, but with a practical edge that is needed in outdoor paving.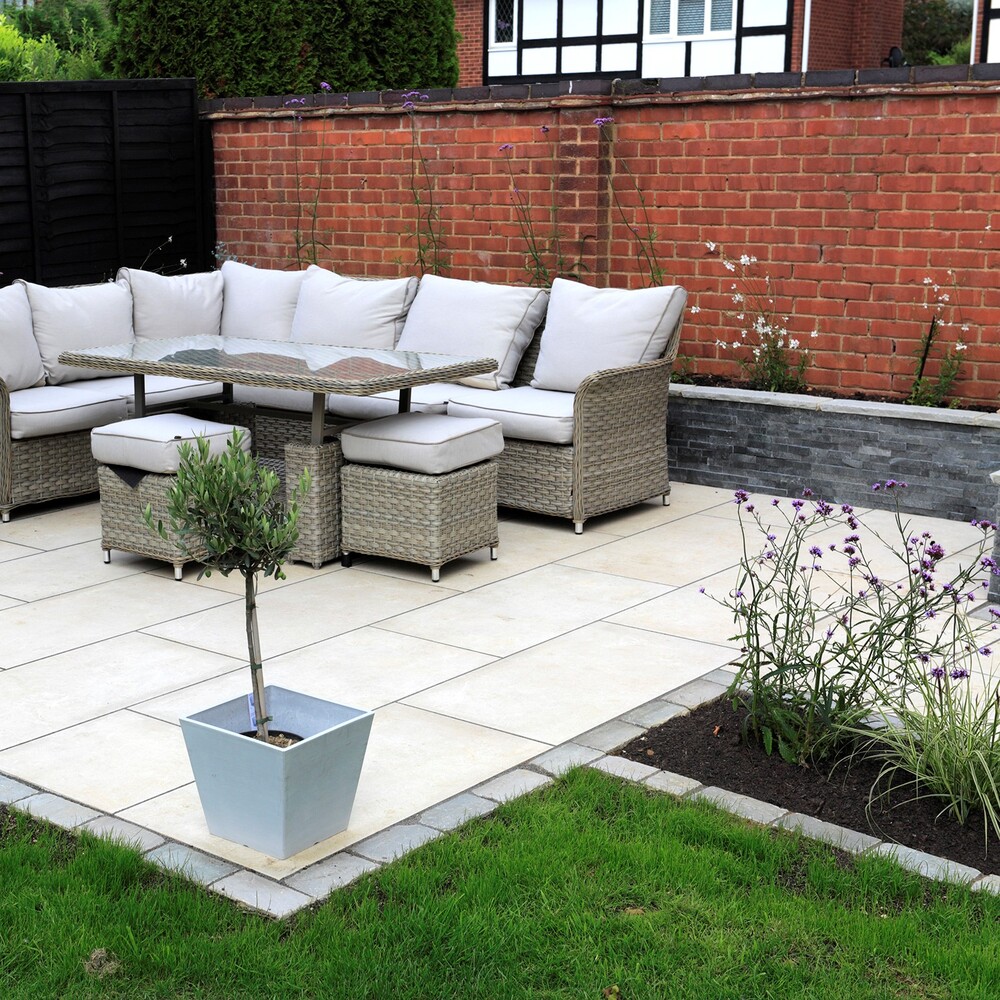 What Is Porcelain Paving Made From?
Porcelain paving is created by baking a mixture of clay, sand and other minerals. These are then put into a high-temperature kiln. From this, an incredibly durable and non-porous material is created; known as porcelain paving.
The Benefits of Porcelain Paving
Porcelain paving slabs are completely non-porous - this means that porcelain patio tiles require very little maintenance as none of the elements will affect the tiles.
When you have porcelain slabs installed into your garden there is no need to apply a sealant - This is because the porcelain flags are already stain and mildew resistant. Spilt liquids and oils cannot penetrate the surface of porcelain outdoor slabs. Instead, you just need to wipe away any oil or chemical spillages. Fungus growth can just be wiped away too.
Porcelain paving slabs are extraordinarily hard wearing - due in large part to the chemical makeup and manufacturing process, porcelain paving will look brand new for a long period of time.
Porcelain patio slabs are also scratch-resistant too - this makes them the perfect paving option for high footfall paths, but also outdoor dining areas with garden tables and chairs.
Porcelain tiles are consistently accurate sizes as they are factory produced - This allows them to be laid with thin joints. These thin joins create a very desirable and modern appearance to your garden. The intentionally varied

surface

finishes, matched with a subtle colour and surface variation, further enhance the individuality of porcelain slabs.
A harmonious flow from the indoor kitchen to an outdoor dining area - A lot of outdoor porcelain tiles can also be matched with an indoor tile to flow from indoor to out.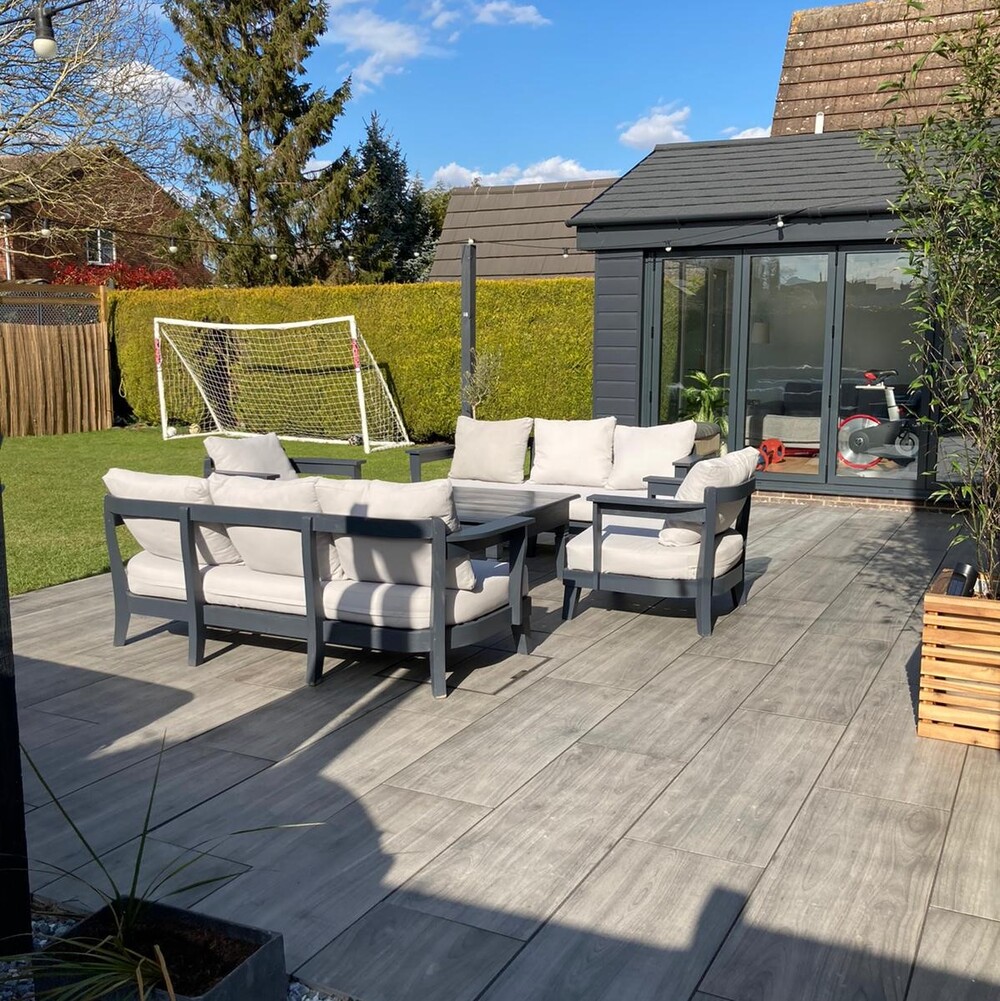 Porcelain Paving vs Natural Stone Paving
No one can deny the beauty of natural stone paving. However, here at Primethorpe Paving, we genuinely believe that porcelain paving is an even more appealing and longer-lasting paving option.
We feel that porcelain flags boast characteristics that make them superior to natural stone, for indoor or outdoor installation. Unlike natural stone, porcelain paving slabs require minimal maintenance. They are moisture-resistant without sealant and they don't impact the environment as much as natural stone paving either.
So, let's look at the benefits of porcelain paving vs natural stone paving:
Less Maintenance
Natural stone paving varies in porosity. This means it is very unlikely that you will find a natural stone paving option that is completely non-porous. One of the main benefits of choosing porcelain outdoor slabs over natural stone paving is that porcelain has very low porosity. In fact, research shows that porcelain garden slabs absorb less than 0.05% surface water.
Many types of natural stone, like sandstone, for example, will require regular sealing treatments. This is because the sealant on them weathers and wears away over time. This will then leave the natural stone unprotected and susceptible to water damage. Meanwhile, porcelain patio slabs never need to be sealed. It will remain water-resistant for years to come, with no additional maintenance from you.
Moisture-Resistant
Due to the fact that porcelain patio tiles are highly water-resistant, they are also moisture resistant. The great thing about this is that it means porcelain slabs will not stain. All the cleaning that will be required is a quick wipe over with some warm and soapy water. This will then remove any debris or organic matter such as grass, soil, leaves, bird droppings, etc from your porcelain flags.
If you would prefer, you can also use a pressure washer on porcelain outdoor slabs, and it will not damage the surface at all.
Eco-Friendly
If you're looking to improve your carbon footprint and do your bit towards helping create a greener world for everyone, then porcelain outdoor slabs are perfect for you. Porcelain paving slabs are extremely eco-friendly. This is because they are made from natural raw materials with minimal waste. In fact, even the minimal waste is recycled back into the manufacturing process. Porcelain garden slabs also contain no waterproofing agents, varnishes or resins that can be harmful to the environment.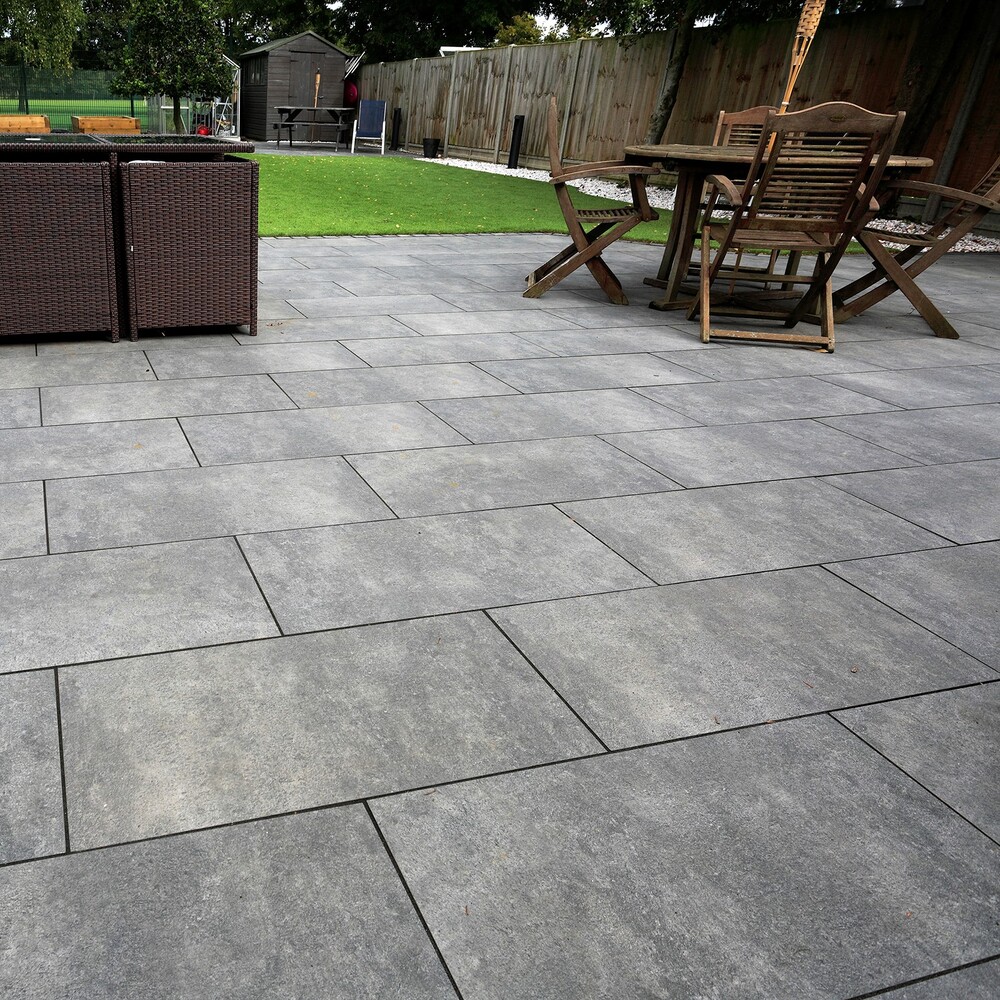 Porcelain Paving vs Natural Stone Paving Overview
All our porcelain slabs here at Primethorpe Paving are durable and moisture resistant. This makes them a clear winner when it comes to the strength and durability of outdoor paving solutions.
Why Choose Porcelain Outdoor Slabs?
There are four main reasons that our customers choose porcelain outdoor slabs for their outdoor paving solution.
Porcelain paving slabs are low maintenance and easy to clean.
Porcelain flags offer an enhanced slip-resistant paving solution.
Porcelain paving slabs are highly resistant to stains and scratches.
Porcelain garden slabs are available in a wide variety of colours and sizes.
The Pros and Cons of Porcelain Paving
As with all paving options, you need to consider the pros and cons to ensure you are making the right decision for your outdoor paving area. Below we have listed the pros and cons of porcelain paving.
Porcelain paving is becoming an increasingly popular paving solution for outdoor living areas. Porcelain outdoor slabs have a number of attractive advantages when compared to other paving options. However, there are some downsides to porcelain garden slabs too. We hope our rundown of the pros and cons of porcelain paving will help you make the right decision for your outdoor living space.
The Pros of Porcelain Paving
Porcelain patio slabs offer low porosity. This means that they are far less absorbent than natural stone, for example. This makes porcelain patio slabs significantly more resistant to moisture, damage, staining, etc.
Porcelain patio tiles are low maintenance. Due to their low porosity and outstanding durability, it means that porcelain patio tiles require virtually no maintenance at all. In fact, unlike other paving solutions, porcelain patio tiles never have to be sealed. All they need is an annual jet wash to keep them looking great.
The Cons of Porcelain Paving
Porcelain flags will often cost more than other paving options. However, this does depend on the quality of the product you are buying. As a general rule, you can expect to pay more for porcelain than any other paving materials. It is worth noting that this is only the initial outlay that costs more though. When you compare the lifetime, maintenance requirements and other key performance indicators, you will see the long-term cost is lower.
Porcelain outdoor slabs can be more difficult to cut as they are harder than other paving materials. It can be done, but specialist cutting equipment is required. This is why some installers may be more reluctant in laying porcelain paving, especially if they are less experienced in this area.
Porcelain paving slabs offer a very different appearance from natural stone paving. While they are still beautiful, if you're a big fan of the natural stone paving look, then porcelain paving slabs probably aren't the right paving product for you. That said, any of the porcelain paving products we sell have been designed to look like natural stone, on top of the additional benefits, this may swing it for you.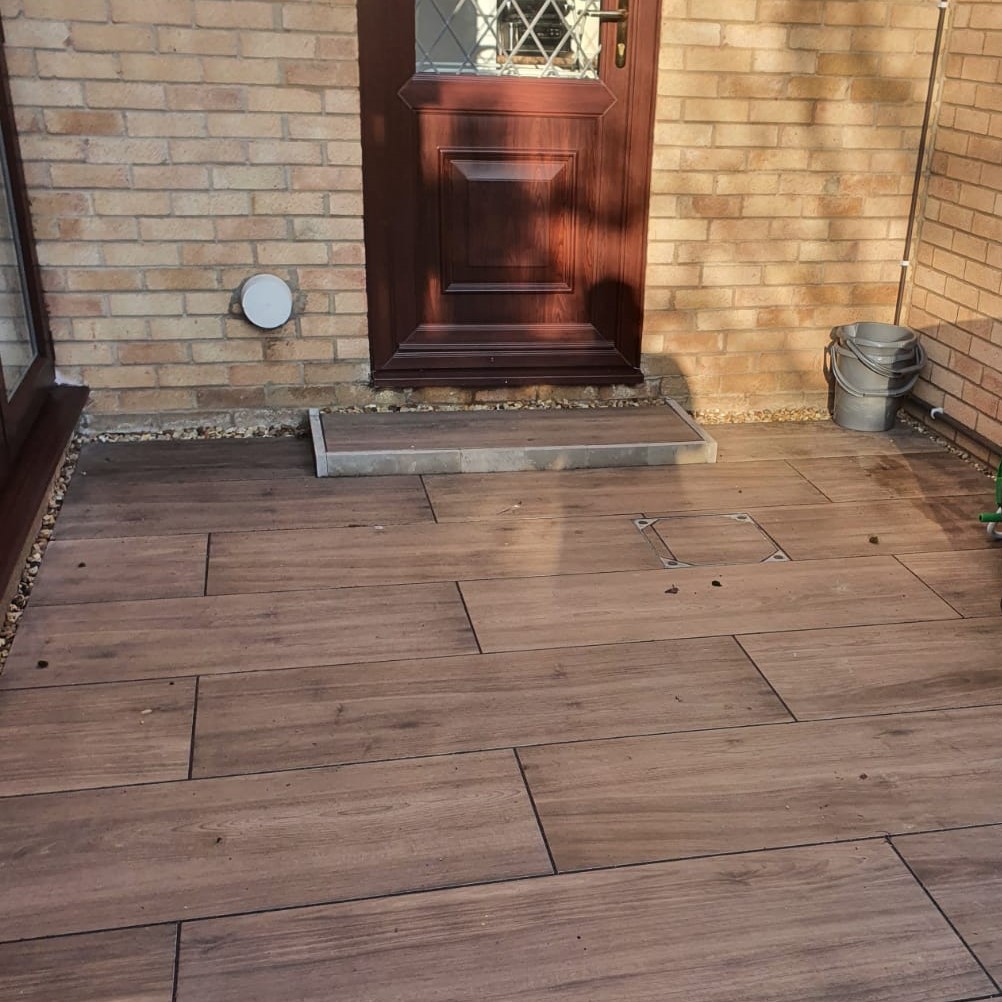 What's The Difference Between Ceramic, Vitrified and Porcelain Paving?
There are three paving terms that are used interchangeably by manufacturers. There are ceramic, vitrified and porcelain. While the terms are used interchangeably, there are some subtle differences between them.
For example, porcelain and vitrified paving slabs are better suited for outdoor use. This is because they are made using clays. These clays are fired to a very high temperature. This creates a hard and durable finish.
Meanwhile, the term ceramic can refer to a variety of materials or Italian porcelain paving slabs, which include porcelain. However, some of these other materials may not be suitable for outdoor use.
If you are thinking of using ceramic paving for your outdoor living space, just make sure the material is fit for purpose. If you're not sure, feel free to call our team.
In Summary: Why Choose Porcelain Paving
If you are looking for a sleek and sophisticated, designer finish that you can't wait to show off, then porcelain patio slabs are the perfect paving solution for you. We feel that porcelain slabs are ideal for those homeowners looking for a top-quality finish.
Porcelain flags are very durable, highly water-resistant and scratch proof. They are also extremely hard-wearing and non-porous. All of these benefits made porcelain outdoor slabs perfect or high footfall areas such as patios and pathways. You also won't need to spend your spare time trying to remove stains or buying expensive sealants. Just a quick once over with the pressure washer and it'll be looking as good as new again.
Whether you are looking to lay a new patio or spruce up your outdoor dining area, we have the porcelain paving slabs for you.