Granite stone paving brings beauty and class to any outdoor space. It can be used for creating paths, patios, outside dining areas or even utility areas. One of the biggest benefits of granite paving slabs, and something that makes granite patios so popular, is that it's incredibly durable, has a long life span and can withstand constant movement, changes, weight and elements of the Great British weather.
No matter your garden style or taste, granite paving stones can work for you. Our granite paving flags are available in a wide selection of colours. You can create a contemporary, traditional, modern or even an artistic feel to your garden with our granite slabs.
An Introduction To Granite Stone
Granite is a natural stone. This means that the composition and colour of the stone will vary, as it is natural and not man-made. The mineral balance in granite stone can cause the colour of the stone to change from blacks, greys, roses and yellows.
What Is Granite Paving?
Granite paving stones are tight-grained and evenly textured. It is a sawn surfaced patio stone with normally one of two finishes: a flamed surface finish (aka ash paving) or a leathered surface finish (aka emperor paving). This creates the crisp lines for modern landscaping designs. Subtle sparkles in granite flags also all to the lightness and character of this classy and sophisticated paving option.
Granite paving slabs, granite setts and edging stones are the typical paving stones for your patio garden. They are an attractive yet cost-effective paving stone. While we are granite slab UK suppliers, the granite comes from our overseas quarries and factories. The consistent thickness of the granite outdoor tiles matched with the textured surface offers an anti-slip character to the stone that makes it ideal for most gardens and outdoor areas.
Granite paving is cut from granular and crystalline rock. This paving stone is known for its dense interior and hardwearing exterior. The winning combination makes granite paving slabs one of the most popular paving solutions on the market today.
Granite Paving Sizes And Colours
One of the great things about granite paving is that it offers a wealth of design opportunities. Here at Primethorpe Paving, we have a wide range of sizes and colour options available for your granite patio. There are a multitude of sizes of granite paving for your patio. We can offer large format granite patio slabs, right through to smaller granite paving slabs to lay randomly and create something quite unique for your outdoor patio or paved area.
The colour options for your granite flags range from light blue and bright silver, mid grey tones and blue-black, right through to black granite paving. We also have a pinker granite paving slab that has shades of red, silver and grey.
Whatever your granite paving requirements, no matter how big or small the area – we have the solution. We will help you make the right choice for your paved outdoor area.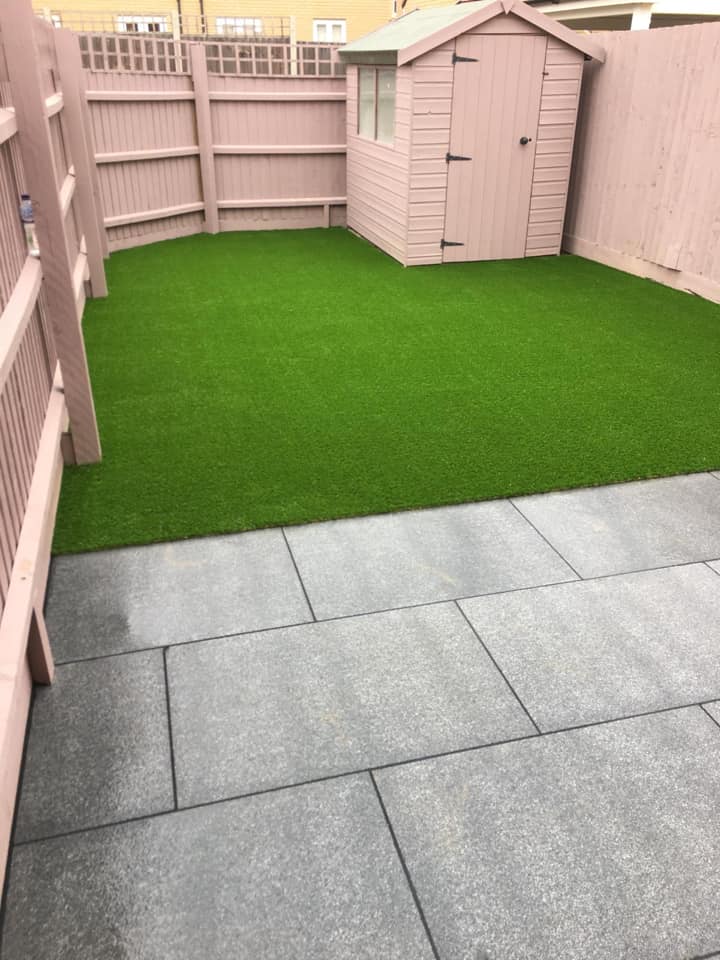 The Finish Of Your Granite Paving
If you're looking for a high-end finish that oozes style, then granite paving is the perfect option for you. It's a hard-wearing stone that is suitable for all areas of the garden. This natural stone is durable, non-slip and scratch-resistant. It's a reliable paving choice for patios and walkways due to its earthy and textured finish.
The earthy and textured finish us made possible by exposing the stone to a high-temperature flame. This then causes a sudden expansion of the surface of the stone. The process is better known as the 'flaming method'. It is commonly used on granite paving stones to make them slip-resistant.
However, there is another benefit to the flamed finish of granite flags. It gives the granite stone a crystallised appearance. This creates a sparkly appearance. If you're looking for a paving option that sparkles and shines to impress your guests, our flame finished granite slabs are well worth considering.
The Best Way To Lay Granite Paving Stones
To take full advantage of the slip-resistant benefits of granite paving slabs, you need to ensure you are placing stones with the flamed/textured side up. This will help make the paving stones feel better underfoot. However, it will also show off more of the stone's characteristics and sparkles.
We would recommend you create an adhesive 'bond bridge' before you lay the slabs. This is done by adding slurry primer to the back of the granite patio slabs. This helps to keep the new paving stones firmly in place, for years to come.
The slurry primer not only helps keep the granite flags in place, but it will also help prevent moisture from absorbing into the paving stones. The risk of staining the flawless appearance of the granite slabs will be reduced through the slurry primer too.
How And Why To Seal Your Granite Paving
Here at Primethorpe Paving, we would recommend that you seal your granite paving if you are looking for extra peace of mind (read our sealing guide for more info). It's not 100% necessary to always seal natural granite as it's a very hard-wearing natural stone, but it can help with a few things. Not only does it help to prevent any staining; it will also help prevent the growth of moss or algae on or around your granite patio. If your granite stone is light in colour, we would strongly recommend sealing the stones. Lighter stones can show stains more visibly and sealing the stones can help avoid this. That said, sealing is not compulsory.
There are a wide range of sealing products on the market. Each will provide different results. For example, some sealants will simply seal and protect your granite patio. Other sealants will work to enhance the colour of your granite slabs.
By sealing your granite patio paving you are protecting it against general wear. For example, fading to your patio stones can occur over long periods of time where the stone gets excessive use or heavy traffic, like a public walkway.
Some people choose to seal their paving slabs before the granite slabs are laid. This can help prevent any staining during the laying process. Meanwhile, other people choose to leave their granite paving unsealed for a year. This gives your granite stone time to weather naturally before the sealant is added.
If you're not sure of the best time to seal your granite paving slabs, then speak to our team. We can discuss the pros and cons of sealing your granite patio or leaving it unsealed. We will help you make the right decision for your outdoor area.
What Are Granite Setts?
Many people use granite paving slabs as the main attraction of the garden. Granite setts can then be used for these essential accent pieces where you want to draw the eye to in the garden. Granite setts are small blocks of quarried stone that work beautifully alongside granite outdoor tiles. They can be used to create eye-catching fan shapes, arcs and circles.

The Benefits Of A Granite Patio
Granite has a broad application in building and construction. It's because granite stone is well-known for being durable and hard-wearing. This building material has been used for many centuries and can still be seen in and around some buildings today. Due to the fact granite is a natural stone, it means it blends well into any natural environment while enhancing the beauty of any outdoor spaces.
So, what are the benefits of a granite patio?
It's long-lasting and extremely durable. These are two of the main reasons people choose granite for their gardens or homes. The long useful life of granite has been demonstrated over centuries and can still be seen in Roman aqueducts today. It's a tough and highly resilient stone that requires almost no maintenance so it keeps it looking great. Granite flags are perfect for flooring for the outside and inside.
It offers water and moisture resistance. You'll find that our granite paving is available with different finishes that are adapted to wet areas. When you opt for granite flags you won't need to worry about moisture. This natural stone is very moisture resistant and practically impenetrable to liquids.
The wide range of colours of this natural stone is another benefit of a granite patio. The stone comes in a variety of colours and shades including black, beige, brown, green, grey, blue, silver, pink and more. At Primethorpe we've stuck with the darker colours, but it's a material with lots of variety if you search it out.
Granite paving is slip-resistant and scratch-resistant. This means that not only will the excellent durability of the tile last a lifetime, but the paving will also be safe underfoot and stay looking fantastic for the entirety of their lifetime.
What Materials Can Be Used With Granite Paving?
Granite is a natural stone. This means that granite paving slabs can work really well with so many other materials. For example, granite patio slabs provide the perfect complement to wood, glass and steel. We offer lots of versatility with our granite paving. This means it can be put it to good use to shape or enhance any outdoor area or landscape around a building.
The Pros And Cons Of Granite Stone Paving
Granite paving has many advantages which make it a desirable option for many homeowners for their garden patio, paths and driveway. Just like all paving solutions, it has some disadvantages too. Let us take a look at the pros and cons of granite stone paving.
The Pros of Granite Stone Paving
Granite stone paving is highly durable and stands up to many years of heavy foot traffic, without losing it's original colour. It's a paving stone that is not easily subject to shifting, buckling or cracking. Granite paving isn't even affected by changing weather. It is resistant to wear, scratches, and chipping. It's a good choice for fire pits of BBQ areas because it is heat resistant and fireproof. Granite patio slabs are very aesthetically pleasing and require minimum maintenance to keep them this way.
The Cons of Granite Stone Paving
As with all paving options, there will be some disadvantages. However, when it comes to granite paving there are very few disadvantages that you need to consider when thinking about it for your garden or outdoor area. It's important that you are aware that while granite paving slabs can be affordable, it is dependent on the colour you choose. The more common shades of granite are, the cheaper. However, the least common colours of granite paving will cost more. Granite patios will almost always cost more than natural sandstone or limestone paving.
The flamed finish of the granite paving slabs will successfully bead water. However, there may be microscopic holes. If dark coloured or staining liquid is left on the granite paving stones to sit for too long, it can seep into the paving stones and cause staining. Once absorbed these stains will be very hard to remove, especially on light coloured stones.
Granite Paving Overview
If you are looking for a high-end finish to your garden that offers plenty of style and durability, then granite paving slabs are the perfect option for you. It's a durable and hard-wearing stone that has a lightly flamed surface texture. This offers a scratch-resistant and non-slip surface ideal for a wide range of completed projects in the garden, from fire pits and swimming pools to patios, paths and driveways. This paving option requires minimal maintenance and will stay, looking its best all throughout the year.
If you're looking for sheer durability and strength, nothing can compete with our natural granite paving slabs. They are a very elegant and natural-looking paving slab for your garden. They are also available in a wide choice of colours and sizes to suit all needs. Very few other natural paving stones are available in light and dark grey, honey-yellow, blue, tan, brown, beige, green, orange, silver, pink and even red.
Here at Primethorpe Paving, we believe that granite paving stones are the most durable and elegant paving option available. Get in touch with our team today as we have plenty of granite patio slabs for sale. If you'd like to find out more about our granite paving range and why granite paving is perfect for your outdoor areas and garden, don't hesitate to get in touch.