Granite Setts are an incredibly popular paving material. In fact, ethically sourced granite setts and granite blocks have been used for centuries. They offer a rugged natural texture and exceptional durability. Granite edging stones and setts are ideal for both traditional and contemporary feels to your patio, path or driveway.
Granite blocks offer a great alternative to standard concrete block paving. The wide range of colours and styles add elegance to any setting. Colours include shades of silver, red, or black granite setts. Silver is the most common colour for granite setts in the UK.
Here at Primethorpe Paving we see granite setts as a common choice for paths, driveways and edging, however, they are commonly used for larger pedestrian areas and roads too.
This is because they are a cost-effective, highly durable and long-lasting paving solution.If you're looking to add some rustic charm and elegance to any landscape, then we recommend granite setts. The weathering and wear of granite over time will only add to its rustic appeal and beauty.
What Are Granite Setts?
A granite sett is also known as a granite block. It is also sometimes known as a Belgian block or a Sampietrini (although this term are refers exclusively to a specific black basalt). Broadly speaking, a granite sett is a square or rectangular quarried stone that is commonly used in paving roads and walkways.
Why Choose Granite Setts?
Granite setts are made from a natural stone. This is one of the many reasons that granite setts have remained a firm favourite amongst designers for hundreds of years. Granite blocks and setts are just a great solution for any environment. The natural look and style of granite sits beautifully within any backdrop and surround. The stone itself, used as cobbles, is thought to backdate to Roman times.
One brilliant benefit of granite is that is durable enough to perform under the strain of regular traffic and heavy footfall. However, it still provides a beautiful rugged aesthetic. This is what lends granite stone blocks so well to both traditional and contemporary designs.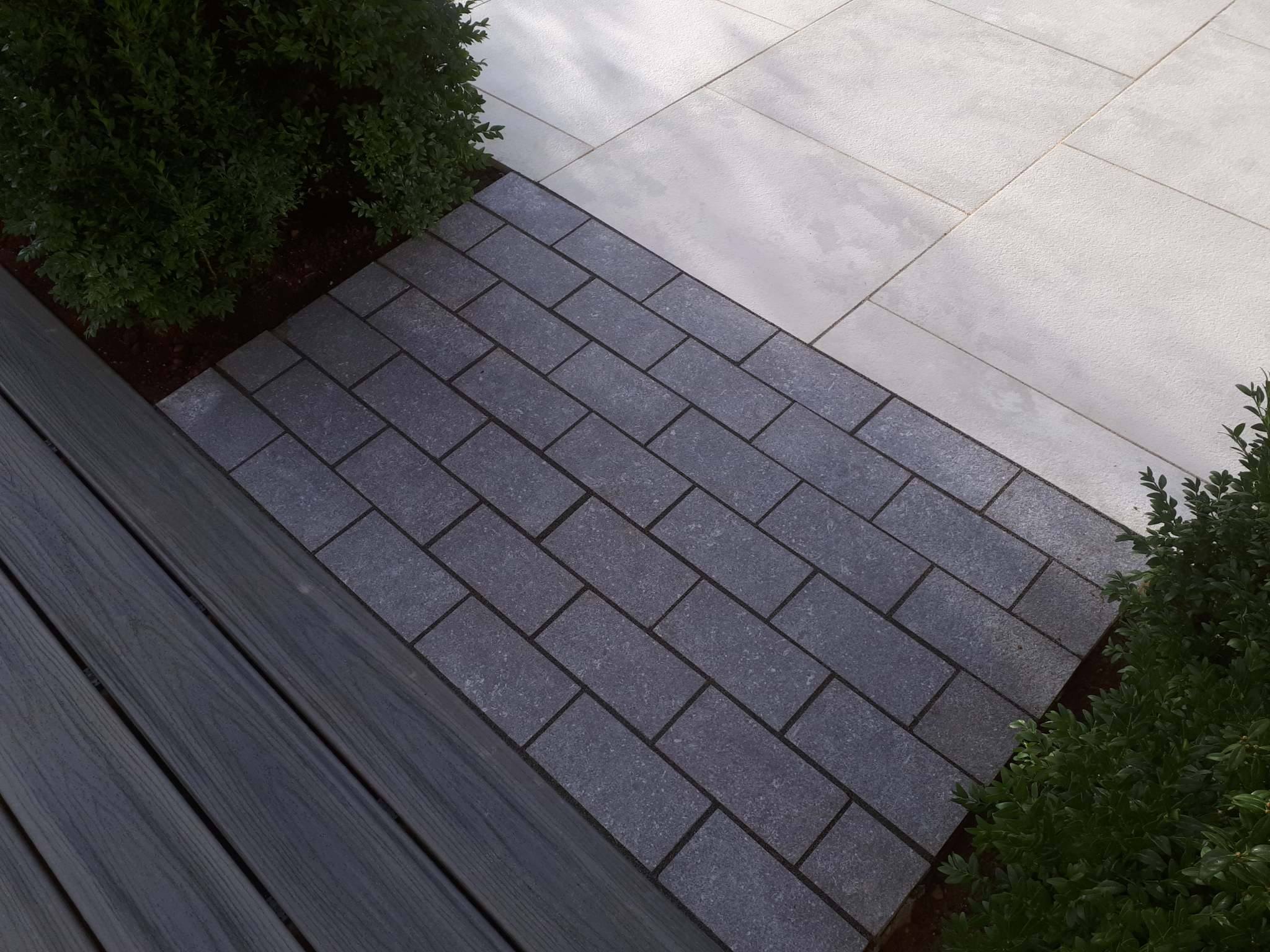 The wide range of colours and sizes that granite blocks are available in, enables you to experiment with texture. You can create stunning granite paving designs that have depth and character, by using a mix of granite edging stones, granite setts and granite blocks. The natural uneven colouring of the stone and the weathered edging just adds to the beauty and style of this stone.
If you're looking for a more uniformed finish with granite setts, we would recommend the silver and grey granite blocks. These can be incorporated wonderfully into any landscape, old or new.
However, if you want to create more of a sleek and smooth exterior then black basalt granite setts work really well. Our black granite edging stones and blocks are quickly becoming our most popular granite product. We feel this is because they create a look that is synonymous with many of the UK's best-loved modern streetscapes.
Here at Primethorpe Paving, we have many other shades and colours of granite setts edging, blocks and stones. Just speak to our team if you're not sure of the best shades for your project.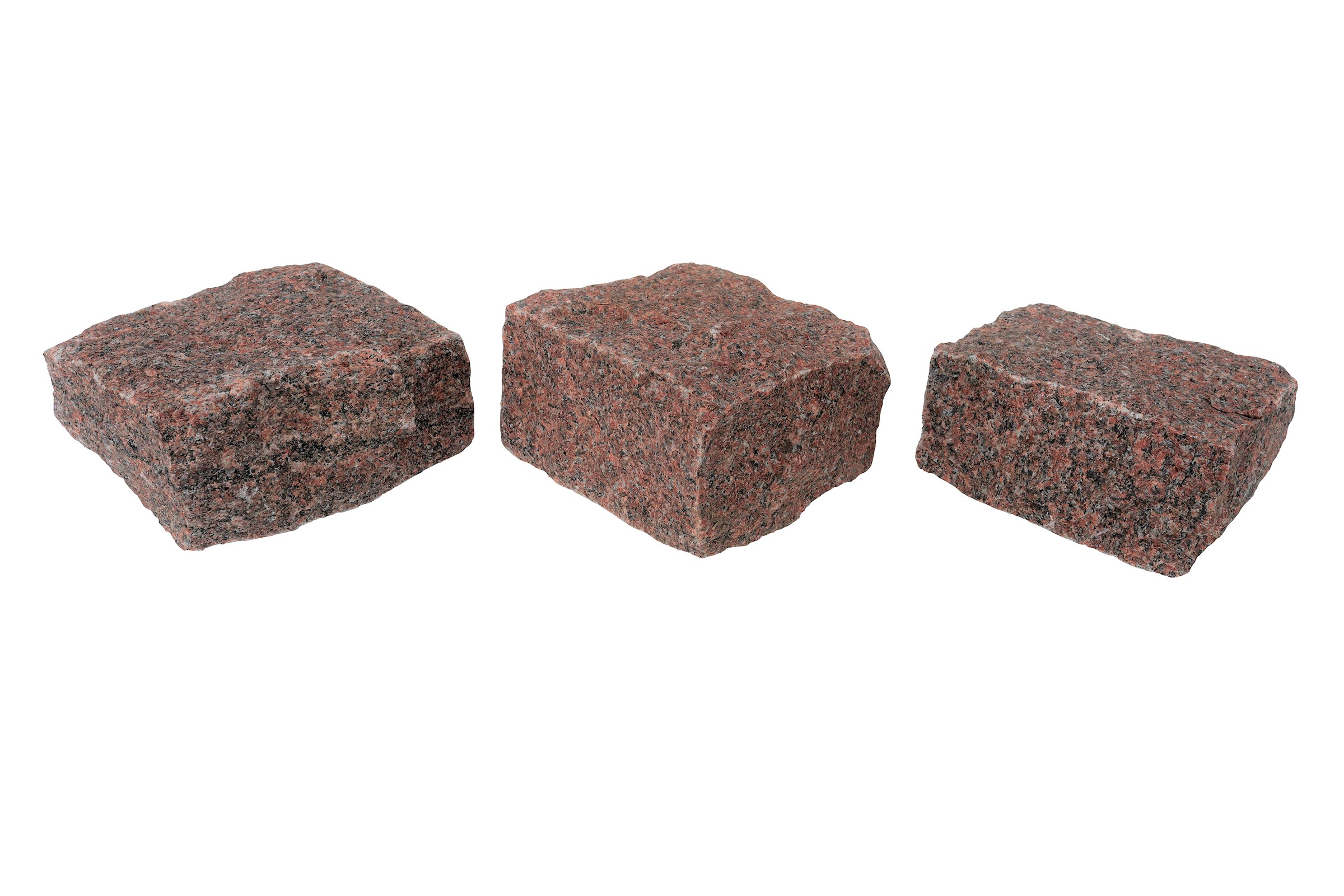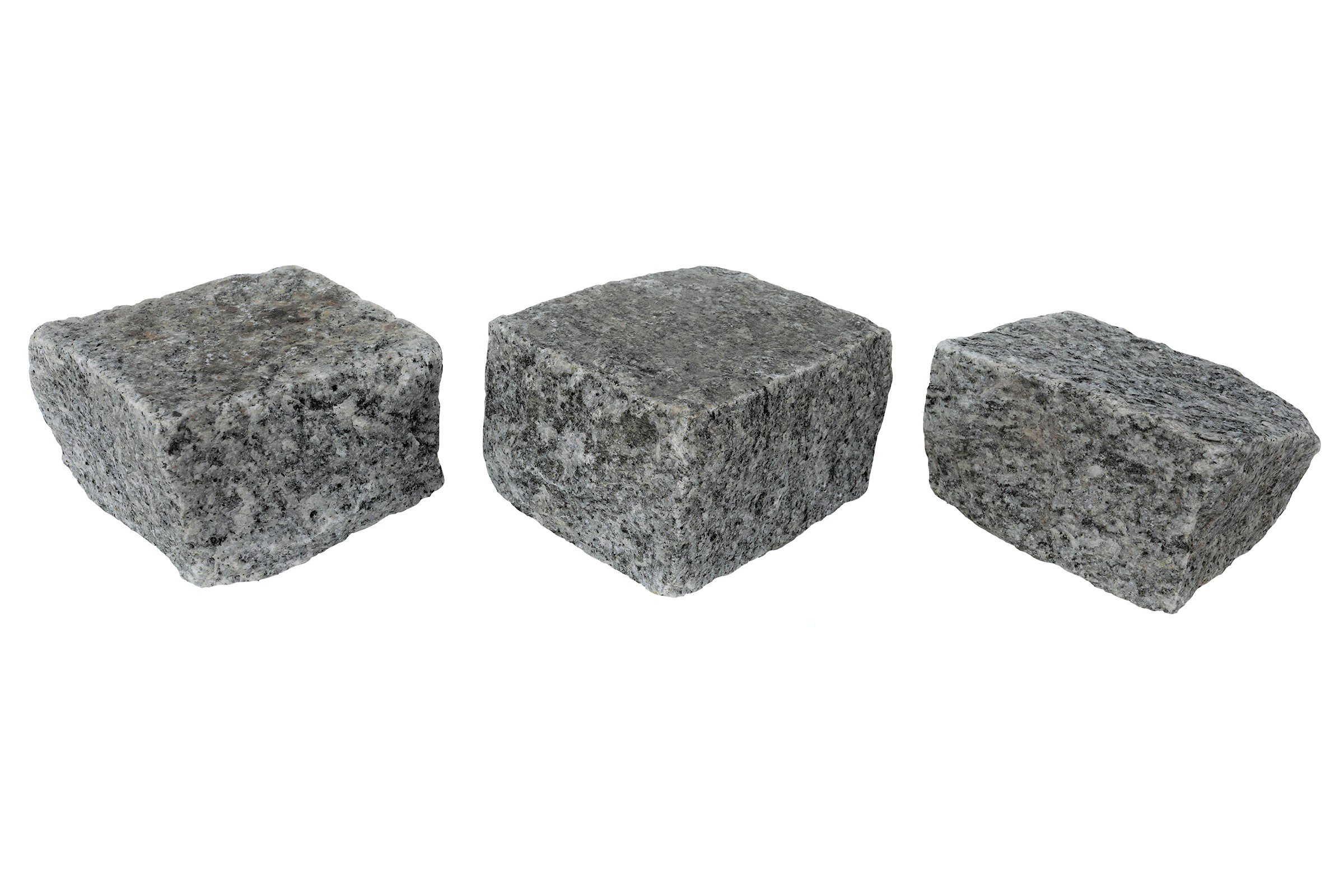 What Do Granite Edging Stones Do?
If you are looking to add that special finishing touch to your driveway or external paving, our granite edging stones are exactly what you're looking for. There really is no better choice than granite edging setts to complete your pathway, patio, garden or driveway.
The granite stone marries strength and beauty in a way that no other stone does. This is why granite setts edging work so well at adding character to your property. The granite stone combines the traditional appeal with contemporary looks and styles perfectly. Probably the best thing about granite edging stones, however, is that they will perform the job they are designed to do, perfectly and for many years to come.
Our granite edging stones are commonly used for homes and gardens. Many homeowners will use them in the creation of a border around driveways and gardens. They can also be used to create a clear mowing strip along the edges of gardens too. If you're looking for stunning steps or a landscape feature in your garden, it is well worth considering granite setts edging. However, they are also used for the construction of kerbs for roads and car parks. You will often see them used for the formation of a channel for water drainage too.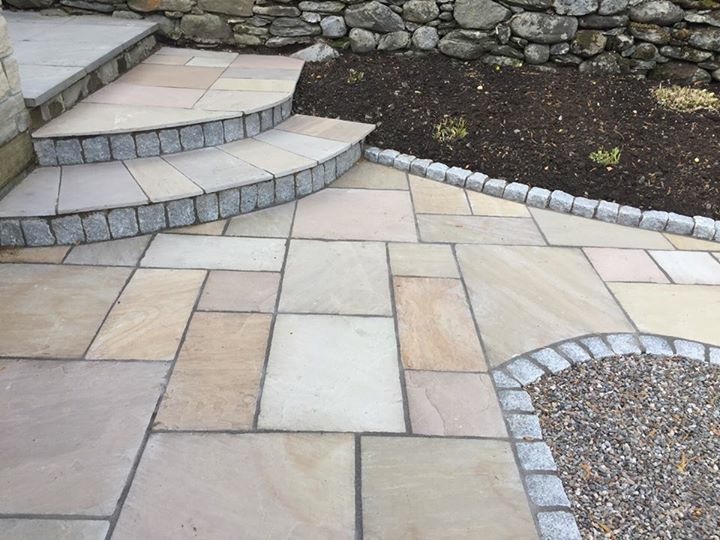 Our granite stone blocks are ideal for both commercial and residential applications. When looking to create borders and divisions that will divide external areas into defined spaces, think granite setts. They will do exactly this, but in a way that looks simply natural.
The Difference Between Cobbles And Setts
Cobbles were originally used to allow grip in bad weather for horse's hooves. Generally speaking, a cobble surface is deliberately rough to offer that grip. You'll often find cobbles on hills or slopes for example. However, setts are laid as smooth and level as the natural surface will allow. They are often used on level roads or pavements for example.
Granite setts and cobbles are both used for commercial and domestic applications. They work really well as a patio paving border, driveway paving and footpaths. Granite setts are recommended for heavy footfall traffic walkways, streetscapes, piazza markets and pavements in high streets.
The Benefits of Granite Setts
There are so many benefits of granite blocks and setts. This is why it is such a popular garden landscaping option. We have listed just some of the many benefits of granite blocks and setts below.
Granite edging stones are extremely durable in high traffic areas. In fact, their durability is unrivalled by other stones, even in the highest traffic areas.
Granite setts look beautiful and offer a real feeling of an old character building. They offer a stunning finish to any outdoor area, with a huge amount of character and elegance.
Granite blocks come in natural colours and shades. The shades don't fade when installed correctly and offer a timeless and appealing quality.
Even when granite setts for edging become worn and weathered, it just adds to the style and beauty of the stone.
Granite stone blocks are very versatile in their application, making them ideal for a wide range of projects. They can be used in a number of applications and pattern designs.
Granite setts offer a cost-effective and long-lasting paving solution. This stone offers an incredibly low maintenance paving option that will last a lifetime.
The textured surface of granite blocks offers a slip resistant surface, this offers that extra level of safety in the garden or outside.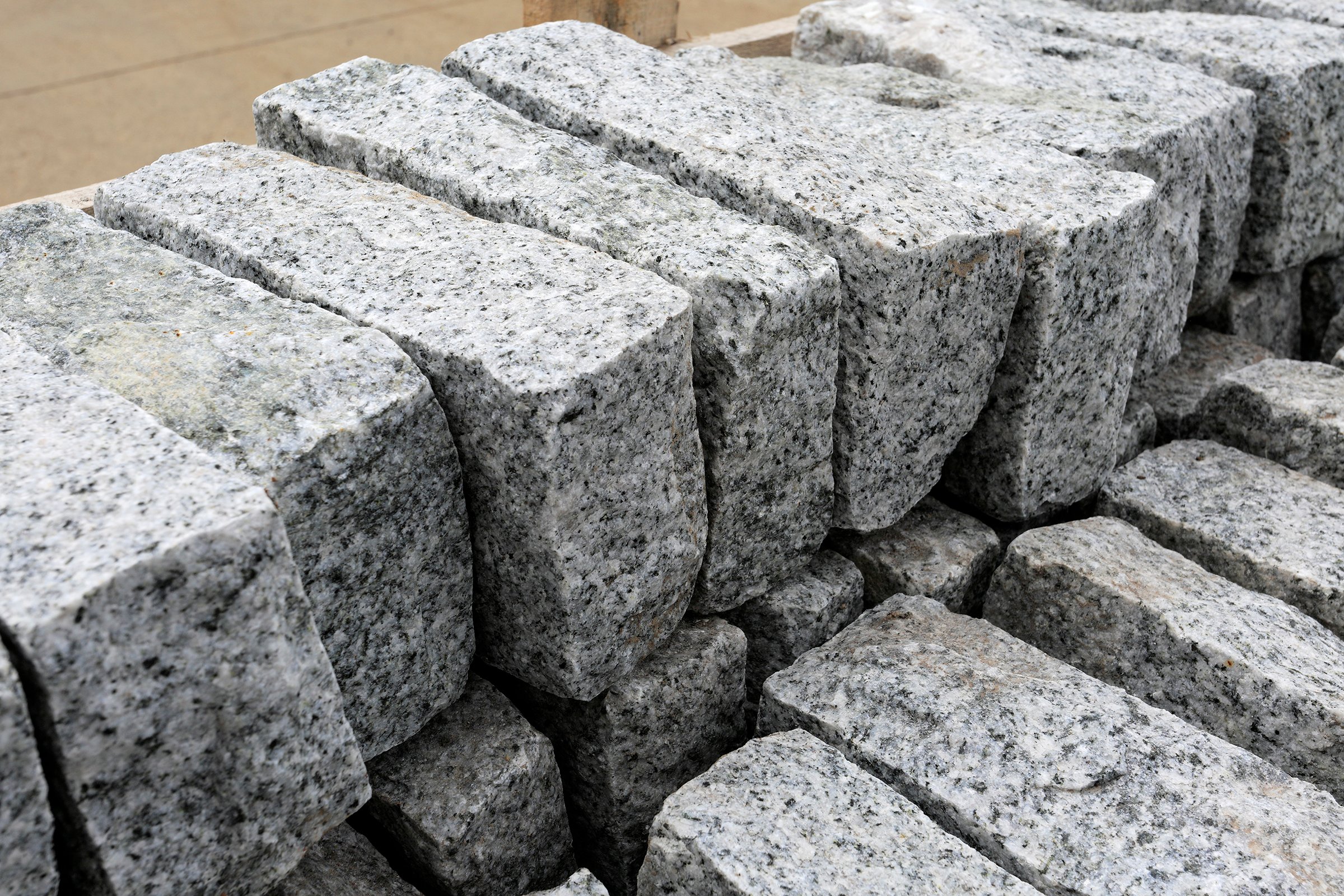 Overview Of Granite Setts
Granite setts have been around since the roman times. They are almost indestructible and can create stunning aesthetic styles when different shades and textures are used together. Whether you need a flooring option for your garden, paths, driveway, marketplace or streetscape – our range of granite setts could be exactly what you're looking for.