Patio steps are a functional quick access point between the patio structure of the house and the back garden. These garden steps enable you, your family and guests to step down into the garden instead of risking a trip on the grass from the patio. The biggest benefit of garden steps is that they reduce the risk of any dangerous slips, falls and trips.
However, garden steps do something more than work as just an access point. They help complete the transition from home to nature smoothly and beautifully; when you choose the right garden steps for your home, patio and garden.
A nice patio can be the focal point of any garden. We have seen many examples of a carefully designed patio providing the most beautiful and stylish, yet multi-functional area in a garden. A stunning patio area will give you space to bask in the ambience of your beautiful garden, entertain guests, dine alfresco or just relax in the summer sun.
The Different Types Of Garden Steps
If you are looking to bring distinction to your entrance or unite the design of your multi-level outdoor space, you need to check out our range of garden steps. We have a wide range of bespoke stone garden steps or some stunning off the shelf options too.
We can offer you various sawn sandstone steps. Alternatively, you might prefer a limestone garden step or maybe a granite garden step. All of our garden stone steps are made to a minimum thickness of 30mm.
If you are looking to create a more rustic look, then we would recommend the riven stone and use paving slabs for steps. These are available in our popular Indian sandstone. The rock-faced edges on these steps are ideal for adding that rustic and natural look to your outdoor patio area.
Alternatively, our slate garden steps are extremely popular for those homeowners looking to create a more modern and stylish look and feel for their garden. The long bull-nosed edge on the slate steps for the garden cast a shadow beneath the riser to add contrast and depth to your garden patio.
Are Garden Steps The Same As Stairs In The Home?
It's important to note that garden steps are not the same as the stairs inside your home. In fact, this is probably the most important thing you need to know about garden steps. Even qualified architects have made this mistake in the past. It's important to remember that garden steps are not the same as stairs. They are different sizes, have different risers and tread too. Indoor stairs also require handrails for support. This is not a requirement for outside steps.
How Steep Should Garden Steps Be?
When it comes to steps for your garden and the steepness, you need to remember two terms. One is 'riser' and the other is 'tread.
The riser is the vertical part of the step and is the measurement of how high each step will go up.
The tread is the flat part of the step. This is the part of the step where your foot lands.
Risers for outdoor steps in the garden should be no more than 15cm in height. You will not often have handrails or walls for support with steps outside. This is why it is so important that the steps are low in height with a tread of around 30cm in depth. These riser and tread measurements are important because there is no support. Your outdoor steps need to be easy to go up and down.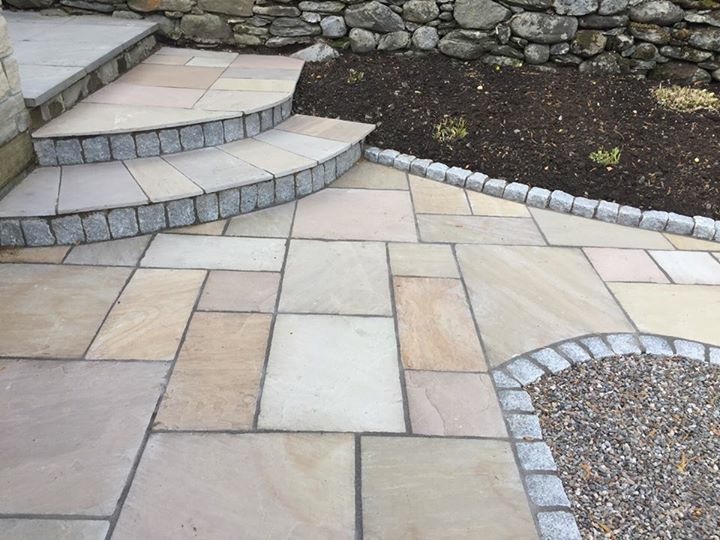 How Many Outdoor Steps Do I Need?
Before choosing what style of step you like, it's a good idea to work out how many steps you need. This can affect your budget if you were considering higher-end stone steps for your garden.
The way to work out how many steps you need is to divide the total height between the two spaces you are connecting by 15. 15cm is the standard desired riser height. However, if you would prefer lower or flatter outdoor steps you could go as low as 9cm or 10cm. If this is the case, you need to divide the space between the two levels by 9 or 10.
The easiest way to work out the total height is by using a piece of string. Someone can hold the string at the top, or you can tie it to something, the pull the string down to the base. Make sure it's level. Then take the string away and measure it.
Then you need to think about how wide you want your steps to be. If you are looking to create a spacious feel to your garden, we would recommend the wider the better. Wide steps can look really good when flanked with potted plants too. Decide how wide you want your steps and then divide by the width of the stone step. Multiply that by the number of steps and that is how many steps you need.
Can I Have Outdoor Steps With Gravel?
Outdoor steps with gravel look really good. However, if you want gravel steps, you'll need something to contain them. Otherwise, they could be blown or washed away from the elements of the British weather.
It is also important to note that gravel step heights change a bit. This is because, over time, the gravel settles and lowers. Small bits of gravel will also get taken away on people's shoes too. Make sure you keep an eye on the level of the gravel in the steps. If it lowers too much it can result in the edge of the tread rising. This can be a dangerous trip risk.
Stone Garden Steps
Stone is a beautiful and natural option for your patio steps. It is extremely hardwearing and durable, lasting the test of time. However, it is a more expensive option when compared to other patio step options. You may choose to have stone-effect pavers for your steps. These are made with concrete and other manmade materials, so work out cheaper.
If you are opting for stone patio steps you can choose between smooth edges or a roughly dressed finish. Make sure you think about the thickness of the stone to ensure you calculate the right riser measurements for your steps.
Finally, when you choose outdoor brick steps, make sure they are suitable for use outdoors.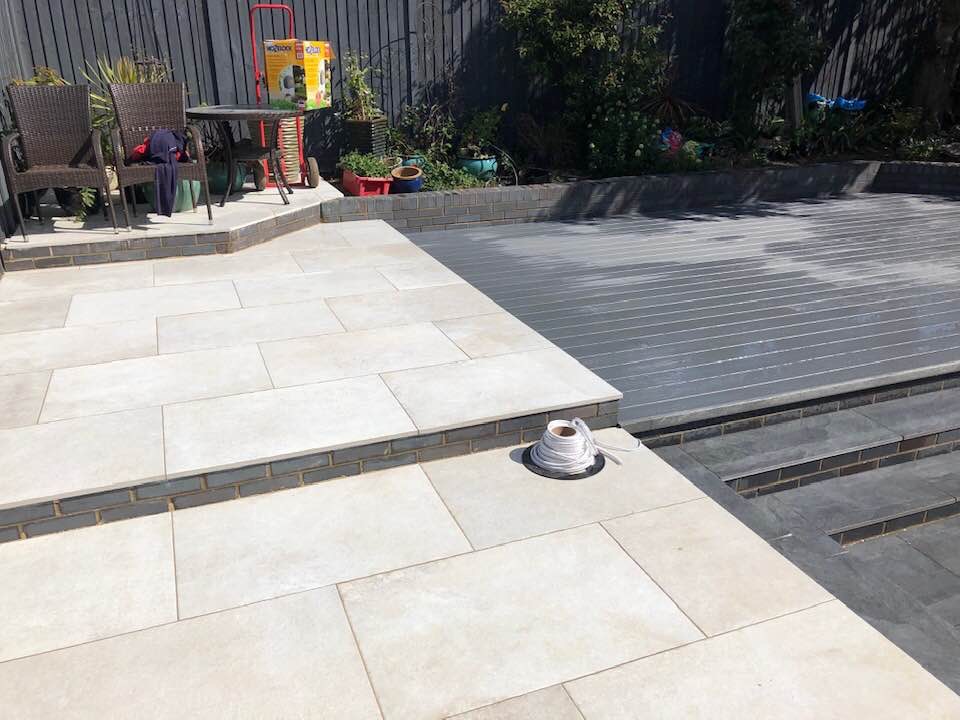 Brick Garden Steps
There are bricks that have been manufactured for steps. These have been designed to be hard-wearing and frost-proof. When choosing bricks for your patio steps, make sure the bricks are suitable for outdoor use as steps. It's a good idea to think about the colours of the bricks you want to use as steps too.
For example, think about the architecture of your home and the colouring used. In the UK, we traditionally have yellow bricks and red bricks. Keep this in mind when choosing the brick colour, you want for your outdoor brick steps.
Outdoor Steps For Steep Slopes
If you have a very long slope in your garden, we think it's a good idea to break it up. This can be done with a landing or patio area in-between. Some people prefer to have a ramp for a set distance of the slope. Ramps can be a better option than steps for gardens with steep slopes. This is because they tend to be more comfortable to climb.
When planning your ramp make sure you remember it should rise at a gradient of 1:12. This means that the slope should rise one metre over every twelve meters. This gives you a good, clean slope that is even and easy to walk up or down.
Safety Considerations For Your Outdoor Steps
It's essential that you get your garden steps right. If you get them wrong, it can be potentially dangerous to you and your family. Well-designed steps in your garden do not need to represent a potential danger. A single step can be dangerous if people don't see that there is a change in level. However, there are ways to get around this.
If you are worried about people missing the step or not seeing the level change, think about lighting. You could use lighting on, under or around the steps so people can see them clearly. Another option is to use a different material for the steps. This material or colour of step should stand out from the rest of the garden so it is clear that there is a level change.
Another option is to have balustrades of handrails down the side of the steps. This is a good idea if you live with older people or those that are unsteady on their feet. While balustrades and handrails are not a legal requirement in gardens, they are an extra safety measure you may want to consider.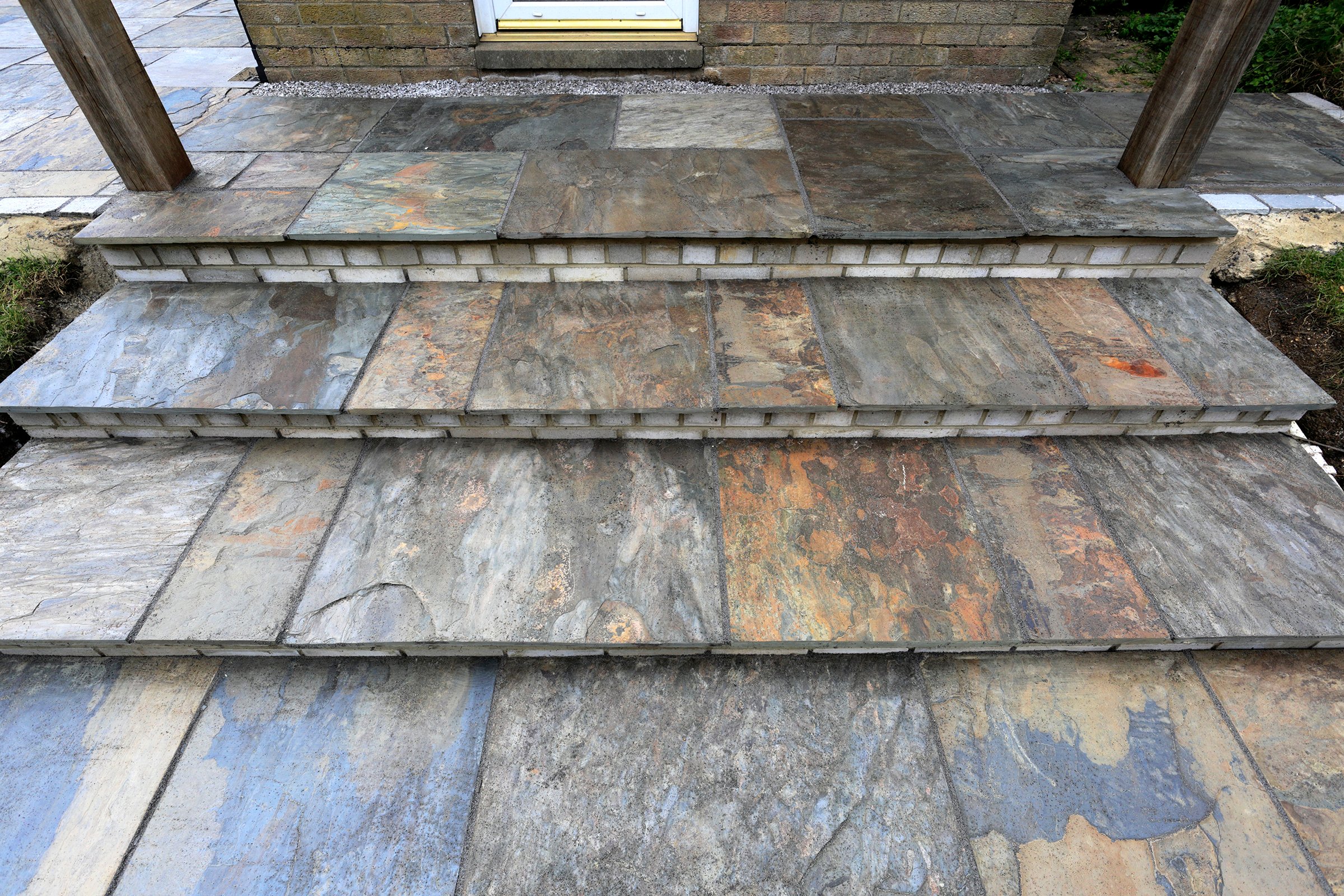 Garden Step Overview
If you're considering garden steps for your garden, think about how you want them to look. Consider the style of your existing garden, patio and any paths. We have a wide range of outdoor step options to consider; the options are almost endless!