The stone industry has been around before recorded history. Whereas it used to focus primarily on creating weaponry & tools, these days the stone industry is much more focused on making outdoor spaces look better!
Stone tiles, or slabs, are the main driver of outdoor transformations thanks in large to their versatility, durability and variety. There are two key types of Stone tiles or stone paving slabs and these are:
Natural Stone Tiles – consisting of sandstones, limestones, slates or granites
Outdoor Porcelain Tiles – new to the market, manufactured stone tiles which are experiencing a surge of popularity.
When purchasing stone tiles, we want you to be sure that you are not being mis-led and you are bagging yourself a quality product.
Read our ultimate guide to stone tiles, and learn:
The process of sourcing stone tiles,
How to identify a high quality slab from a bad one
Tips on making the choice as easy as possible
Tips on finishing up
How do you find the best paving stones on the market?
This is a suppliers job. As a supplier, we spend time sourcing and quality testing different materials from different quarries and factories so you don't have to. If you are looking to purchase paving stones or other stone products, your job is to find a supplier you trust, with a good track record, and to let them deal with the specifics.
Stone comes from all around the world and, understandably, different quarries in different countries produce different quality stone tiles. We've been in business for years and we have worked with countless suppliers, in multiple countries over this time, separating the ones we know produce good quality materials from the bad ones. There are factors to be weighed up when deciding which products to stock, such as:
Quality of material
Cost of goods
Lead-time
Consistency of product
Each factor needs to be taken into account to provide a great product at a good price. Without a balanced approach, customers can end up less than happy with their product:
Too much focus on quality of material:
It might sound strange, but if your chosen supplier is too focused on quality, they can end up overpaying for what is only a slight upgrade. By overpaying for materials, the cost of your project will jump beyond what is reasonable. Part of a suppliers role is not only to source a good product, but also to source a good deal.
Obsession with the cost of the material:
On the other side of the spectrum are suppliers that are obsessed with a stack-em-high, sell-em-cheap philosophy. It's easy to get suckered in with what may seem like a great deal when you first come across it, but you need to be careful that you are still getting a quality product. Cheap slabs are often quarry rejects or "seconds" which have been sold at auction. These are normally dull coloured, or poor quality stones that are suitable for jobs such as shed bases, but should not be used as a decorative product. If you want to build an attractive patio, you need to make sure you are getting fairly priced "firsts" and not cheap "seconds".
Good price, good product, long wait:
It's possible to find a good product at a good price, but this sometimes comes with long waits for your product to arrive, or a supplier that is consistently out of stock. Neither are particularly good if you are looking for a delivery for next weekend! Availability is key across the landscaping industry and if you can't get hold of the product you want, what good is a low price? It's important to balance price and quality with availability.
Consistency is key:
It's a good idea for a supplier to occasionally change their sources to continue providing good deals, but chopping and changing too often can present more problems. Not every quarry's Fossil Mint sandstone will look alike, so if a supplier is constantly changing their source, there is little-to-no consistency when purchasing their end product. Natural stone is going to vary slightly from batch-to-batch no matter who you buy from, but you want some confidence that a product will be more or less the same each time you purchase it. A supplier that chops and changes their sources too often means that product ranges are often incomparable even a matter of weeks down the line.
Ultimately, it's all about balance. You need a balance of all 4 considerations above - you want the combination of a good product, at a good price, from a source you can rely on. When purchasing your paving or other stone products, it's important to find a supplier that you know considers all of the above.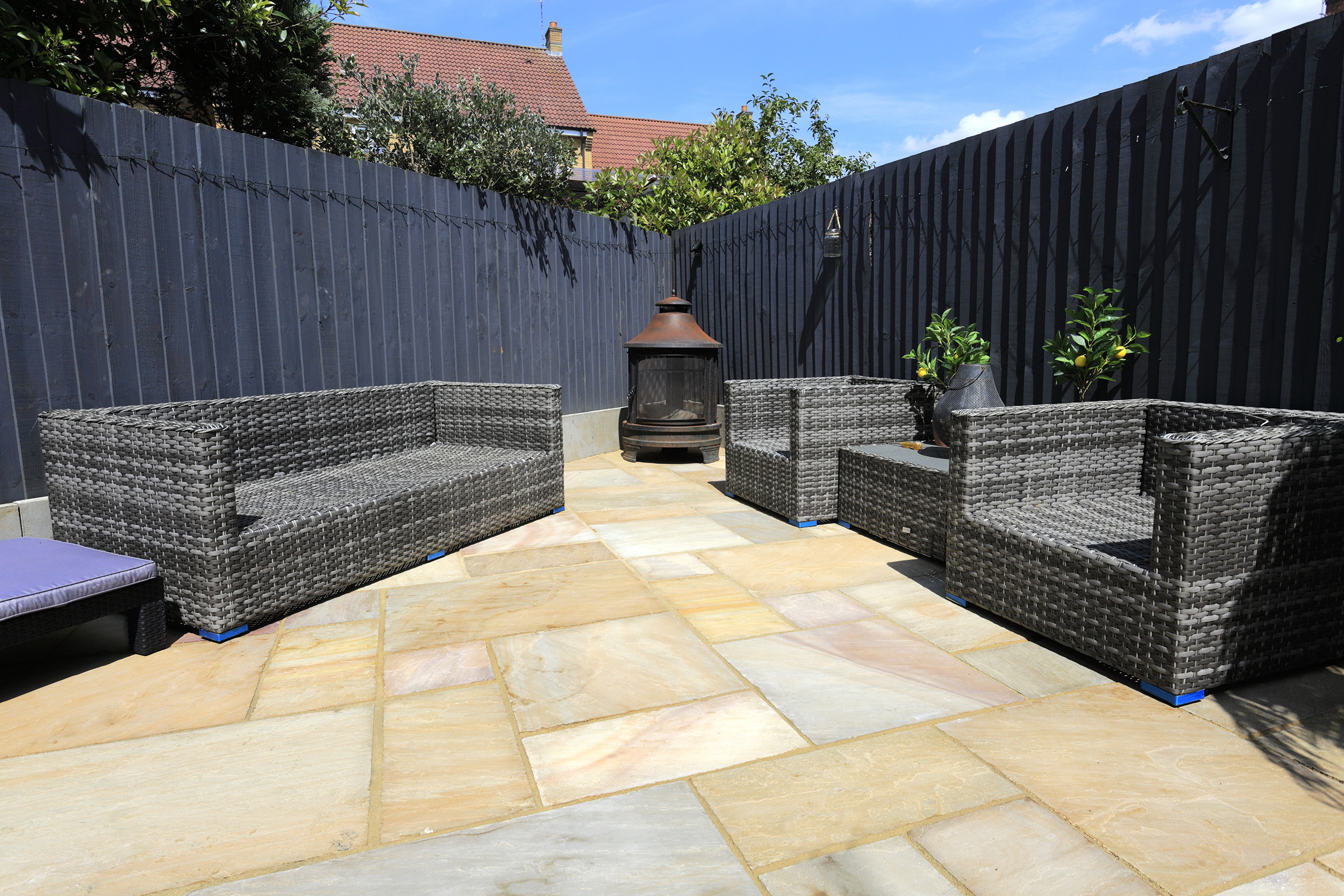 Rippon Buff Sandstone paving
Sourcing paving stones from different countries
Sourcing slabs from source is a big job. There is not a single go-to wholesaler to get whatever you need, but an entire world of suppliers offering different products with different pros and cons. 
For example, Primethorpe Paving stone tiles are imported from a combination of India, Brazil and Italy and all for their own specific reasons:
India – Colourful, affordable natural stone. Working closely with some of the most colourful stones in the world means we can import impressive colour palettes without breaking the bank.
Brazil – Home to the best slate money can buy.

Brazilian slate

is the finest quality natural slate we could source. It's interesting, consistent and incredibly workable. The price point is a little higher than a natural Indian sandstone, but the finish is incredible and reliable.
Italy – This is where we source our Outdoor Porcelain tiles. These are a modern solution to outdoor paving and offer consistency and precise manufacturing standards. Italy produce European regulated quality tiles which are miles better than non-European tiles that you can find from some suppliers. The price-point is higher, but that quality is worth it.
We've spent years working with global suppliers and sorting the good from the bad, so you don't need to!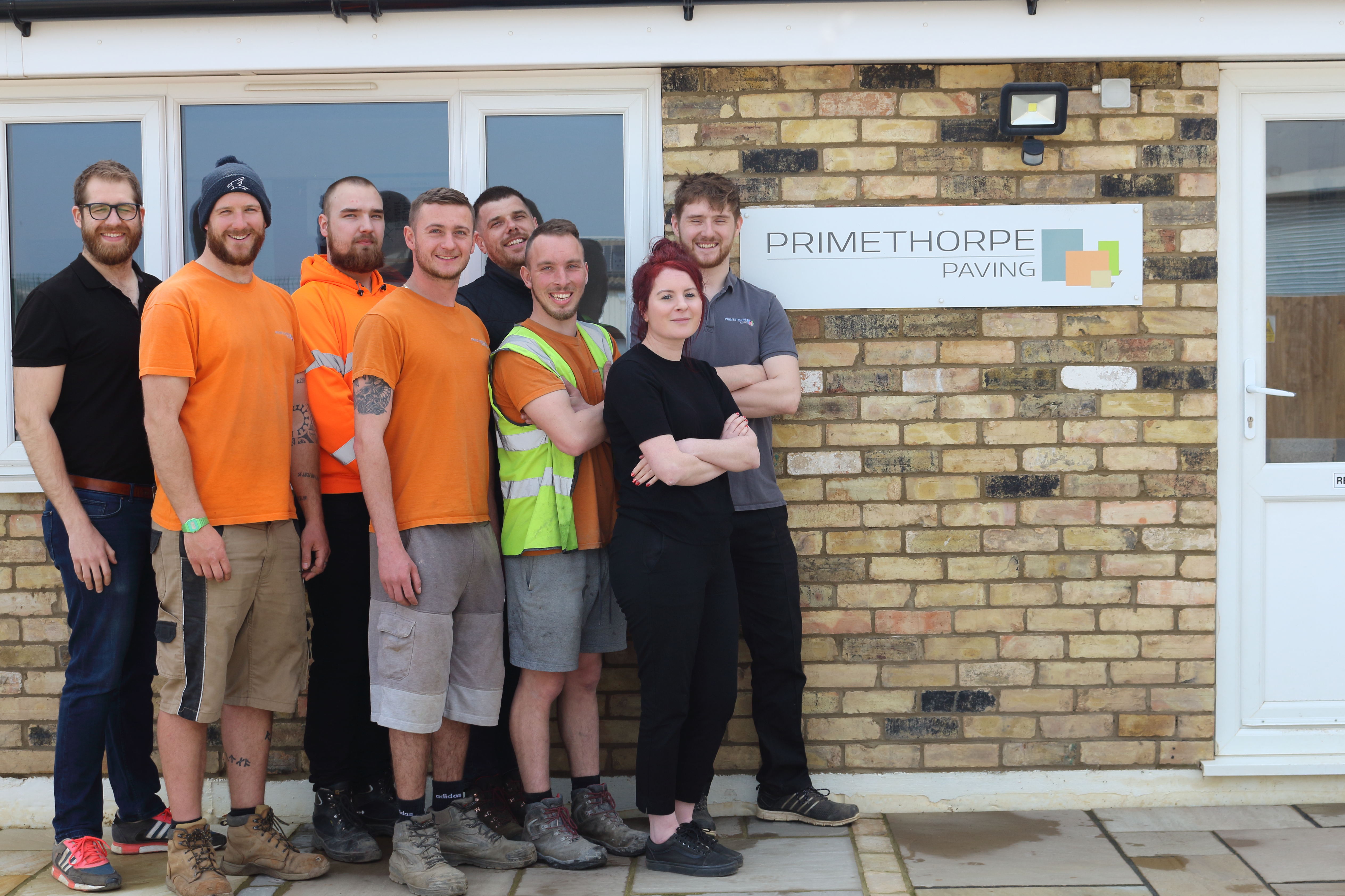 The reality of shipping natural stone worldwide
Stone tiles are imported on huge container ships 1000's of tonnes at a time, meaning they are efficient in terms of fuel consumption, so importing via sea-freight is surprisingly green when compared to man-made products, with concrete paving being especially bad for the planet.
However, being shipped by sea can result in very long delivery times from suppliers. For example, sailing from India can take 10-12 weeks, and even longer in some instances!
We mention this because it's part of what makes supplying stone products challenging. A long lead time means it's important to be on top of stock levels - if a supplier sells out of a product without more on the way, then you can find the product you want out of stock for a considerable length of time.
Stock control is what sets a good company apart from a great company. We've spent years perfecting our stock control systems to ensure we keep good supply of everything - at worst we like to thing everything is at most two weeks away.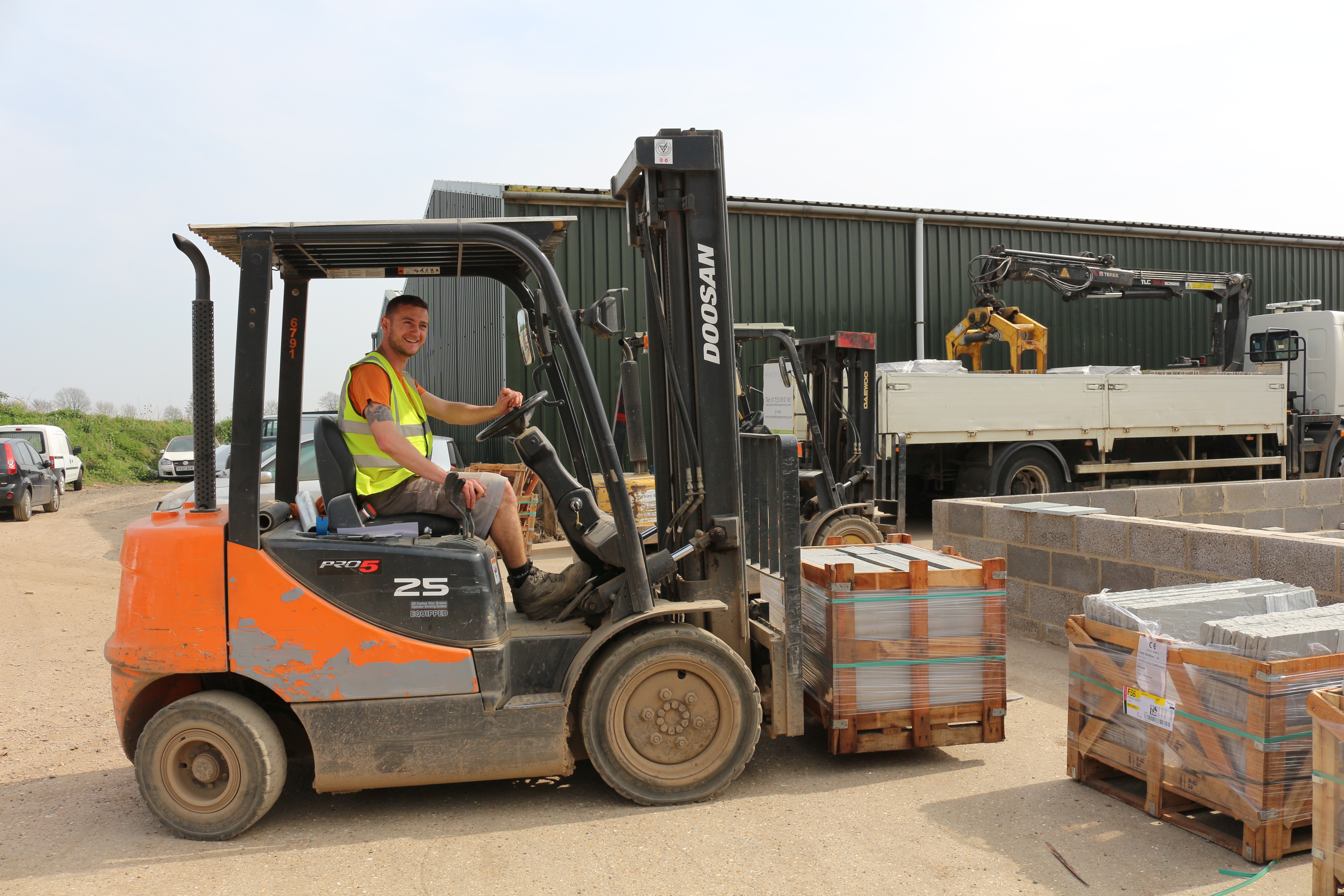 How to Avoid a Negative Experience
It's important you are aware of the stumbling blocks that can occur when buying paving, so you know what to try and avoid. Buying stone is not like buying an iPhone. There are variations and inconsistencies between ranges and differences between suppliers.
To help you avoid a negative experience during natural stone buying process, we prepared a handy checklist for you:
1. Always try to view in person where possible
Make sure you visit your supplier to see the tiles in day light. Even though our website features quality product images, it cannot deliver in person experience. On top of seeing the real product, you get to double-check that the supplier checks out.
Most trustworthy suppliers will have display areas where viewing the stone is second nature.
2. Is the supplier happy to invite you
If you are unable to visit the premises, why not? Have they got something to hide? It's surprising that a supplier would not let you come and see the product in person.
Even if you can't make it because of distance, it's good to check whether visiting is an option. If not, it would certainly be a red flag.
3. Really cheap product? Warning
Cheap products are often cheap for a reason. You can buy or import natural stone for your patio at a bargain price, but they can come with huge faults.
The "false" savings are often not worth the trouble they cause
Some companies import cheap stone because they can sell it at a good mark-up. Those sellers have little-to-no experience in natural stone paving, and their business revolves around high profitability and not so much around the customers' satisfaction. Be warned.
4. What do other customers say?
Additionally, check the company's complaints, returns and customer service procedures. No company is perfect, and mistakes can happen. You need to know however, that if something does go wrong, you are looked after.
Once you've considered these things, you will have hopefully narrowed it down to a few select companies that can give you peace of mind when purchasing.
The Stone Tiles Choice: Key Considerations
Quality of materials
Distinguishing the quality is the most important thing! A garden patio is a permanent feature which can add a lot of value to your property if done well. A patio is going be a significant and immovable part of any project, so it makes sense for it to take up a good portion of your budget to ensure it's top quality. If you cut corners on the paving materials, it can ruin your entire project.
Here are some of the key things to make sure you are getting a product worth showing off:
Sizes – Make sure you purchase slabs that are consistently sized. We wrote a specific guide on why this is so important here. Irregular sizing makes your project more difficult and ruins the end result. Pay up for the "60 series" pavers where possible.
Colour – Colour is probably the most important element of a good paving slab and it's important to see a nice variety of colours options to ensure you are getting something you love. It's also important to ensure there is consistency within a specific range of paving. For example, Raj Green should look as similar as possible to the last batch of Raj Green. This means you can rely on it if you were to need more. Are the slabs in the display area the same as the images you can see on the website?
Thickness – The thicker the better. Thicker slabs have an easier time staying bedded into the foundations as the extra weight gives them a touch more stability. The industry standard is a 22mm paving slab - any thinner than this and you are likely asking for a bit of trouble.
Calibration – Following on from the thickness requirement, it's easier if you use 'calibrated' slabs, which means the slabs have been put through a calibration machine to regulate their thickness. Ultimately, you don't want an uneven patio and well calibrated slabs can go a long way to help this. Ask if the slabs are calibrated before buying.
Shape – The final reason to pay up for a trustworthy supplier is to get well shaped slabs. It's ideal to ensure the edges are straight, the slabs are flat and they are not bowed in any way. Cheap slabs will be off-square and banana shape if not quarried correctly.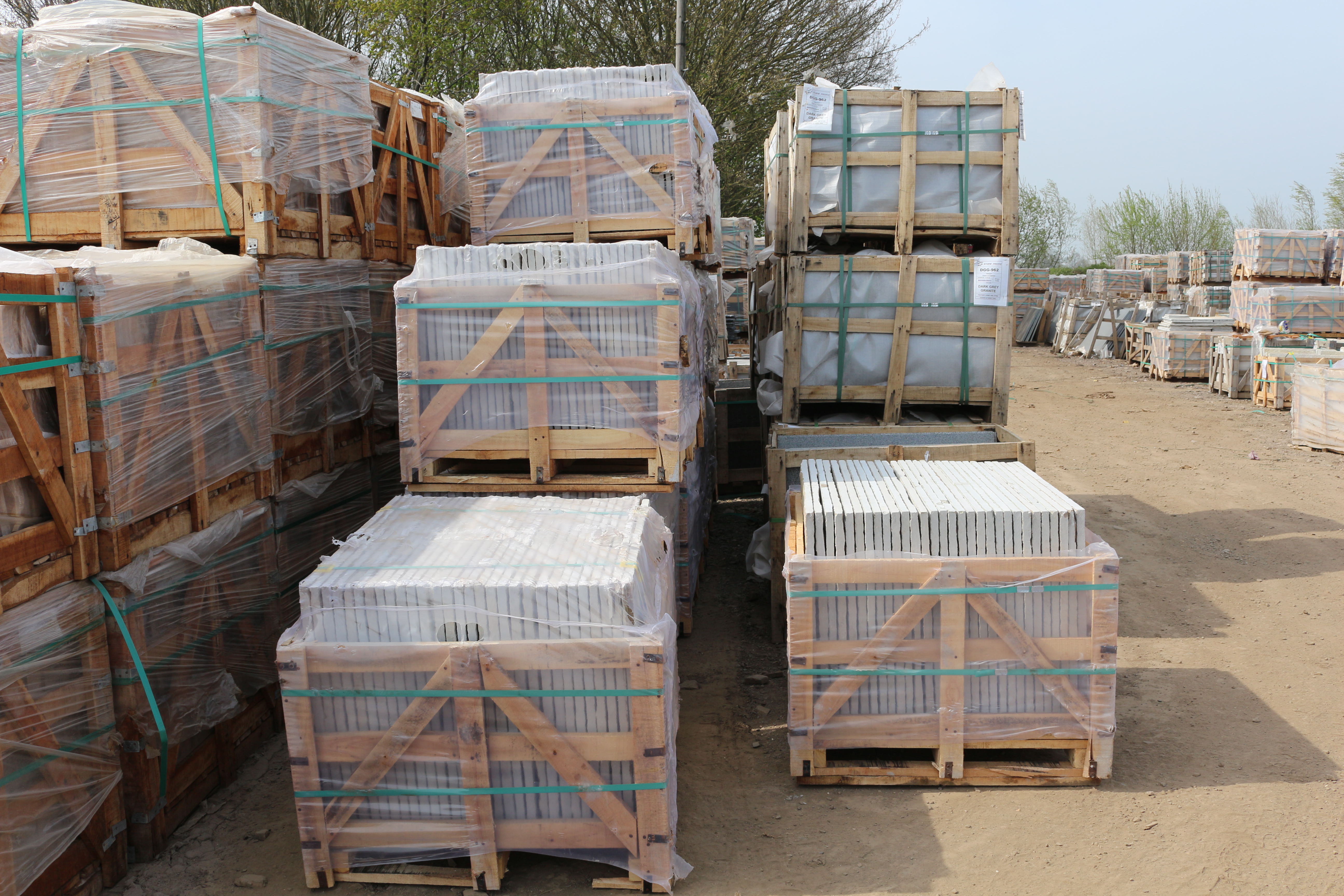 Finding the right paving supplier first time
When ordering your paving, what you should get and what actually turns up can be two different things. Even if you've read the above and you know what you should expect, there are no guarantees that you actually get what you expected, especially on first time orders. So, how do you maximise the chance that you are going to get a product that is up to standard, and not be left with expensive, sub-par materials?
Some suppliers have websites with all the bells and whistles you can imagine, but the product is poor. Others have been in business for 30+ years and have all the experience to go with it, but the website is the same age, so it can be difficult to tell who to go with from appearances alone.
Other than ordering with Primethorpe (of course!), here are some ways that will help you make that important decision:
Trustworthy reviews - Strength in numbers
Make sure your chosen supplier has plenty of positive reviews from lots of customers to put your mind at ease. The more complete the reviews, the better picture of the company you can create in your own mind. 
A company with only a handful of reviews is a bit of a risk, and a company with lots of poor reviews is quite obviously a bad sign. Have a quick look into reviews and make sure they instil a bit of confidence.
Helpful and complete policies - Sometimes things do go wrong
Even the best companies make mistakes. It's human nature that some things can fall through the cracks, but what's important is that you trust a company to put things right quickly.
You need to know where you stand if something was to go wrong.
There are two things you need to check that a company has in place before ordering:
A delivery and returns policy - It's important that a company informs you of how to appropriately take delivery of your materials. It's not like these goods can be posted through your letterbox, so it's a good sign if a company takes the time and effort to explain how to go about taking delivery and what to do if things are not as expected, or if you want return your goods.
A damages or missing goods procedure - In line with the above, there should be a clear process to follow if your goods turn up damaged or the order is missing something. Due to the nature of these materials, there can be mishaps, especially across nationwide deliveries. So make sure you can see exactly how you need to report damaged or missing items.
A good company with good materials will be up front and honest with what is required of you, and in return you can be sure that errors and mistakes will be rectified as quickly as possible.
Check if you can visit the premises
As mentioned already, this is incredibly important. It's paramount to go and view in person where you can. Many customers change their mind once they have physically viewed all the different ranges of slabs that are available.
At the very least, you should check that visiting in person is an option even if you cant get there yourself. All reputable suppliers have a display area that is visible to the public.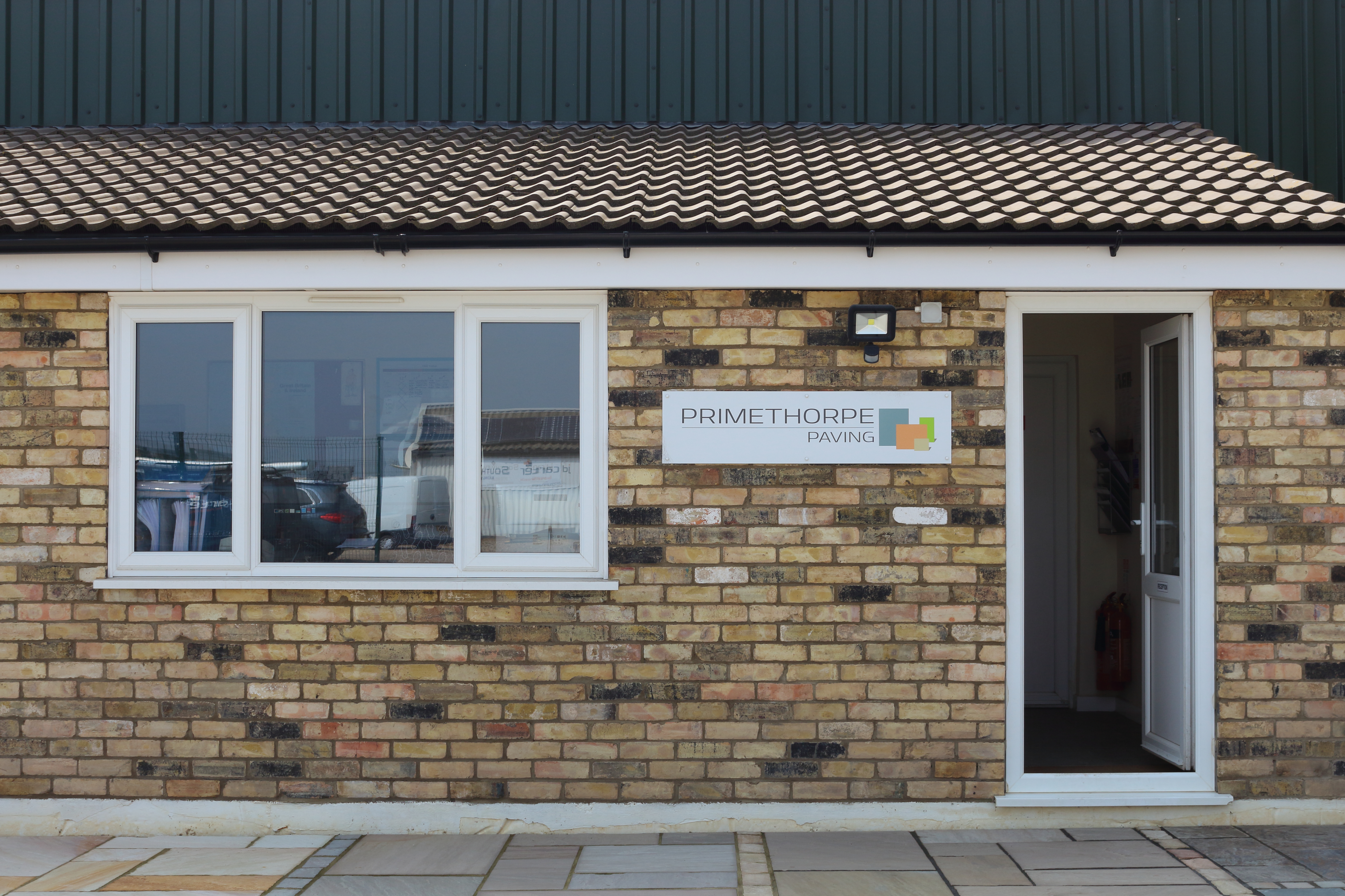 Finishing Touches For Your Stone Tile Paving Project
Stone tiles are the major focal point of most outdoor projects. They are decorative and long lasting, but they are also a significant part of the budget. Therefore it's a good idea to make the most out of them - there are a few ways that you can really add the finishing touches to your stone tiling project to really elevate it above the norm.
There are some additional, low-cost products that you can include when planning your garden project to make the space pop.
Stone Cobbles
These small stone tiles work perfectly as edges that finish a patio area. They are 10x10cm or 20x10cm blocks that can be laid around the border of your patio.
They are not absolutely necessary, but by adding a decorative border to your patio - either matching the tiles or in a contrasting colour - your space will feel deliberate and complete. At a fraction of the cost of the overall patio, a nice cobbled border is an easy way to elevate the project.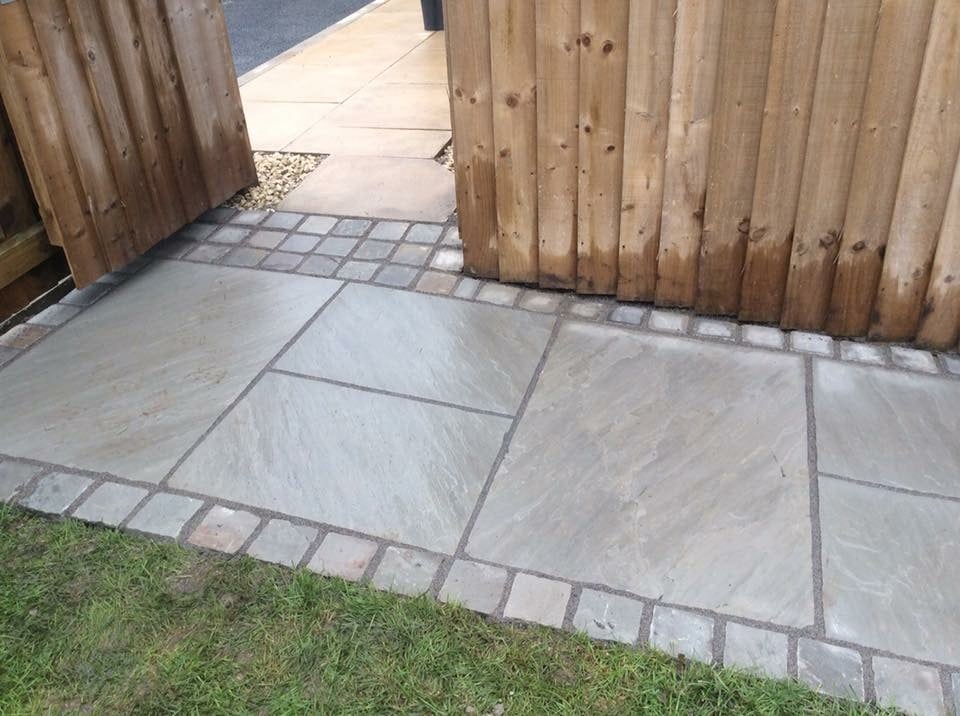 Jointing Compounds
10+ years ago the go-to way to joint your patio was to use sand and cement. You'd find yourself on your hands and knees filling in individual gaps between slabs with this cement mixture. It was painstaking work and took a full day to complete on even just a medium sized project.
Things have changed since then. Today we have 'jointing compounds' available. These are simple resin-based sands that you can tip out onto your laid stone tiles and simply brush into the gaps. They are a revelation and have turned a full day job into an hour's work. 
Not only are they easy to use, but they come in a selection of colours so you can add an accent to your patio and sprinkle a little extra of your personality in. You can chose a contrasting colour sand to highlight the pattern of the stone, or you can try to match the shade of the sand with the colour of your patio, seamlessly blending the entire area together.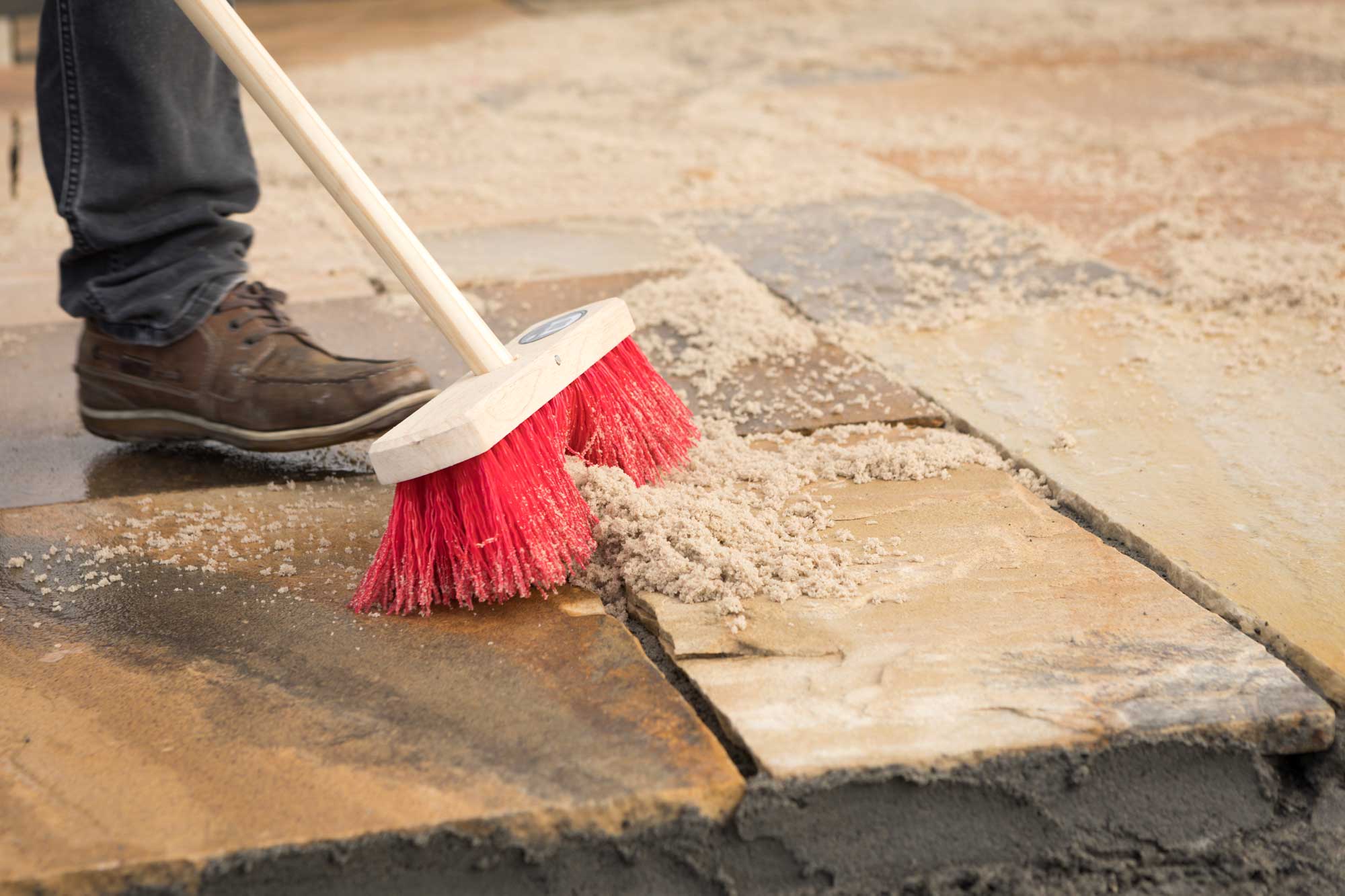 Sealing Your Slabs
Sealing is the final, optional process which you can do to protect your stone from the Great British weather. Over time, stone can lose its colour and fade, not ideal! You can protect against this by using a sealant. A quick coat 8+ weeks after your patio has been laid will protect it for up to 2 years and keep it looking fresh. There are two main schools of sealant depending on the style you want:
Colour enhancer sealer – these give the stone tiles a wet look and really bring out any colour in the stone. They are a fantastic option and are by far the most popular. Blacks look deeper, reds look warmer and greys really being to pop. If you enjoy the wet look, this is the way to go!
Invisible sealer – if you prefer the natural look and still want to protect the colour rather than the stone tiles age naturally, this is the better option.
Both sealers are very good options. It just depends on the style you are looking to create. If you have any doubts, feel free to give us a call and we will be happy to explain a bit more detail how it works.
In general, sealing is a nice idea for natural stone, but not required. There more time you are able to spend maintaining your patio, the less you need to seal it. However, if you are not a keen garden maintainer, then sealing it to protect it against the elements is a really goods idea.

In Conclusion - Let the suppliers do the hard work
We hope this has covered all the basics of the things we feel you should consider. From finding a reputable company and trying to visit in person, to identifying what exactly you should be looking for in a stone tile. All of the above is worth considering and we hope it helps you come to a decision.
In general, sourcing natural stone can be full of pitfalls and traps. These days, you don't need to deal with this at all. Simply find yourself a supplier you trust and trust they have done the hard work sourcing good materials for you!
And remember, if you are struggling to find someone you trust - we're always here ready!