While installing porcelain paving may look at first glance to be just as easy as installing any other paving, it isn't quite the same. There are key characteristics to porcelain paving that make it a slighter hard paving solution to install.
For example, porcelain has an exceptionally low level of water absorption. This means that a porcelain paving tile will not draw moisture to the same level that another type of paving will. Porcelain paving is great as a stain resistant paving option and it will look and stay clean for years to come with very little maintenance.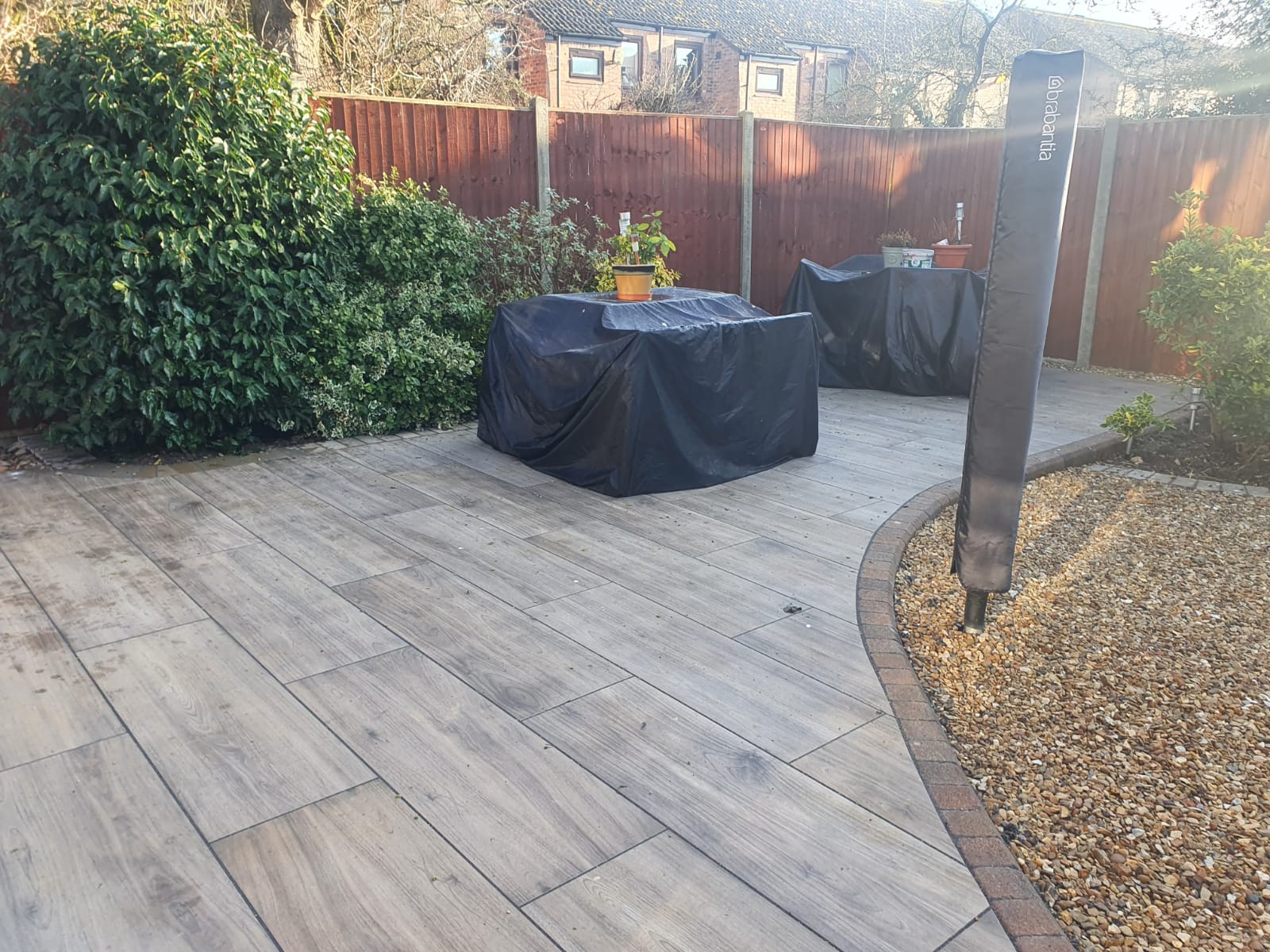 However, when it comes to laying porcelain paving, it does mean that it will absorb almost nothing from the bedding mortar. Consequently, without help, porcelain paving will not form a strong and sustainable bond to a mortar bed.
This is where porcelain slurry primer comes in. Porcelain slurry primer is designed to facilitate the strong bonding of non-porous, low porous, porcelain and natural sandstone. It works to create the sustainable bond that is required. You need to brush the primer slurry on the underside of each paving tile or slab before it is laid. Priming your porcelain paving slabs is not time consuming, it's easy to apply and should not add an excessive cost to the installation of your outdoor porcelain paved area.
While slurry primer is commonly used for porcelain, it can be used on other paving too. In fact, many slurry primer manufacturers recommend using slurry primer for natural stone paving flags. Using slurry primer on natural stone paving before laying it will significantly reduce the potential for stains known as 'picture frame' stains. It will also reduce the risk of patches from the cement in the base of the mortar being drawn up to show on the face of the paving stone.
High quality slurry primer can be used to improve the bond strengths of porcelain paving, flags, natural stone setts, cobbles, concrete and clay pavers.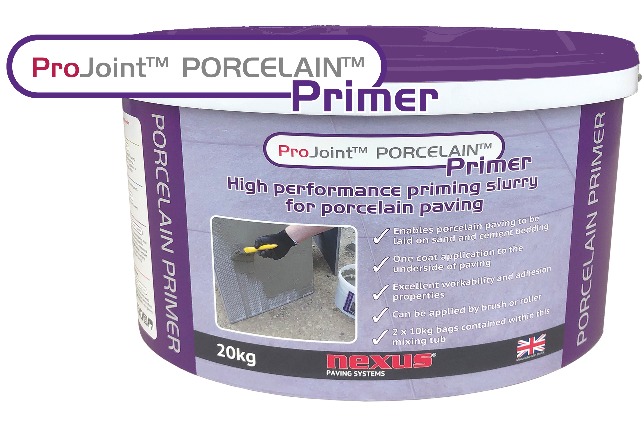 Why Prime Your Porcelain Paving Slabs?
When your base is ready you might think that now is the time ease the porcelain paving into placed. However, there is one important step that you are missing out. This missing step is what will ensure your porcelain paving is well laid and will last the test of time.
Unlike natural stone paving, or other paving types, porcelain paving needs a little extra special care and attention before it can be laid. The main reason for this is that porcelain is a non-porous stone. This means that it doesn't stick as easily to a mortar base as other paving stones will.
However, there is a simple solution, and this is the missing step we mentioned. You need to paint the reverse of your porcelain pavers with slurry primer. This addition of the slurry primer will create a strong bonding bridge that will help maintain the structural integrity of your patio of paved area for the longer-term.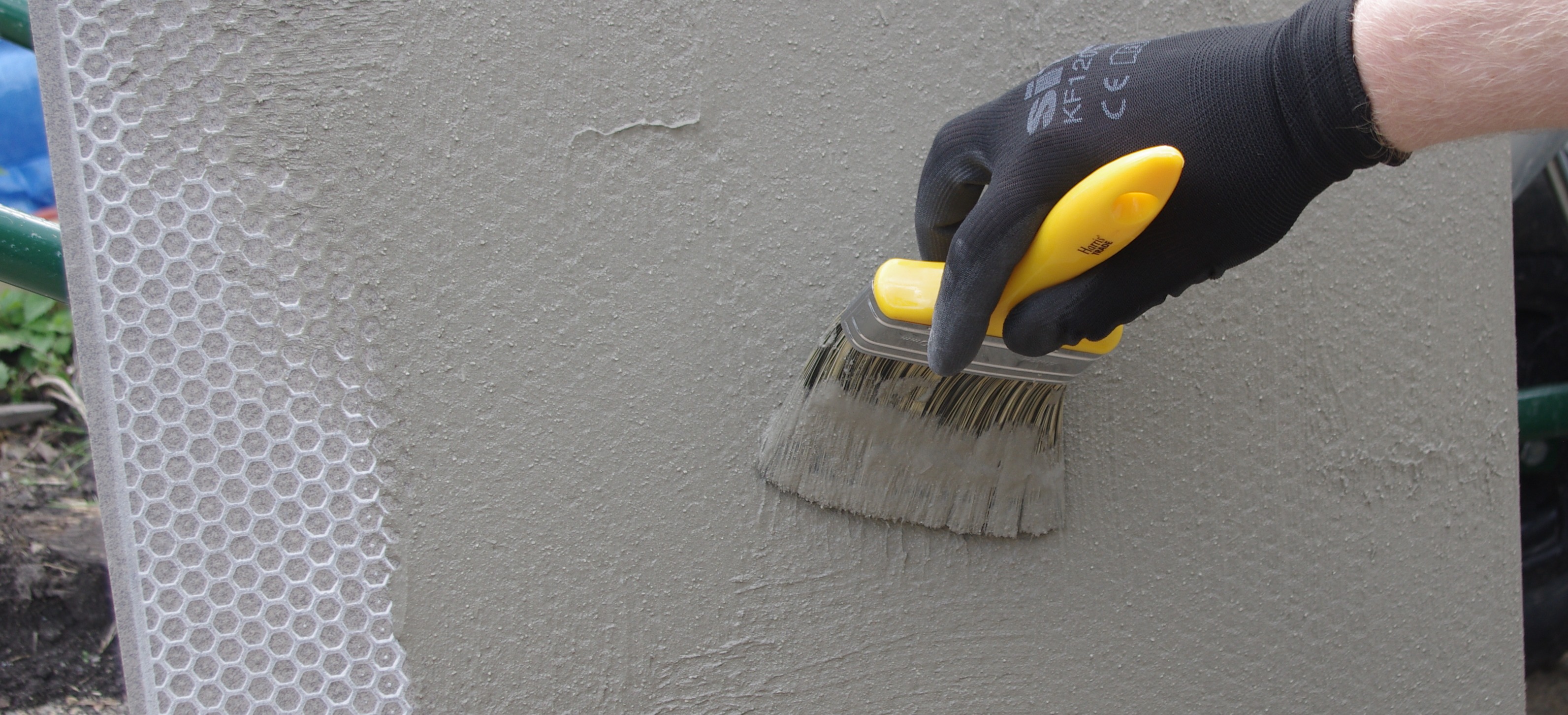 Why You Can't Fix Porcelain Tiles into A Wet Bed
Traditionally you would create a wet mix sand and cement bed for natural stone or concrete paving. However, when laying porcelain tiles things have to be done slightly differently. There are several problems you will experience when fixing porcelain slabs into a wet bed mortar mix. Due to the fact porcelain paving tiles are a vitrified product it means that are non-absorbent. When you use a wet bed mortar you need an absorbent surface for it to adhere to or it will not stick. This is what will happen with porcelain paving, it won't stick. Overtime the porcelain paving will de-bond and the patio will no longer hold in place. 
If you need advice or guidance for using porcelain slurry primer for your paving, speak to our team. We will happily answer any questions you have to make the most of your outdoor paved area.