If your least favourite garden chore is weeding the borders, then we have the solution for you. A low maintenance stone cobble border could be the perfect addition to your garden, and it will look great too. You can choose the stone cobbles to suit your tastes and garden style.
We all love spending time outside in our gardens. However, as we all get busier in our daily lives, we want to spend more time enjoying our gardens and not working on them. Many homeowners are looking for ways to make their garden low maintenance so they can spend more time enjoying it and less time working on it.
Stone Borders - Saving You Time On Boring Tasks
The weeding of borders can be a very time consuming and labour-intensive garden chore. If you are looking to cut down on the time you spend weeding your borders, you may want to consider a stone border. A cobble stone border is easy to install and maintain and the cobbles, stones and pebbles can be chosen to suit the style of your garden.
Natural cobbled borders need to have gaps or "joints" between the cobbles to ensure structural integrity. The product Joint-It, is a jointing compound that considerably slows down the growth of weeds through the gaps, which is exactly what we are looking for! The combination of a stone border with a resin-based jointing compound for the joints, means the weeds ability to grow through the borders will be severely limited.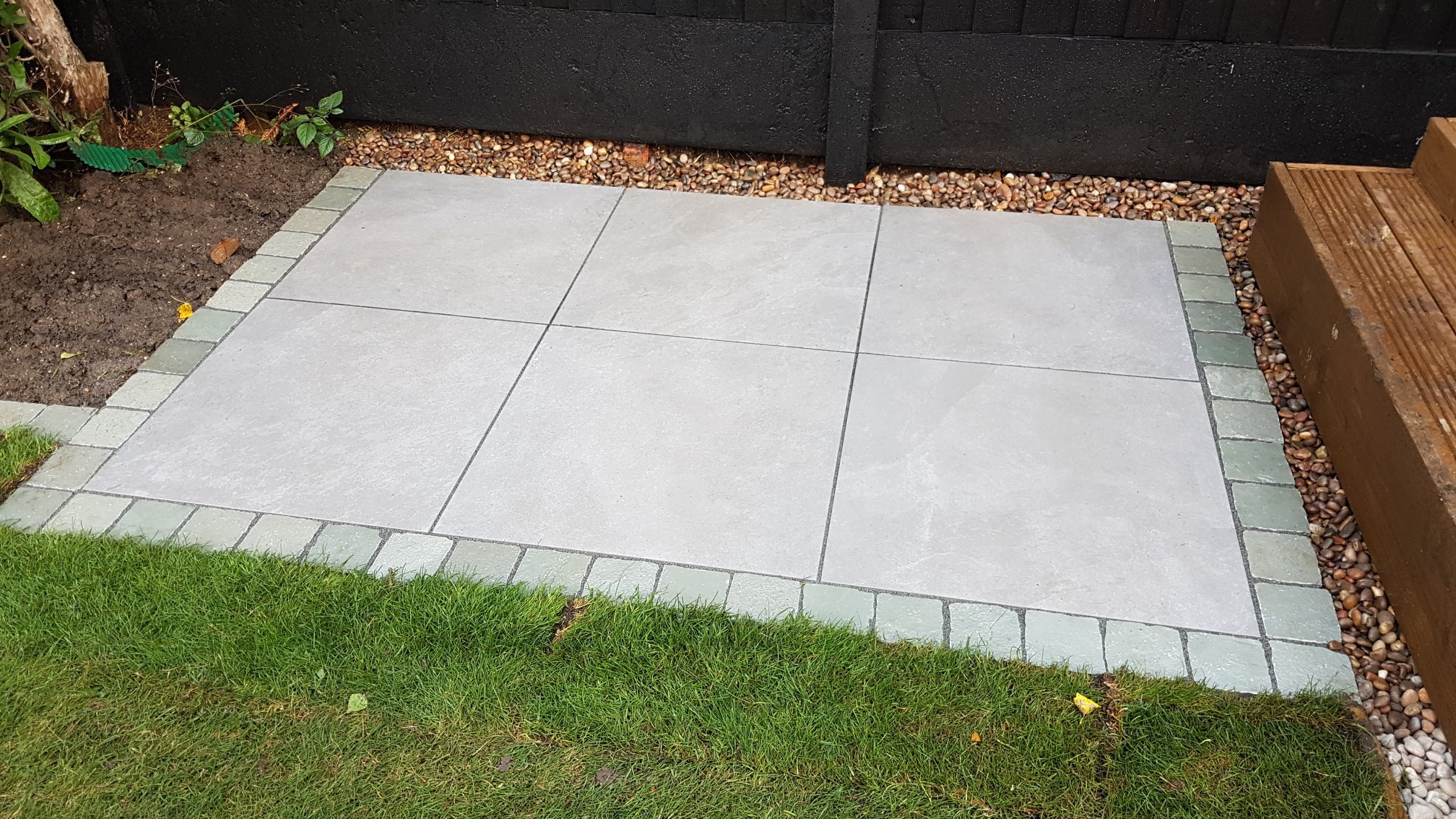 What Cobbles Are Available For Use As A Stone Border?
Now you know that a jointing cobble border is an effective defence against weed growth, what type of cobble should you go for? If you're looking for a flatter stone border that looks more contemporary, then a porcelain cobble slip, or a polished sandstone or granite would look great. However, if you would like a stone border with more character, depth and charm we would a traditional sandstone or limestone cobble.
Please Note: It's all down to personal preference. There is no "right answer" and any part of our cobble range is going to be suitable for the job. Spend some time looking through all of our options and see what really stands out.
Natural Sandstone & Limestone Stone Borders - Pros & Cons
Sandstone cobbles are a very popular option, closely followed up by the Limestone cobble option. They are very similar products and can be used interchangeably depending on preference. They have remained popular for so long thanks to the versatility and variety of colour ranges available.
Pros:
+ Easy to work with.
+ Natural stone is unique - no two projects are alike.
+ Wide variety of options.
+ Colourful and decorative.
Cons:
- Irregularly sized natural material.
- Colour isn't guaranteed.
Examples: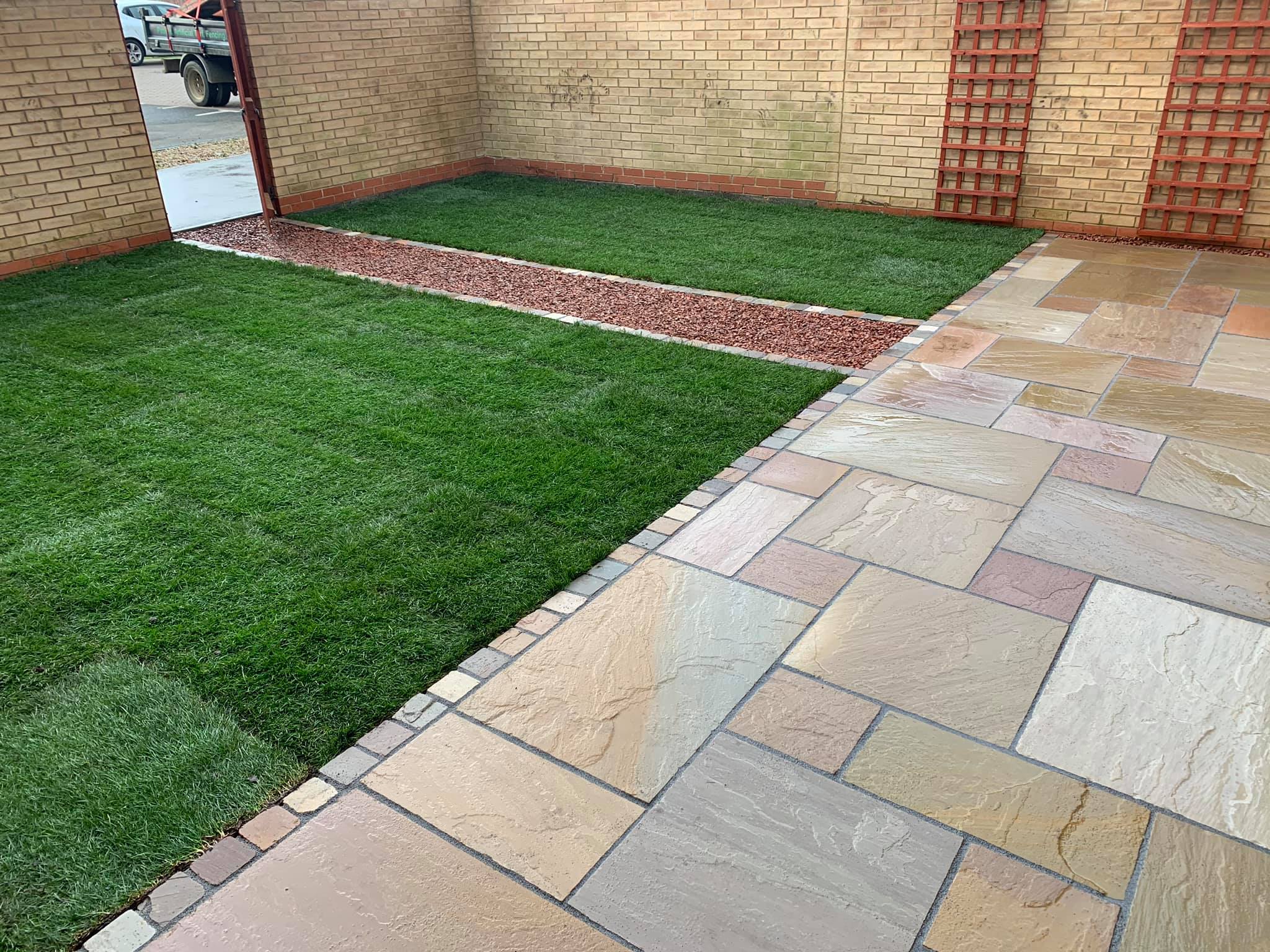 Raj Green Sandstone Cobble Border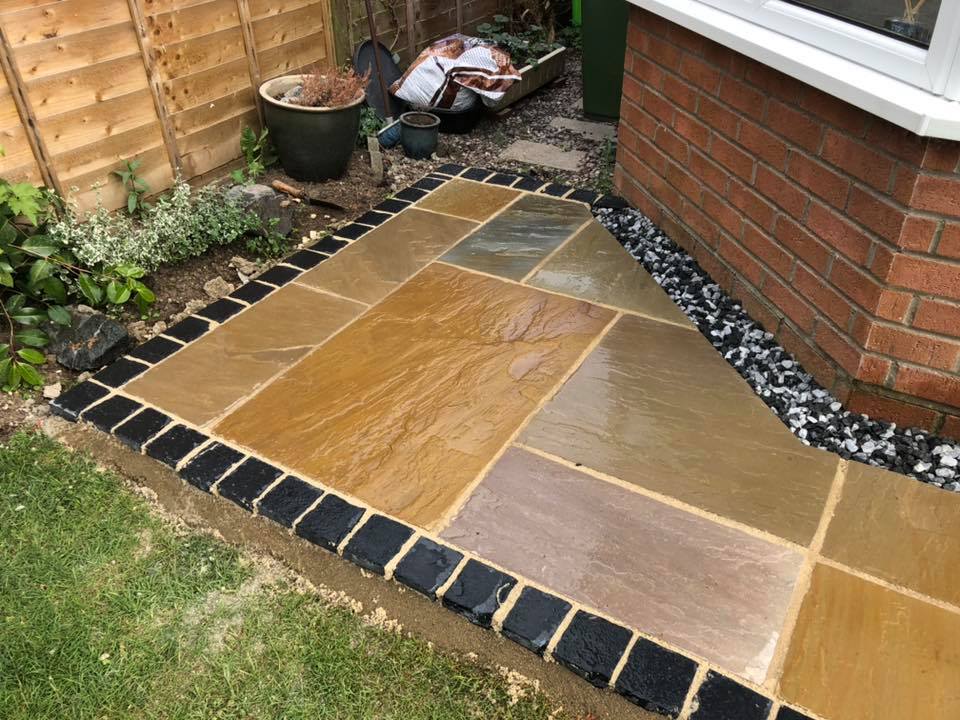 Granite Cobble Borders - Pros & Cons
Granite is a very popular choice of cobble border. It is a very robust material which will stand up to any sort of punishment from the elements. They are very rustic and add a natural finish to any outdoor space.
Pros:
+ Resistant to fading.
+ Good for high traffic areas.
+ Natural, rustic finish for traditional areas.
Cons:
- Very inconsistent & uneven.
- Pricier than sandstone or limestone.
Examples: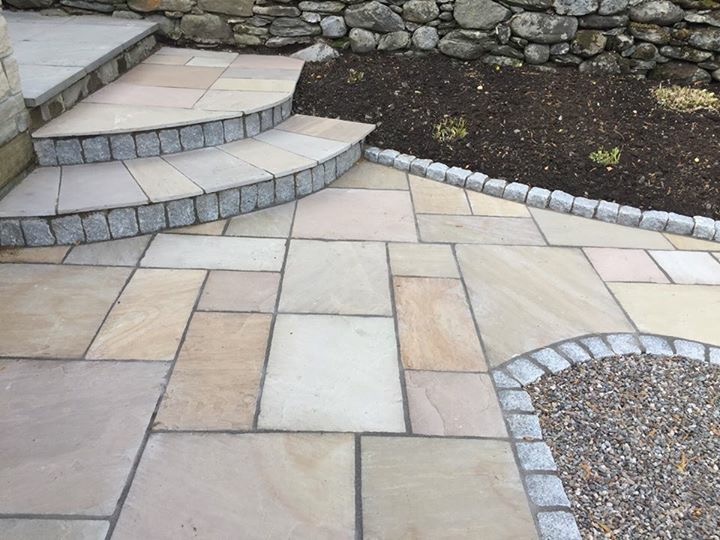 Porcelain Edging for Paving Borders - Pros & Cons
If you are after something more suited to a modern property, then it might be a good idea to consider a Porcelain alternative. They are still very effective at stopping weed growth, but also look the part in fresh modern surroundings.
Pros:
+ Sleek and modern
+ Attractive smooth surface
Cons:
- Pricey

Examples: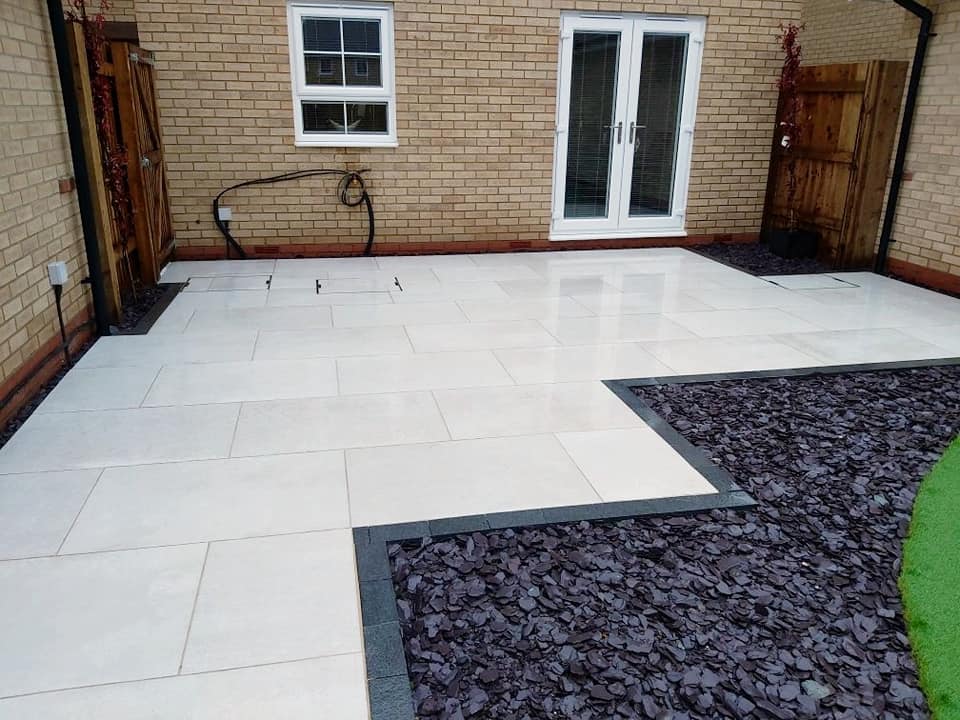 Smooth Black Granite Cobbled Border
 How To Create A Cobble Stone Border
The first thing you need to do is to clear the area. This includes removing any plants, but also digging over the soil in the border area so there are no bumps.
You need to lay your weed control membrane next. This will block out light to growth below, so weeds will not be able to grow. It also helps to keep the cobblestones in your border cleaner too.
Now you need to lay the stones or gravel that you have chosen. With so many options out there, it can be hard to choose the right stones for your border. Take your time to look at your garden style. Do you have patio areas or garden paths that you can match the theme of? If you want a border that will stand out, then choose brighter or darker colours. You can also mix colours to create a unique stone border for your garden.
Conclusion - Get Ahead Of Weed Control With a Good Stone Border
It's really simple to create a low-maintenance stone border for your garden. In fact, you might find that the hardest part is choosing the right materials for your stone border. You can always check out our range of stones online.
You can create a light and bright border with our natural sandstone cobbles. For something more sophisticated that stands out and scream for attention, you may even want to mix light and dark cobbles. There are also some stunning shades of reds, pinks and purples that offer something a little bit different to give your garden that unique feel. There really are endless options and no wrong answers. As long as you put the effort choosing the right option and preparing the ground in the right way, then you'll be rewarded with an easily maintainable border.
Here at Primethorpe Paving, we have a huge range of stones, pebbles and cobbles to suit any garden project. If you're not sure of the right materials to create the perfect stone border in your garden, give our team a call for some advice and guidance.