Creating a new paved area in your garden can be a really great project. Whether you are freshening up an older patio area or you'd like to create an eye-catching new patio area in your garden – there is lots to consider. One of the major considerations is the laying pattern you are going to use - are you going to go with the standard mix of random size paving, or would you prefer to use single paving slabs?
Single paving slabs laid in repeating patterns can create an amazing effect when used correctly. It may seem like a small decision, but it's an important one to get right. Do you want to use smaller slabs with lots of joints? Do you want large, rectangular slabs that cover more space with less joints? How about square paving slabs in a chessboard pattern? The options are endless.
The General Rules of Thumb
"Larger patio areas look best when using larger slabs, smaller areas look better when using smaller slabs."
The rule of thumb is that larger patio areas look much better with larger patio slabs. The reason being, when you have a larger space, however you plan your space, you are going to have a lot of joints! If you are not careful, the area can end up looking quite busy. For the most part, the attractive part of the patio is the stone itself, not the gaps! So when you have a large area, the best way to avoid a busy area full of jointing gaps is to stick to larger slabs. This increases the area covered by stone, and reduces to area covered by joints.
Meanwhile, if you have a smaller patio area, then you can actually make it look larger than it is by choosing smaller tiles, in a sort of optical illusion. Laying smaller tiles lengthways , running parallel across the back of the property can create a "stretch" illusion where the eyes are tricked into thinking the space is wider than it is.
Extra tip: Don't lay slabs running away from any windows you are going to look out to the garden from. Long lines running away from the window has the opposite effect and makes the space feel very narrow.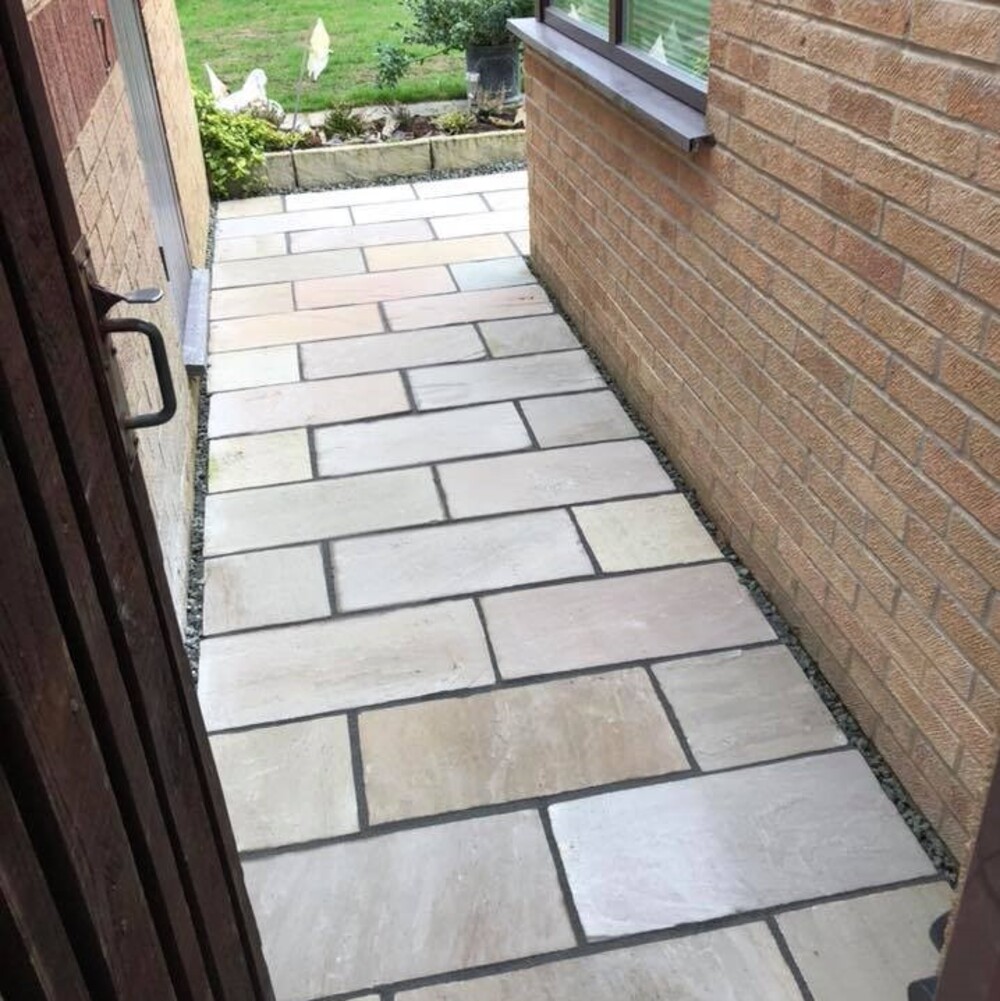 600mm x 600mm Paving Square - The Standard Single Size Paving Slabs
When searching for paving slabs, you'll often find a plethora of single size slabs available, with a majority of these measuring 600mm x 600mm. The 60 squares seem to be the most common option. The square slabs have always been the go-to option for DIYers and those installing patio areas or paths. They are great to use, especially as a DIY project, because they are relatively small compared to other size options so the lifting is less intensive! But also squares are easy to create consistent patterns with. The measurements are easy to stick to and whether you are laying a chessboard (stack pattern) or a brick-bond pattern, the measurements are easier to get right.
We know that the best kind of patio for many homeowners is a simple one. This is why our single patio slabs are so popular. They offer the perfect way for DIYers to quickly and easily lay their patio, path, courtyard or driveway. By using single patio slabs of the same 600x600 size, you don't need to worry about how patterns will work or where the different sized square paving slabs need to go. The pattern will create itself!
Concrete Slabs Are Ruining the 600mm Square Slab's Reputations
Simple doesn't have to mean boring though! So many patios have been installed using square slabs - especially in new builds - where they have chosen to use replicated concrete tiles - therefore a lot of square patios have been labelled as "boring". But this doesn't have to be the case at all. By making the simple decision to go for natural stone over concrete stone, you will give your simple patio an extra lease of life! The joys of natural stone paving are that they are unique from one flagstone to the next. Natural sandstone offers different tones, shades, colours and patterns across a single range, so you might be laying the "same" sized 600x600 patio stones, but they will be natural, varied and beautiful and the finished result will be unique to your space.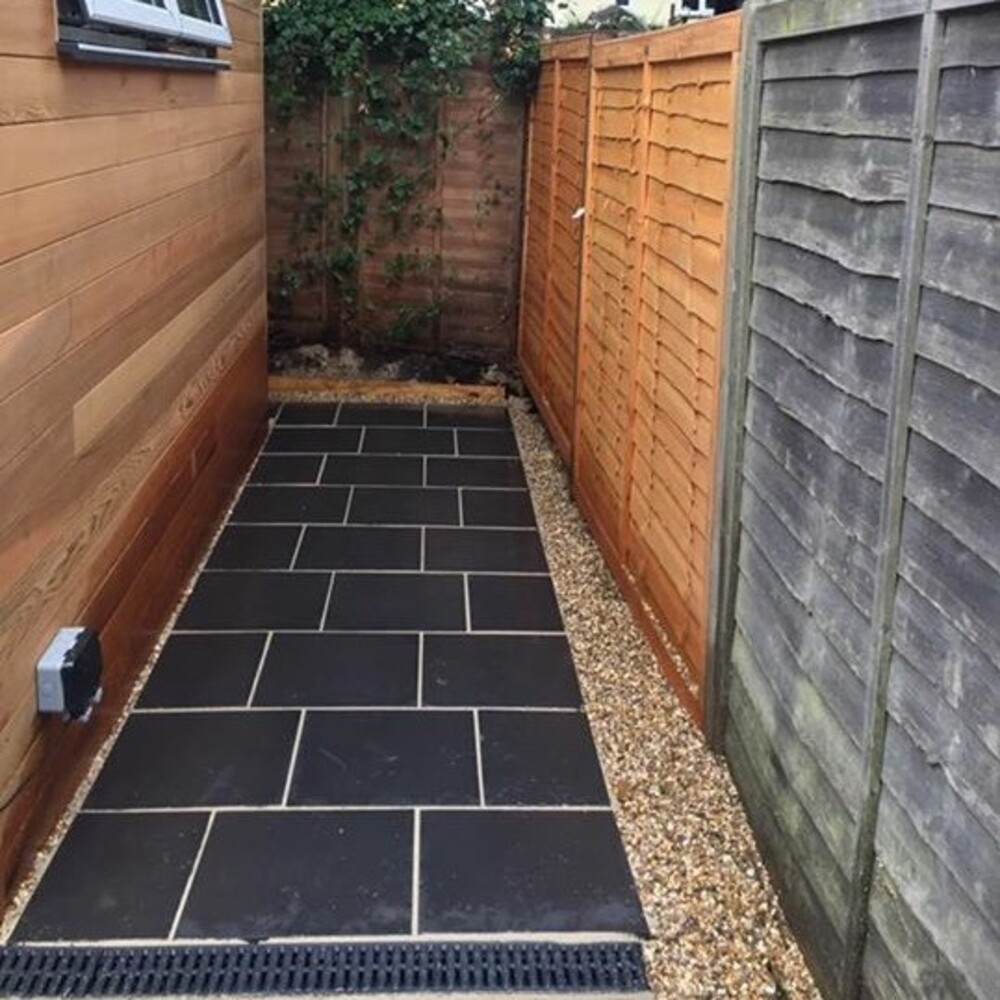 900mm x 600mm Paving Slabs - The Most Popular Size
These days, the 600mm x 600mm single size paving slabs are not the run away winners of the popularity contest. In the last few years, the large 900mm x 600mm slabs have been overtaken as the single size slab of choice. Square tiles are not for everyone, so the ability to lift and lay them a little easier is irrelevant. 
The 900mm x 600mm slabs are bigger, so you don't need to install as many. Each slabs covers an additional 50% area, so you need 50% less in number of slabs. This is often a strong consideration for people as installing as the idea of installing 50% fewer tiles is exactly what they want!
One of the other considerations is that you end up with less jointing space on your patio when opting for bigger tiles. So, if you want to maximise the amount of stone space and don't like the idea of seeing lots of joints, then the 900mm x 600mm slabs could be the ones for you.

On the flip side, if you actually really like the laying pattern and would like to see the joints, then maybe the smaller paving slabs could be the better option. 
Smaller slabs are easier to install because they are easy to lift and you end up with a patio full of joints and a striking laying pattern. It's not a run away favourite option, but when these sizes are used well, it can look very, very good!
At Primethorpe, we stock 60cm x 45cm slabs and even 60cm x 30cm single size slabs, both of which look great if laid in repeating patterns!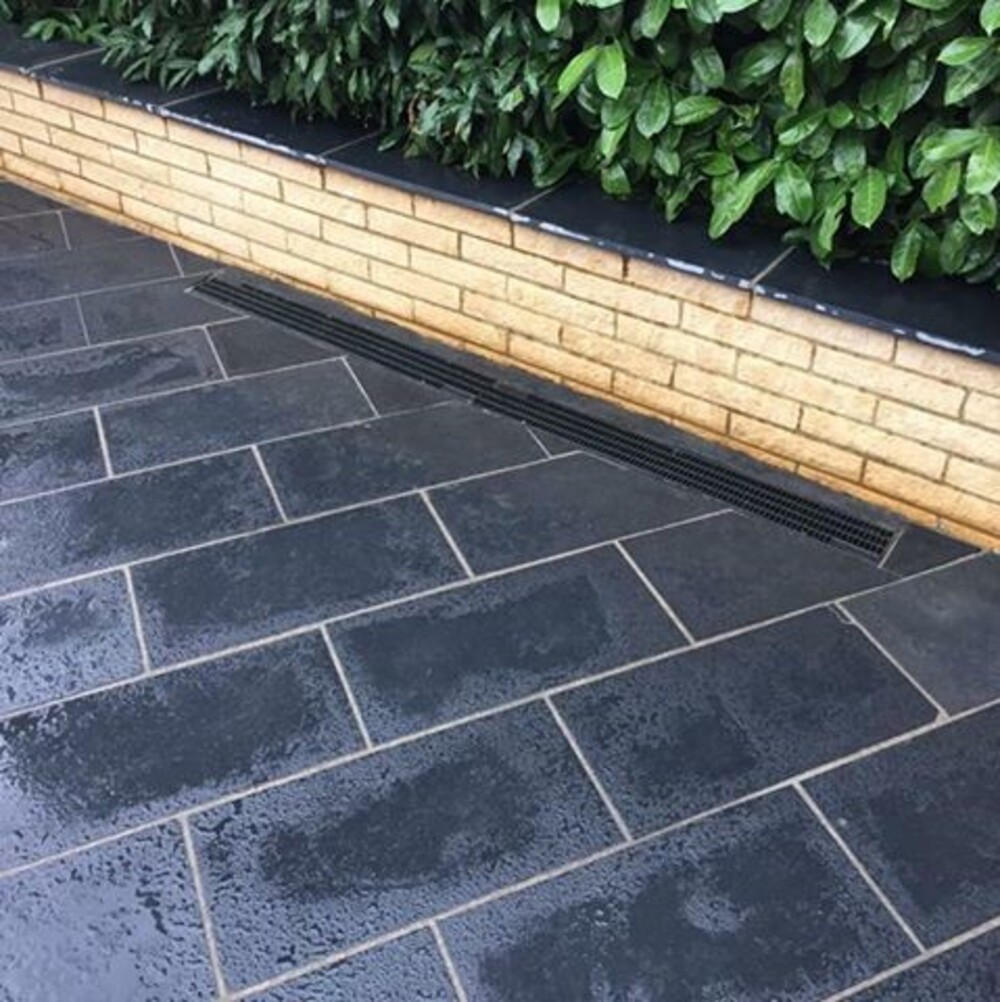 Single Size Paving Slabs - So Which Is Right For You?
With so many options, it's difficult to know which to go for. Old school square patterns? Large slabs for less joints? Highly patterned small tiles? The secret is, there is no wrong answer. All options can look great if used correctly. 
When making that decision, consider the size of your space first as large slabs suit larger areas and vice-versa, but it's by no means a set-in-stone rule. Small, repeating patterns can make a large area look like an art piece where done correctly. So don't let it put you off if you really do like the smaller tiles. Ultimately, you've got to like it - that's really the only important factor. If you like it, go for it. We sell single size paving in lots of choices for that exact reason. Everyone's tastes are different, so make sure you go for what you like!