Having a smaller garden doesn't mean that you can't have a patio in your garden. Whether you would like an outdoor paved area for entertaining friends and family outside, a BBQ area or even a space of calm to relax in the sunshine, a patio is still possible, for even the smallest of gardens.
All you need to do is pay attention to some of the finer details and you'll be able to make the most of your space, both inside and out. Your new patio garden can be an extension of your home and space the whole family can enjoy. There are tons of paving ideas to draw inspiration from, so have a good look around and see what you can find.
Just because the space in your garden is limited, it doesn't mean that your creativity has to be! There are lots of decorative paving slabs which can make an impact in a small space. Here are some small garden ideas we thought might provide a bit of inspiration. 
Make Your Garden Feel Bigger: Bring The Indoors, Outdoors
Many homeowners like their garden area to be their own special space. They want it to be their secret escape from the busy world they live in. If this sounds like you, why not bring the indoors, outdoors by using patio slabs that are similar to the colours of your flooring inside your home. This creates a seamless flow from indoors to outdoors and can feel more like an open-air home extension than a patio garden.
If you have lighter carpets in your home, then neutral and buff sandstone slabs are a great option. Darker garden slabs work well with wooden floors. If you have tiled flooring in your home, look for similar decorative garden slabs that offer the same colours and patters of your tiled flooring.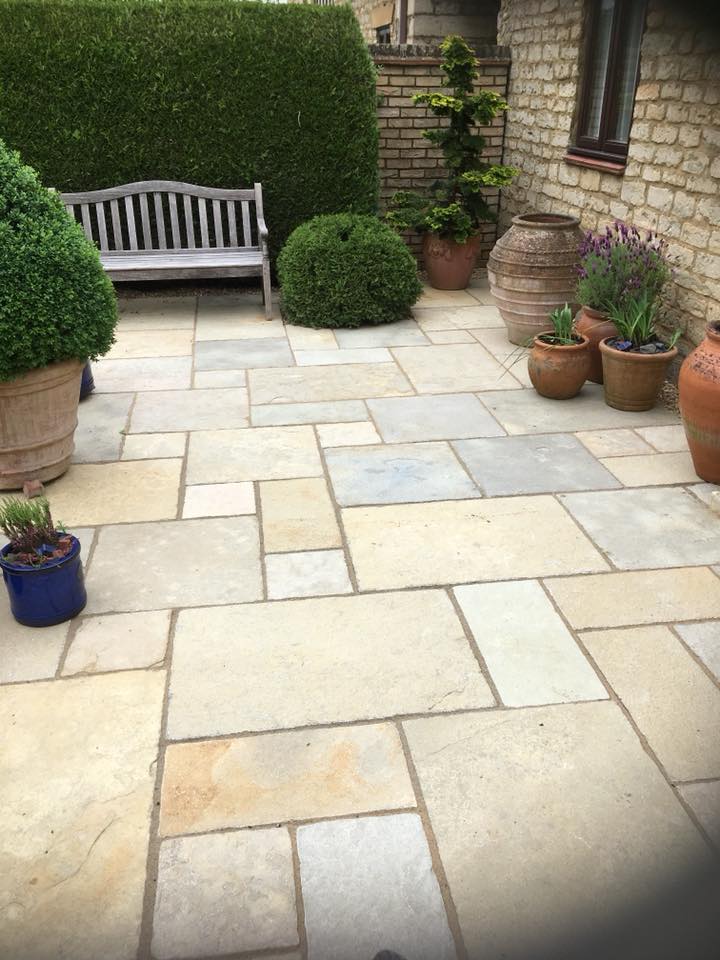 Yellow Limestone Tumbled Paving Area
Go Green In Your Small Garden
It doesn't matter how neutral or simple the garden paving you choose, you can liven it up with luscious green plants and brightly coloured flowers as a border around your patio, or in pots across your patio. If down-time is minimal for you then we recommend an easy-to-maintain paving option that will need minimal care and attention but will still look great throughout the year.
Opting for light and airy garden slab colours can give your patio garden a decorative feel when matched with greenery of different shades. If you are looking to add drama, grab attention and create something stunningly sophisticated, why not opt for dark slate garden slabs. The colours of your plants will really pop against these tiles. If you fancy something eye-catching and attention grabbing why not choose black and white decorative garden slabs?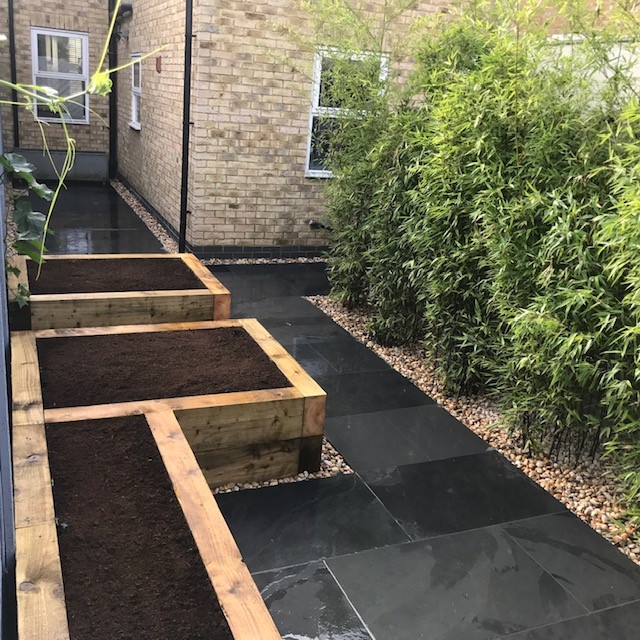 Dark Brazilian Slate Paving to Contrast with Greenery
Mixing And Match Styles
Just like you use a rug in your living room to brighten up the space, you can create the same look with the patio in your garden too. It's definitely a style for the more adventurous, but it really shakes up the look of the patio. Through the use of an 'outdoor rug' created with decorative garden slabs you really can stamp your personality and style on your small patio garden.
You can use longer and thinner paving slabs in alternative coloured or patterned rows to create a sleek finish that will lengthen your patio area. However, if you're looking to create an outdoor paved area that looks more fun why not check out our range of coloured or decorative garden slabs. These are sure to brighten up any space and can be used in a patio design that is unique to you.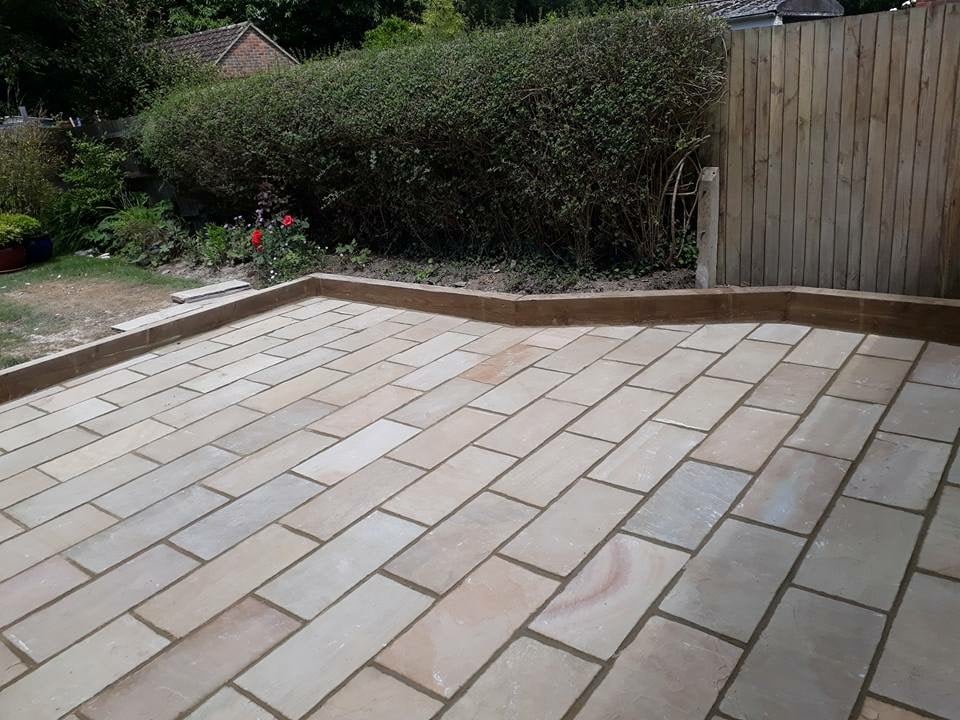 Raj Green Single Size Paving Slabs
Paving Ideas For Smaller Gardens: Overview
These are just three ideas that you can consider for your patio garden. If you're looking to add even more personality to your patio area think about what surrounds your patio. You can create an even more striking patio area with decorative gravel in contrasting colours to the paving stones. The added bonus is that gravel is low maintenance and adds bucket loads of interest to the patio in your garden.
No matter the size of your garden, you will be able to have a patio area that is unique to you, your home and your style. Whether you're looking to green with luscious plants, or you want to extend the inside of your home outside, we have something to suit your needs.
Check out our range of garden patio slabs online or contact our patio design specialists for their recommendations.