Your new patio area will offer you a space where you can relax and entertain the whole year round. With so many types of slabs to choose from, you can get a little overwhelmed with all the options and variations. The laying pattern is one of the things you would ordinarily need to sit and work out, which would be quite a tricky job. But that's where patio kits come in - they are packs of paving slabs that have been pre-picked and packed in a well-balanced mix of sizes to provide a decorative pattern without you having to work it out.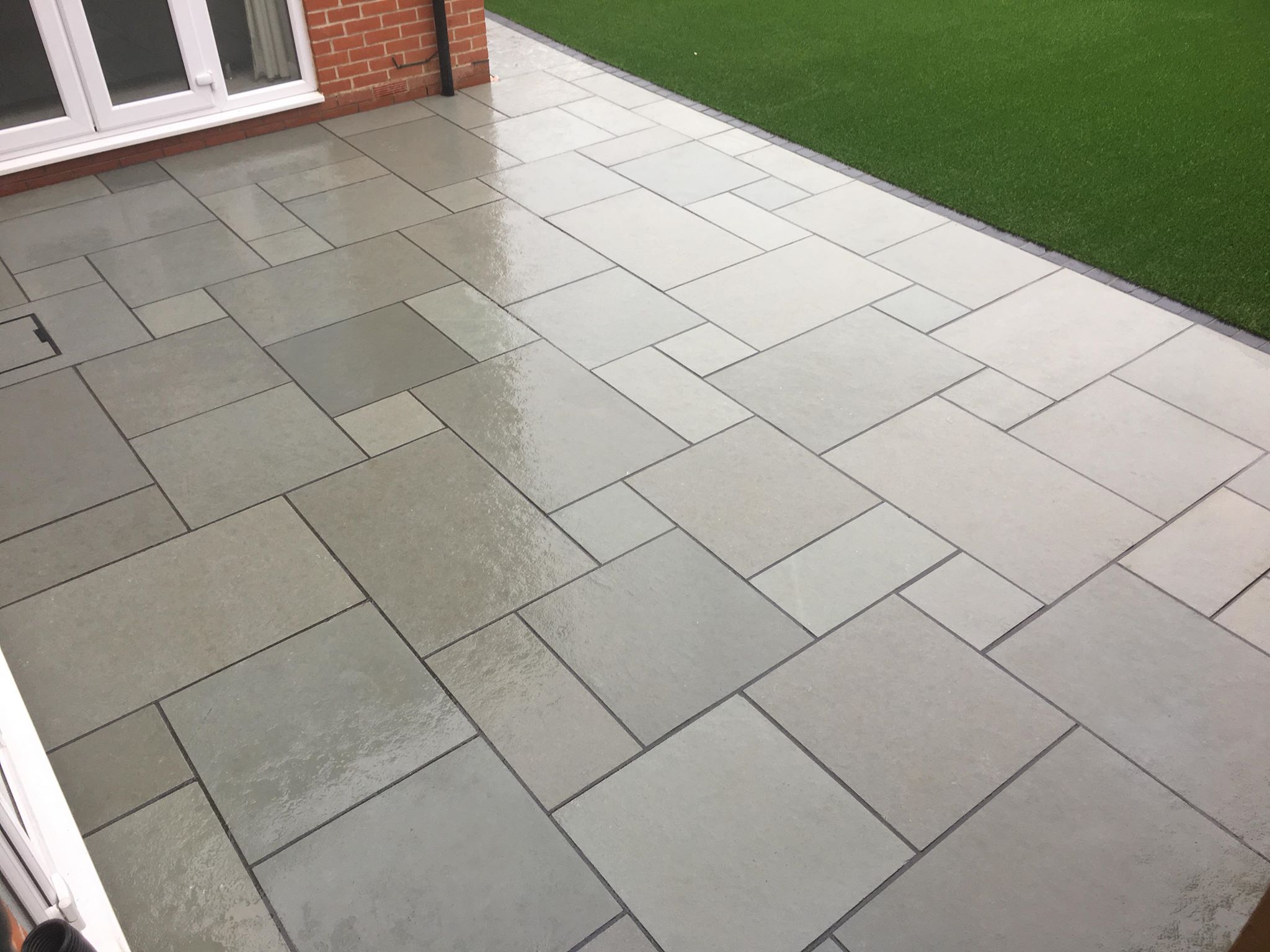 Kota Blue Limestone Patio Kits/Patio Packs
What Is A Patio Kit? Is It The Same As a Patio Pack?
A patio kit is really simple. It's a ready-to-assemble patio, in kit form. The patio paving in the pack comes made to measure and they are cut to size too. All you need to do is put it together. Our patio paving packs are hugely popular with DIYers and creative homeowners that want to design a stunning patio area that is as unique as they are.
Sometimes these are referred to as Patio Packs or Project Packs. These are the same thing and simply refer to the pre-picked makeup of slabs that make your new patio that bit easier to install.
What Do You Need To Know About Patio Kits?
Our paving kits create a unique and stunning arrangement of patios and walkways. With our natural stone paving slabs in different sizes, you can be sure that no two patio areas will ever look the same. There is a wide selection of colours, patterns, materials and sizes of patio packs available to ensure that you can create the perfect paved area in your garden.
Perhaps the best thing about our patio paving sets is that they are completely versatile. You can lay our patio slab packs as an individual feature and focal point in the garden. Alternatively, our patio paving packs can be used as part of a larger, original design with the splash of something special.
Paving kits are incredibly durable. Unlike a wooden decked area (see our decking vs paving guide), once installed your paving slabs of different sizes will need very little maintenance at all. Each of our patio packs vary in size and coverage to suit each individual space. Make sure you check the product description of the patio paving set you like to ensure you order the right amount.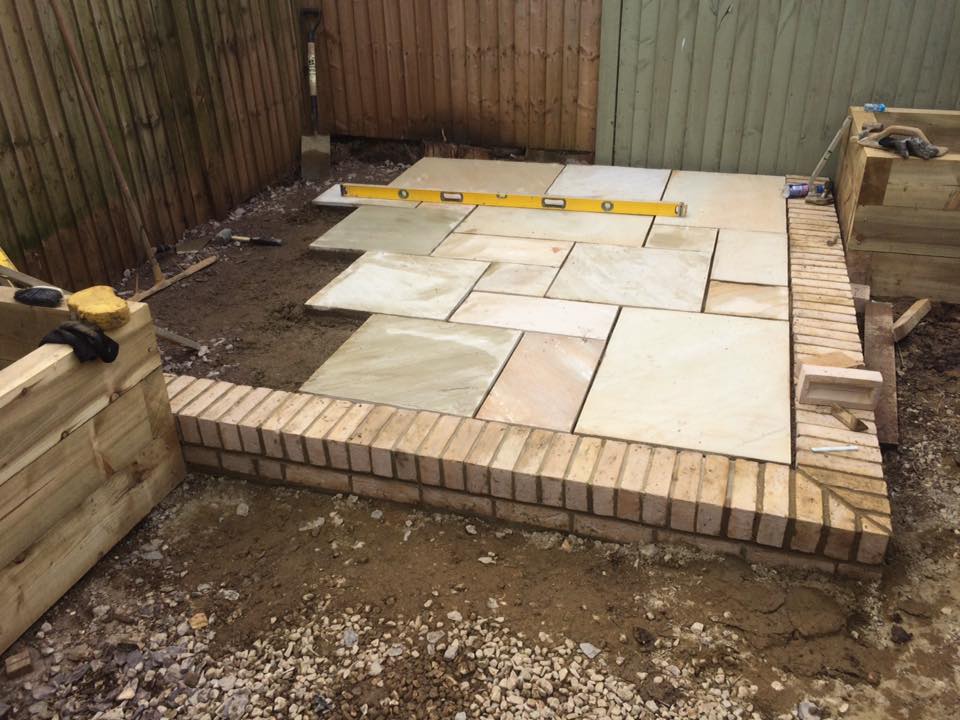 Fossil Mint Patio Kit During Installation
What Patio Kits Are Available?
When it comes to paving your garden, patio slab packs, also known as paving kits, are a great way to create original, interesting, random and unique patio designs. Each patio kit contains paving slabs of different sizes which allow you to create whatever design you choose.
Each type of stone features its own range of benefits and comes in a variety of colours, shapes and sizes. You will find a selection of four different sized slabs in our patio slab packs. These allow for you to fit the slabs into any design you like, while beautifully displaying the unique qualities and natural variations from one paver to the next.
We have a selection of different stone patio packs. These include sandstone, slate and limestone patio packs and dependent on the look and finish you desire, one material will likely jump out.
Are Sandstone Patio Packs The One For You?
Sandstone paving offers a medley of natural colours and tones that can really transform and enhance your garden. If you are looking to add a level of natural charm to your garden, you can't go far wrong with a sandstone paving kit. The beautiful variations in colour throughout the stone have been formed naturally over thousands of years. Sandstone paving slabs of different sizes promise you a finish for your garden that is full of style and character.
Our sandstone patio packs are available naturally riven or with a small surface texture. They allow you to display the natural variations in tone of the natural stone extremely prominently throughout your design, delivering an eye-catching and beautiful finish. Sandstone patio paving sets offer a selection of neutral and earthy tones as well as vibrant multicoloured options.
Sandstone is great because it is a low maintenance paving option with a choice of surface textures. You can choose from a range of stunning natural colours and it looks great wet or dry.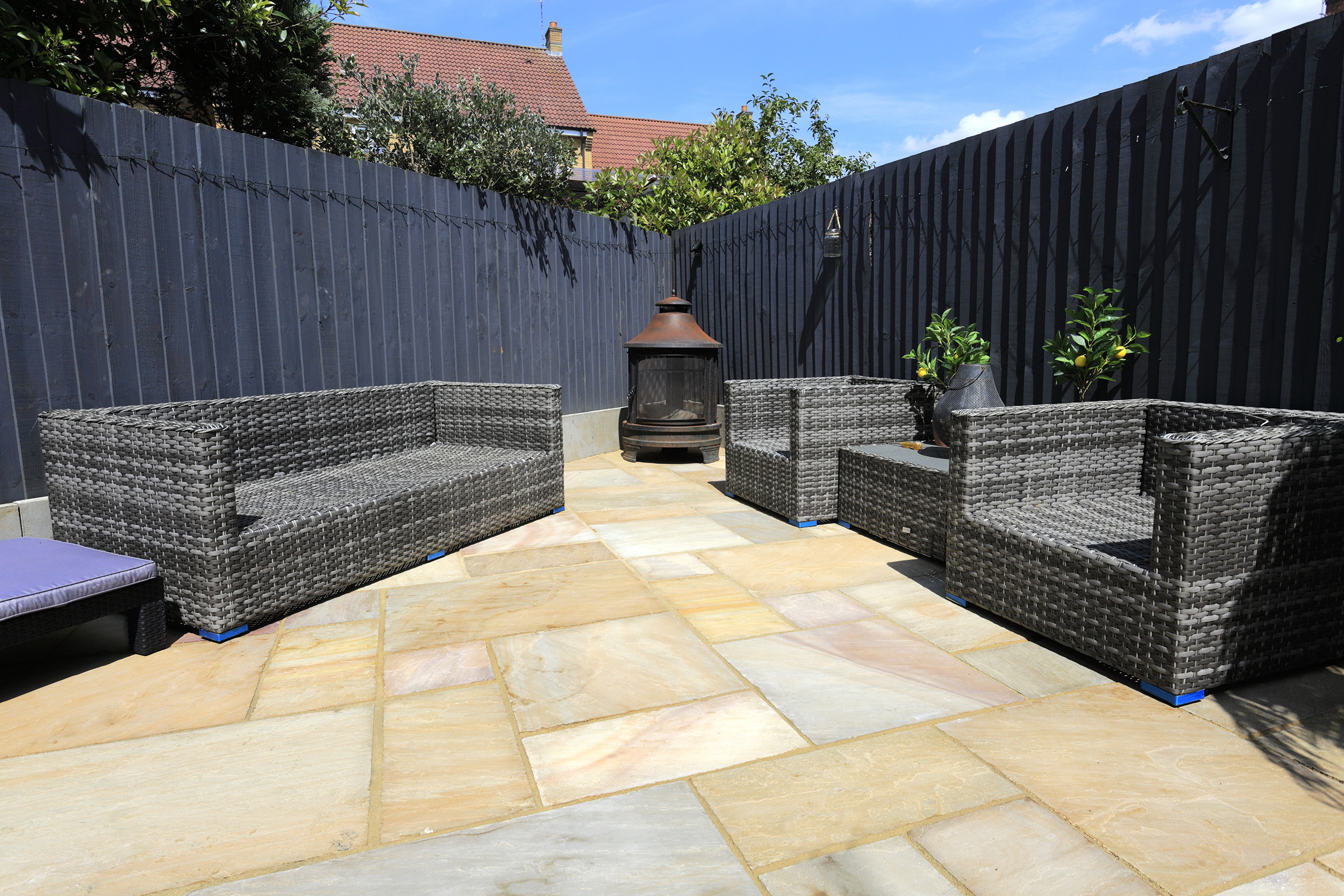 Rippon Buff Indian Sandstone Patio Packs
Why Choose A Slate Patio Paving Kit?
The great thing about a slate paving pack is the unique and naturally riven texture of the slate that is available in a few different colours. Slate paving slab packs are ideal for creating a traditional patio design and they will bring any garden to life. Slate paving is very durable, making it ideal for patios, pathways and high traffic outdoor areas.
Slate patio paving packs are very stain resistant. This means that your new slate patio area can looks as good as new for years to come. Our slate paving kits are available in natural blue-blacks, greys or even a rustic copper finish.
Slate paving is designed for outdoor use and will stand the test of time, even in the harshest of weather that the British climate has to offer. Your slate paving slabs of different sizes will create a patio that is low maintenance and looks great in wet or dry weather. The naturally riven surface texture and stunning natural colours of slate just it an even more popular choice for patios across the UK.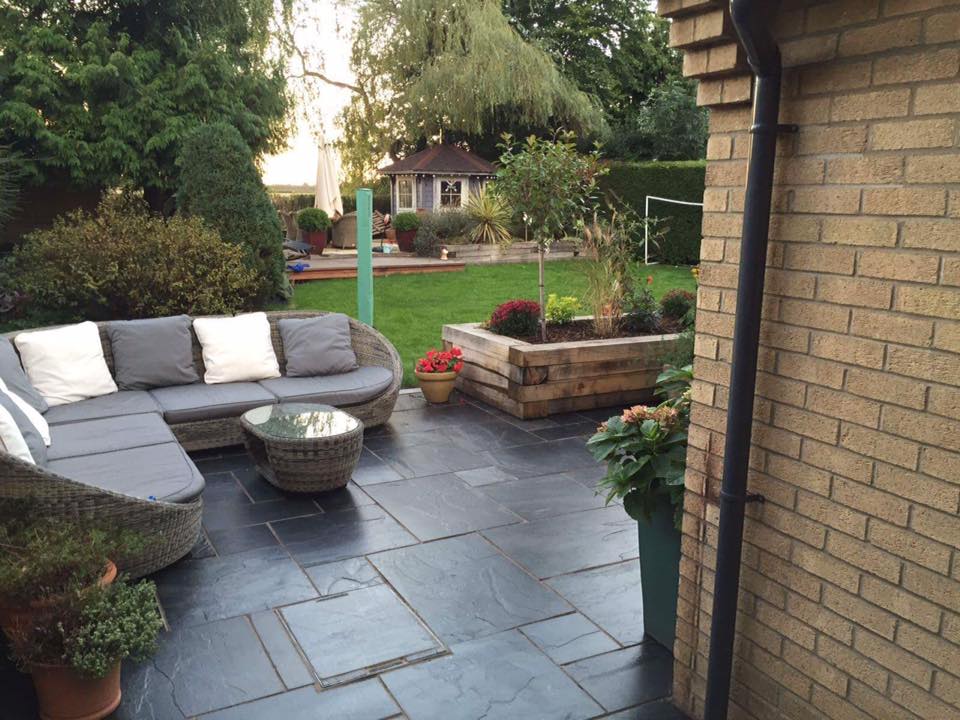 Riven Blue-Black Slate Paving Slabs
Limestone Paving Patio Kits
Limestone paving has been used for patios and paved areas in gardens for decades. Its popularity comes from it bold and dark tones that give a dramatic finish to any outdoor space. Our limestone patio packs work perfectly as a focal point and feature, or to blend into the background of your garden. Limestone is a very durable paving solution. It is also one of the more cost-effective patio paving packs on the market.
The durability of limestone paving has made it perfect for a wide variety of outdoor areas and has been used for many years in the building construction industry. Limestone paving has a largely smooth texture that adds to the beauty of this natural stone paving patio packs.
Limestone patio paving sets are available in a range of stunning natural, dark and bold colours that look great wet or dry. This is a durable and cost-effective stone that adds character and drama to any paved garden area.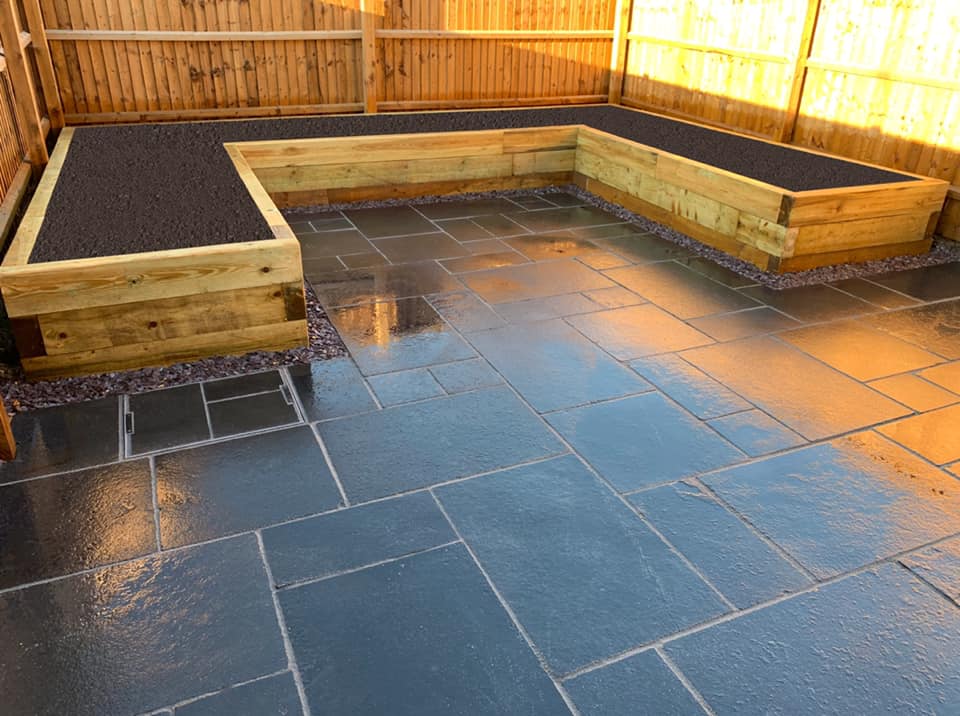 Black Limestone Patio Kit Just After Installation
Overview Of Patio Kits
If you're still not sure of the best patio pack for your garden, check out the different ranges online or give our team a call. We can help you choose the best materials and patio for your garden and offer any advice or guidance you may need.
If you wanted more information on the specifics of each type of paving slab, you can read an extensive guide here: Types of Paving Slabs