Vitrified porcelain paving is a type of paving tile that is made from extremely pure kaolin clay along with minerals. These minerals include quartz and feldspar, as just two common examples. It is then fired at 1200 degrees Celsius.
This makes it harder and extremely durable. The high heat firing also gives the paving tile a low water absorption rate of less that 0.5%. This is what makes vitrified paving slabs so ideal for outdoor paved areas.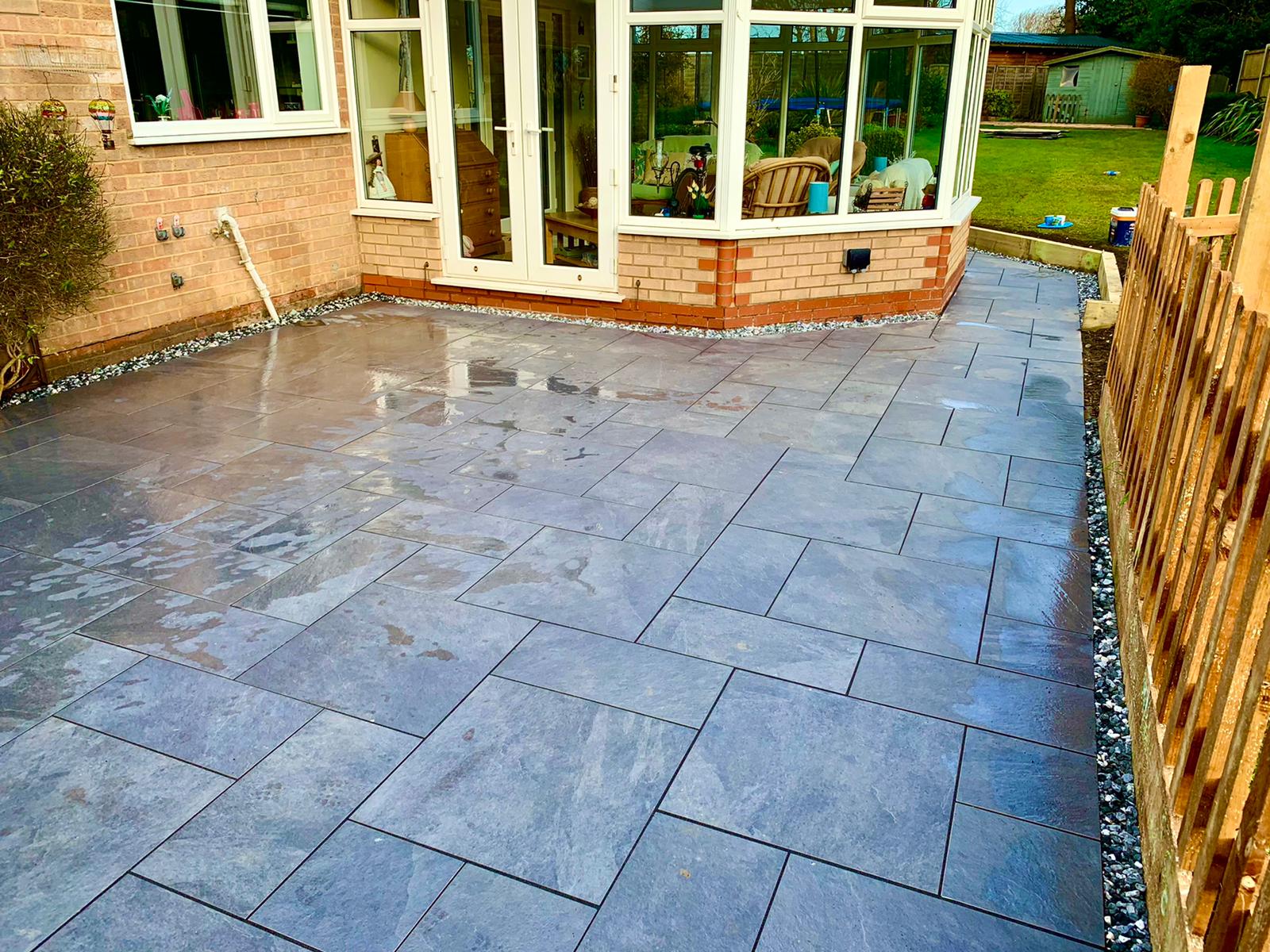 Are There Other Names For Vitrified Porcelain Paving?
Different manufacturers have different names for the same product. While it is most commonly known as vitrified porcelain paving, there are other names referring to this paving option. For example, it can be known as vitrified paving, porcelain paving, ceramic vitrified paving or vitrified porcelain paving. These all mean the same thing and refer to the same product.
The vitrified porcelain tiles stocked at Primethorpe Paving are all Italian Porcelain tiles, which are well known for being the premium grade porcelain worldwide.
What Are The Benefits of Vitrified Paving?
There are numerous benefits to vitrified porcelain paving. It is a weatherproof and non-porous paving option. Ceramic vitrified paving is resistant to both frost and thermal shock. It also has high resistance to high traffic, making it ideal for garden paths. Porcelain paving offers high resistance to loads which makes it suitable for outdoor paving dining areas in gardens.
Vitrified porcelain paving has low moisture absorption rates and also offers a high level of anti-slip resistance. Another benefit of vitrified paving is that it is resistant to the attack from acids and cleaning products, making paving cleaning easier. Porcelain paving is resistant to salt, but also resistant to attacks from moss and mould. Ceramic vitrified paving offers durable characteristics and will colour over time. It has a consistent thickness and can be used for your indoor or outdoor flooring.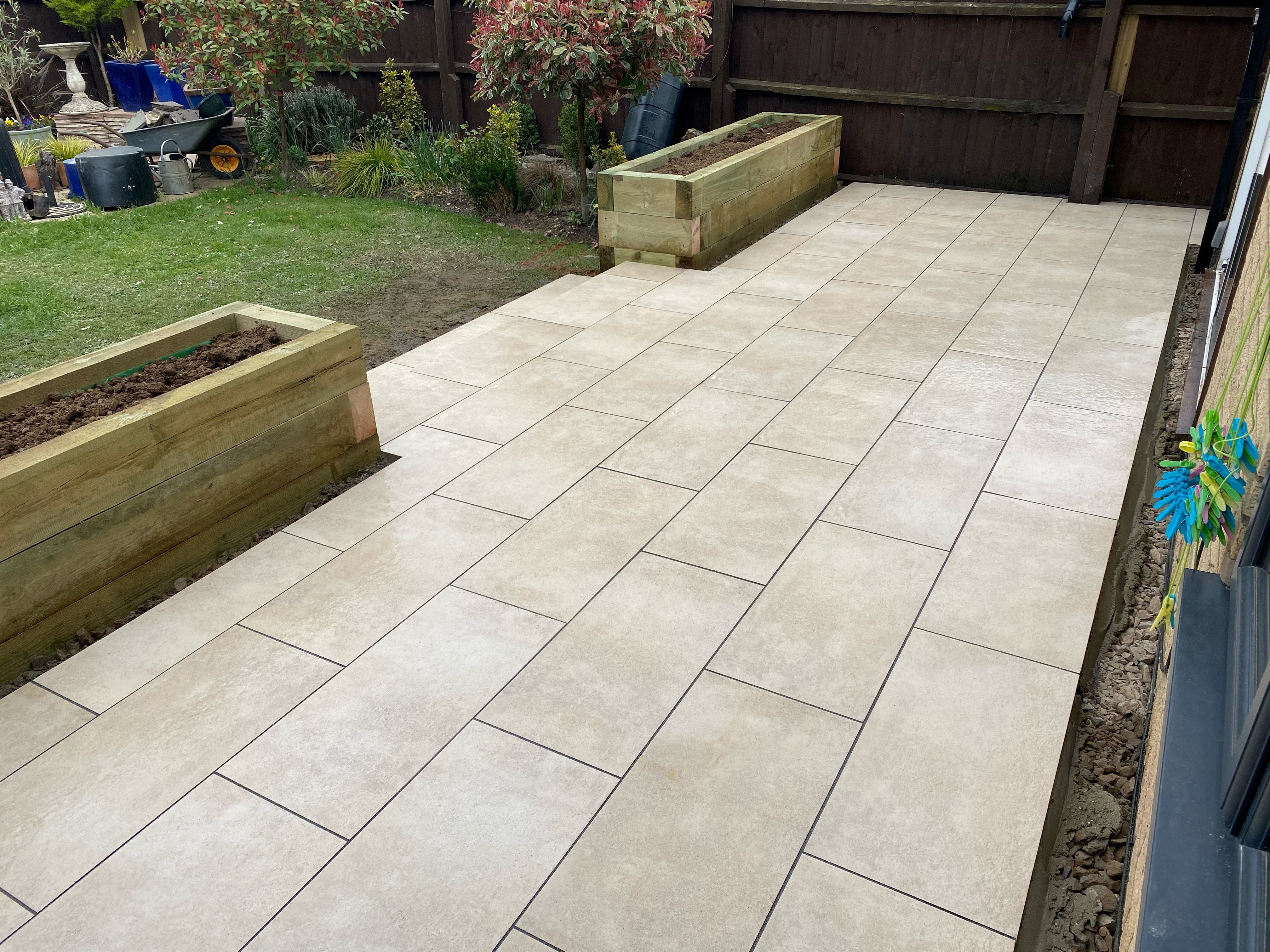 Why Choose Vitrified Porcelain Paving Slabs For Your Outdoor Area?
Vitrified porcelain pavers have anti-slip textured surfaces, making them safer for walking on. Even when they are wet, they will still offer an anti-slip feel underfoot. They come in a wide range of colours and styles and have a tough surface.
Ceramic vitrified paving is also really easy to work with. They are rectified which gives them crisp, cut edges. This ensures that each porcelain paving slab is uniform in its size and thickness. If you are looking to create a sleeker and more contemporary look in your garden you can lay this porcelain pavers with slim joints of 3mm-5mm. Vitrified porcelain pavers are also available in larger sizes which means it will take less time to lay your porcelain paved area.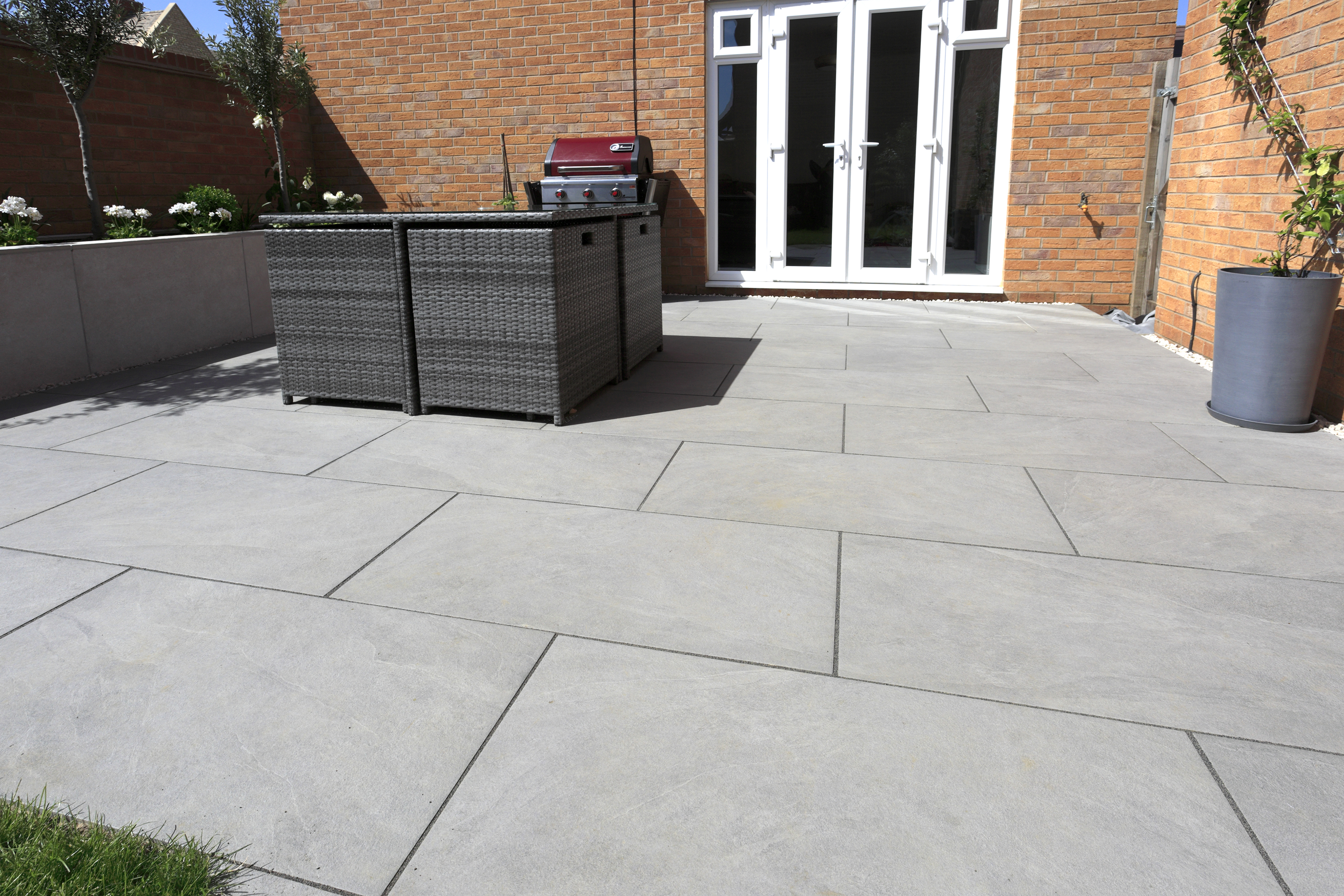 Where Can I Lay Vitrified Porcelain Paving?
Due to the fact that vitrified porcelain paving slabs are so hard wearing, they are an ideal paving solution for your patio. Porcelain pavers are a great outdoor paving material. This is because they are scratch, abrasion and slip resistant. The porcelain paving is also ultra-low maintenance.
As vitrified porcelain paving has such a hard-wearing nature, it is great for pathways or a unique feature patio area in the garden. Porcelain paving can be used indoors. This can work if you are trying to create a smooth transition from inside to outside, opening up the back of your house to the garden and patio area. The matching flooring from a conservatory or kitchen to the garden can look stunning and works well with vitrified porcelain paving slabs.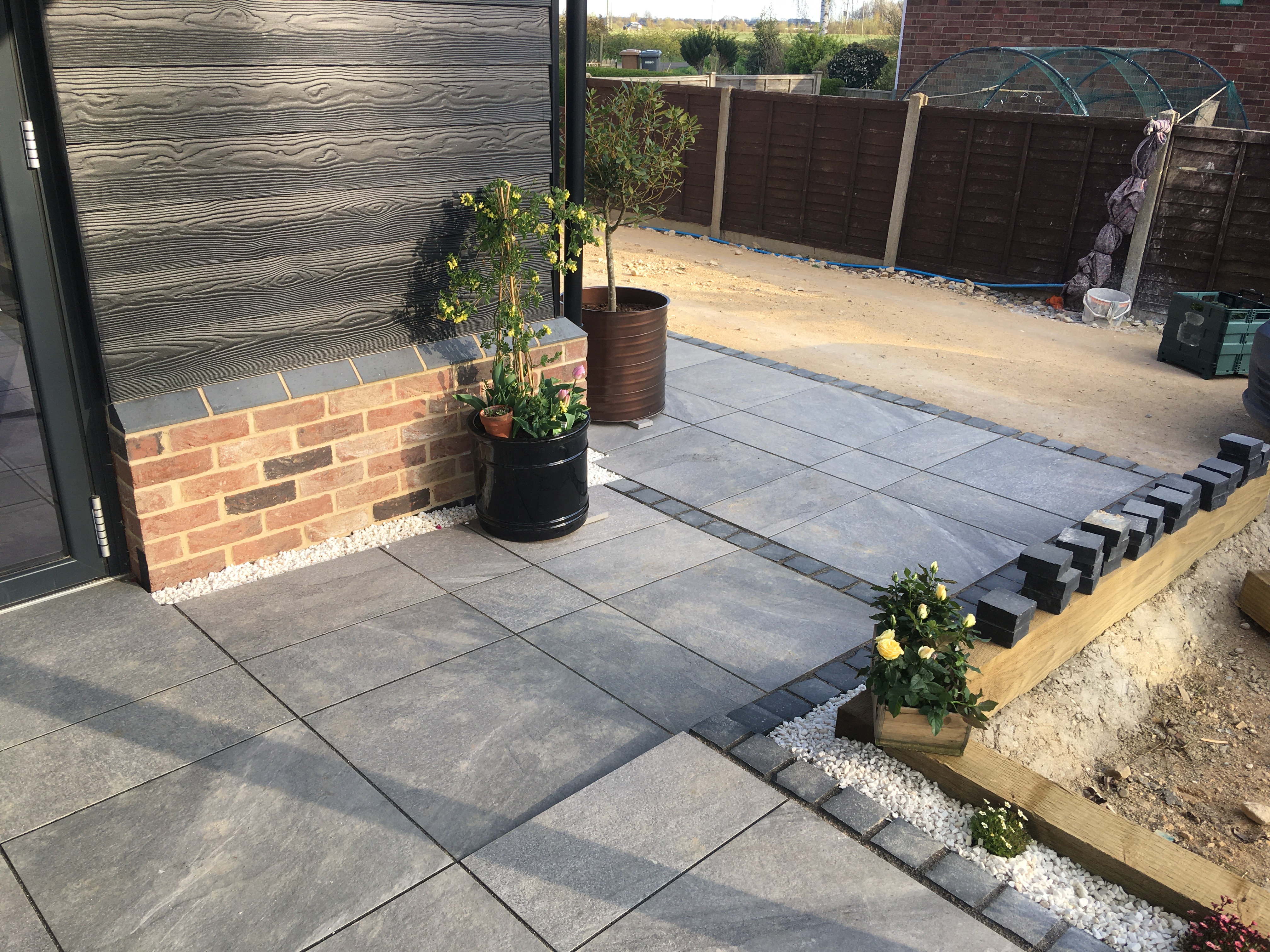 How To Lay A Vitrified Porcelain Paved Area
Vitrified porcelain paving is laid using traditional and standard laying techniques. This means that specialists may not necessarily required to lay your vitrified porcelain paved areas. Plastic tile spacers can be used between porcelain pavers as they have been manufactured to be consistently uniform in their shape and size.
How Can Vitrified Porcelain Paving Be Cleaned?
One of the great things about porcelain pavers is that they are very low maintenance. Your vitrified porcelain patio will not need a great deal of effort to keep it in great condition. This is because porcelain pavers are weather resistant, strong and durable. Cleaning your vitrified porcelain paving is easy. Sugary drinks, melted ice lollies, liquid spillages can be simply wiped away with a cloth. The same goes for any oil and chemical spills too.
If you are looking to give your porcelain patio area a full clean, then this is just as simple. Cover the whole patio area with warm soapy water and then rinse with clean water. Due to the vitrified paving being water resistant, it won't absorb the water, making the surface easy to clean. If you have any dirt or debris on the surface, you can use a rubber brush to remove this, or to help drain extra water from the area.
If you are considering vitrified porcelain paving for your garden, check out our range online or speak to our team directly.
We've written a full guide specifically on Outdoor Porcelain Paving. So click here if you'd like to read a little more.