It's nice to take inspiration from what's around you. There are millions of gardens around the world, so why not use some of them as inspiration for your own outdoor space? Each week we are going to feature some of our favourite gardens in the hope that it inspires you to create something similar of your own.
You don't have to copy them exactly of course, everyone's tastes are different! But we are going to highlight what has been used and how to the look has been created, as well as where you can find the materials and features to match the look above. Lets get those creative juices flowing.
Our first week is going to focus on one of our favourite small gardens that we found on Pinterest. A lot of the elements of this design have been chosen to add a more spacious feel to what is quite a small patio in reality. The space focuses on a monochrome palette which really helps the space feel bigger than it is, as well as raising the patio off the ground slightly which always creates an effect of additional space. The patio furniture is in keeping with the colour scheme, the fences are painted dark and the plants do not take too much away as they are quite muted in colour. A fantastic space! 
But how can you recreate the look?:
Patio Slabs - Stick To A Single Colour
The first thing is to deal with is the choice of paving slab. The key here is too chose something that isn't too in your face - the slabs need to be a single colour without much variation and have a smooth surface which doesn't have many lumps and bumps. Really there are only two options to here: Porcelain or Limestone.
Our personal choice here would be Kota Blue Limestone.
Kota Blue is a cost-effective alternative and will give you the desired effect. It's a natural stone, so you cannot guarantee the look of it, although blue limestone is one of the most consistent natural stones on the market, so there is no massive cause for concern. 
If you wanted to guarantee the look and finish, it's worth going for a manufactured stone such as the Masso Grey Porcelain. This is pretty much double the cost, but it's manufactured to laser precise standards and there is no colour variation across the slabs. If you truly wanted to guarantee the the colour shades of your slabs will be identical across the batch, then you can opt for porcelain: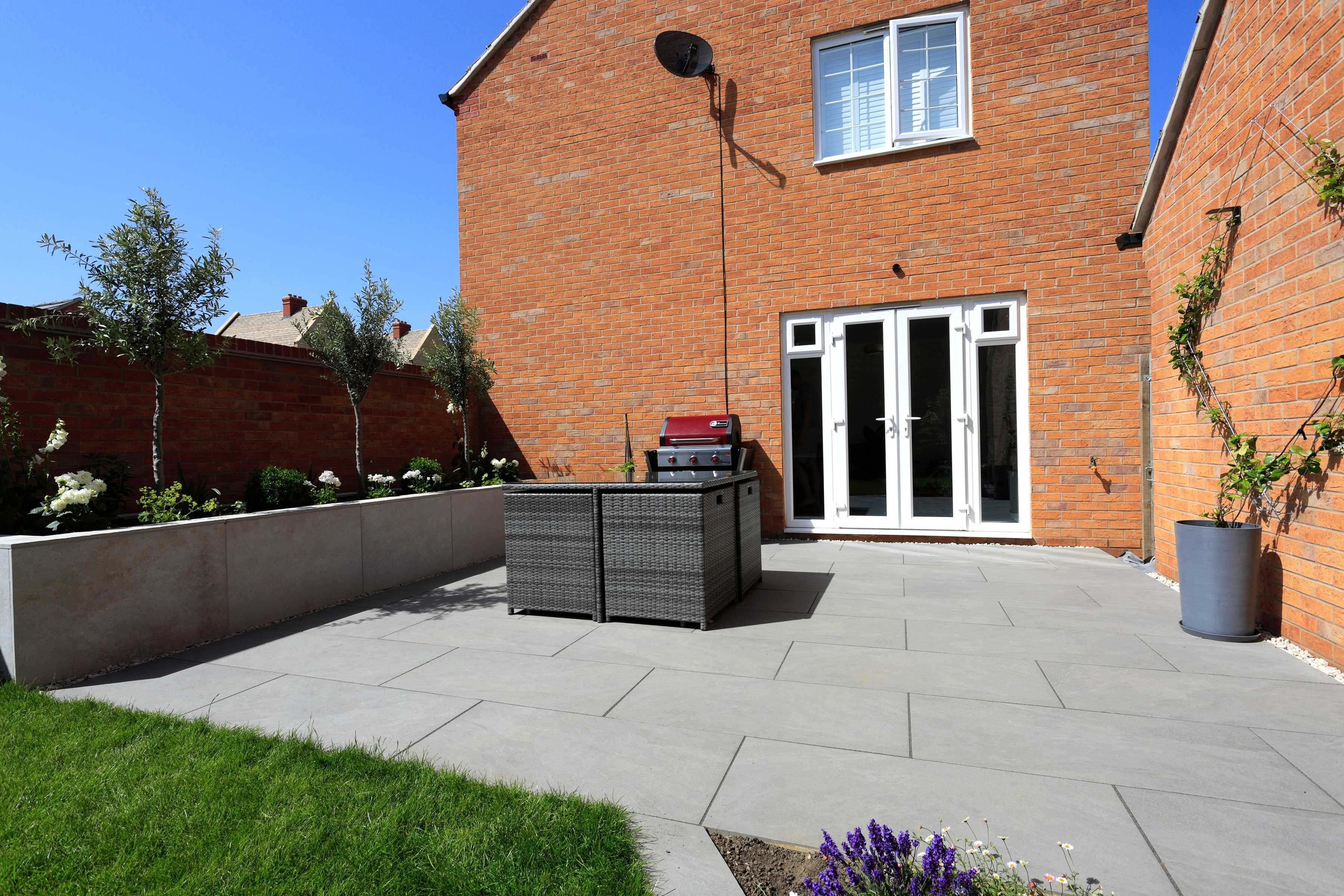 ---
Fencing Panels - Tall For Privacy, Stained for Style
One of the more prominent features of this space is the tall, dark fencing panels that really accentuate the monochrome palette of the space. Black fencing panels are difficult to source, but black fence stain is much easier to come by. The key to getting this element right is choosing the right fence panels and staining them black yourself once they are installed - a very simple job.
What makes these fence panels work is the 'feather edge' style, making the panels seem taller than they are - and tall fences are perfect for one thing: Privacy! The extra feeling of privacy you get from the tall, dark fences are one of the standout features of our inspiration garden. The Mercia Feather Edge Panels from Greenfingers are a great choice. Partnered up with a premium black fence stain, you'll be able to match the effect with no issues at all!
---
Patio Furniture - Monochrome Pieces To Add To The Effect
Obviously a key part of any garden or patio is the choice of outdoor furniture. There's not a lot of point in having a beautiful garden if you end up with nowhere to sit - so you need to pick some garden furniture to suit!
The inspiration garden has gone for a dark grey/black rattan corner sofa, with grey cushions which doesn't stray far from the monochrome theme of the space. The furniture in the inspiration piece was very tough to track down, but we've got very close in the example below. It's a Rattan corner piece sofa with grey cushions and a matching small table. 
It's a great option, without venturing towards the very top end of the price range for a designer piece.
---
Patio Extras - The Finishing Touches
There are a few extras that add beautiful finishing touches to the space. The decorations provide an extra seat, sun protection and make the space feel comfortable all round, but where can you get your hands on them?
Parasol: Sturdi Plus Wooden Square Parasol
Mini Bowl Chair: Marko Outdoor String Moon Chairs
Raised Patio Edges/Risers: Primethorpe Black Walling Stone
Black Curved Ceramic Pot: Capi Nature Ribbed Elegant Low Vase Range
Cushions: Fusion Chevron Filled Cushions (Any Black & White Cusions Will Look Great)
Rug: Matching Chevron Rug 
Blanket/Throw: Matching Chevron Throw
Climber Plants: Selection of Climbers from Sarah Raven
Hanging Metal Planter: Oval Metal Planter
In Conclusion
We hope you've found a little inspiration! It can come in all forms and a little Pinterest pin showing a well done small patio area can be just what you need to get you excited about redoing your garden.
We've tried to include as many of the products on the picture as possible, so if you absolutely love the look of anything in the picture you can get your hands directly on it by using any of the links!